Interview: Michael Chiang
Dick Lee and Michael Chiang's timeless musical, 'Beauty World', shrugs off its age to make a comeback this month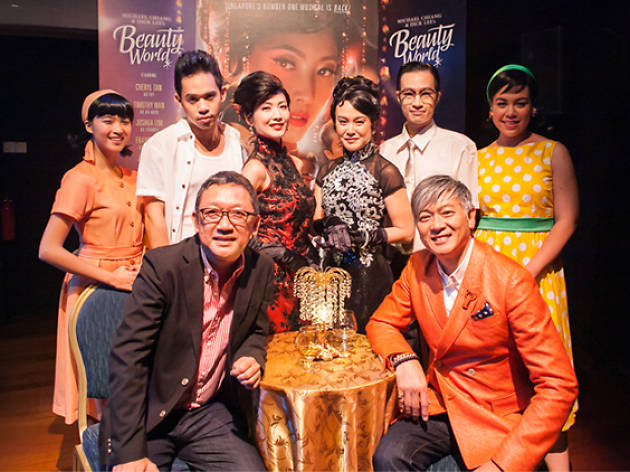 Strictly speaking, the first ever Singaporean musical is Makanplace, which was staged by ACT 3 in 1988. But another musical, named Beauty World after the eponymous amusement park and shopping centre in Bukit Timah known for its glitz (and sleaze) back in the '60s, also made its debut that year – albeit a few months later. And it's this one that ended up shooting to fame as one of the most beloved local productions.
Inspired by old-school Hong Kong movies, the story is centred on Ivy Chan, a small-town girl from Batu Pahat who moves to Singapore in search of her long-lost father. She's guided by nothing other than a jade pendant, and winds up working at a seedy cabaret, much to her boyfriend's dismay.
The musical was the first collaboration between the renowned duo, composer Dick Lee and playwright Michael Chiang, and it even embarked on a three-week tour of Japan in 1992. This month, it's back in town with a brand new cast and a darker, grittier tone. Here's the low-down, according to Chiang.
'I must confess this is one very 'emo' production for me!'
How do you feel about Beauty World making its fourth comeback in almost three decades?

I feel a bit like a proud father watching his child enter a new phase in life! [Laughs] It's always a thrill to be able to introduce the show to new audiences, especially current 20-somethings who weren't even born when the show was first staged in 1988.
I actually have a strong sentimental connection with Beauty World because, like the protagonist Ivy Chan, I also moved from a small town [Muar] to Singapore in the '60s. But I was only in primary school and didn't end up in a cabaret, in case you were wondering!
What new elements can we expect from this staging of the musical?

Compared to the last production by Wild Rice in 2008, this version is going to feel smaller and more intimate. Though the comedic elements won't be toned down, the cabaret itself will be less happy and shiny, and certainly less welcoming for our innocent heroine.
What's your favourite thing about Beauty World?
It's hard to pick one. I often find myself quite teary watching Beauty World – sometimes triggered by a scene, other times by the lines from a song. Must confess that this is one very 'emo' production for me!
The musical has many milestones associated with it – do you view this production as one?

Yes, this new production is another milestone in many ways: it's being directed by Dick for the first time, it's headlined by an A-list TV star [Jeanette Aw], and I think the four-week run is the longest the musical has ever had.
How has the local theatre scene changed since the musical was first staged?

It's definitely more dynamic now than it was in 1988! There are a lot more productions today, which means there's steady, quality work for the theatre community. You've got awards that recognise the best in Singapore theatre, and we're also seeing our stage productions brought to overseas festivals. How cool is that?