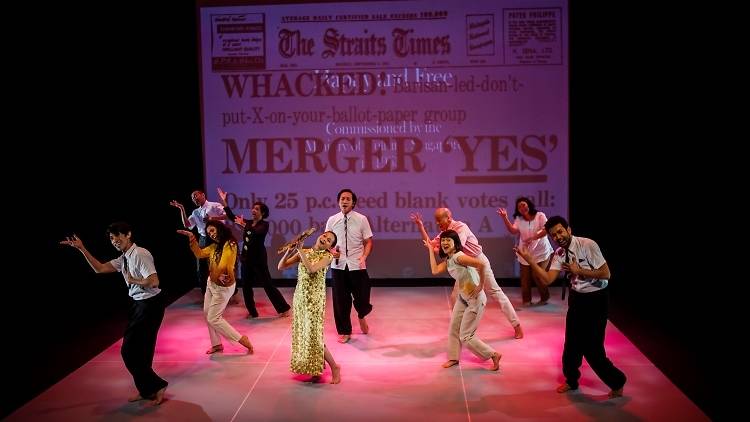 Review: Another Country
Putting aside the rivalry between Singapore and Malaysia, Wild Rice's latest work is an endearing tribute to both nations
'"Another Country" is a refreshing way of examining the Singapore identity amid the slew of inward-looking SG50 festivities.'
How do you tell the story of your own country? And how do you even begin telling the story of another one? In celebration of the second star on Singapore's flag, which represents peace, Wild Rice ambitiously tackles those questions by examining the intrinsic link between us and our neighbour, Malaysia, in Another Country.
The company's first attempt to do this took place a decade ago in the form of Second Link, but it's now back with a different script. Another Country is a refreshing way of examining the Singapore identity amid the slew of inward-looking SG50 festivities. The first act features a selection of local texts, curated by Alfian Sa'at and enacted by a Malaysian cast, while the second is a hodgepodge of Malaysian texts, curated by Leow Puay Tin and played out by Singaporean actors.
Photo: Albert Lim KS, courtesy of W!LD RICE

One of the most interesting elements of the performance is the choice of texts made by both curators. Alfian's selection, affectionately titled 'Sayang Singapura', is a love song through the ages, filled with lyrics from both news and literature. Isabella Bird's letter The Golden Chersonese reminds us of the rich cultural tapestry of 19th century Singapore, Kuo Pao Kun's Mama Looking for Her Cat embodies our many official languages, while the Ministry of Culture's anthem, Happy and Free, takes us back to that brief moment when the two countries were one.
It's also a historical moment to see an excerpt from Elangovan's controversial Talaq performed in English at the same venue that it was banned from 15 years ago. Ghafir Akbar and Sharifah Amani deserve special mention for the strength with which they are able to play the roles of, respectively, an abusive husband and his terrified Indian Muslim wife.
Leow's collection, called 'Tikam-tikam: Malaysia@Random 2', is more light-hearted, yet it covers as much ground. Many of the excerpts reflect Malaysia's tradition of storytelling by relaying myths, for instance of the boy who solved the nation's swordfish problem in Sejarah Melayu (The Malay Annals), or the arrogant animal king in Lim Boo Liat's tale, Moonrat: Tikus Bulan.
Photo: Wong Horng Yih, courtesy of W!LD RICE

The cast, which includes Lim Yu-Beng and Siti Khalijah, are an absolute joy to watch. They deliver the jokes and punchlines masterfully – Janice Koh is particularly great in Leow's Ang Tau Mui – but they're nonetheless able to bring the mood back down in quieter pieces like Lloyd Fernando's Scorpion Orchid.
However, the second actis let down by its lack of a rigid structure. In what is meant as an endearing nod to the unpredictable nature of the country, the Malaysian texts are performed in an order decided by the audience on the night, tikam-tikam (that's an old-school guessing game) style. But this comes across as disjointed and messy. It's also a shame a few texts didn't make it to the stage due to the one-hour limit of the second act. We were looking forward to Stella Kon's Emily of Emerald Hill, among other works.
The cut to the final segment feels abrupt, just like how Singapore was booted from Malaysia with little warning, although Fadzilah Amin's Dance is nonetheless an appropriate way to end things. It sums up the relationship between the two neighbours on a bittersweet note – what we're left with is the sense that if we kick back and run around in each other's shoes for a while, we'll realise we're closer than we think. And as for the immortal question of where chicken rice was first hatched, well, that's still open to debate.

★★★★☆
Discover Time Out original video