How to have a stag party in Singapore
Want to avoid a Hangover-level disaster in your last big party of singlehood? Richard Neo suggests some (mostly clean) party ideas and services to try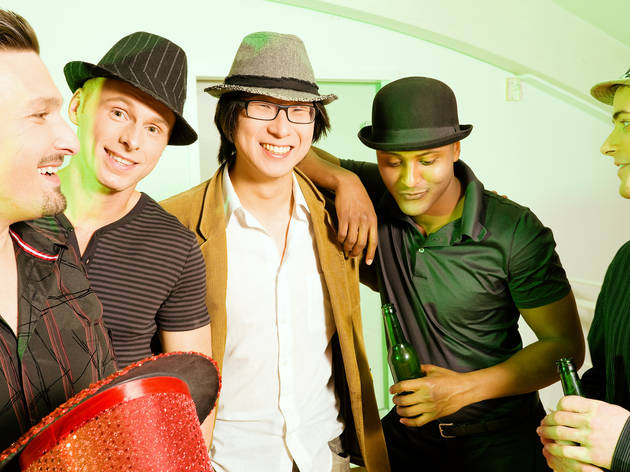 So it's your last night of official singlehood. Before the whole YOLO panic sets in and you start getting nervous about being ball-and-chained to the woman of your dreams, have a big blowout with the guys and just go crazy. Here's how to do it without falling into the trap of a disaster of Hangover type proportions.
For starters, have a whale of a time and party the night away stress-free by letting someone else plan it out for you when you book a party bus with Cosmosine. At $699 for their standard two-hour package for a crew of 15, you'll be shuttled around town in a VIP limo with 72 ten-ml syringe shooters, bar bites, a personal steward and a karaoke system that lets you play whatever you want for the duration of your party.

Other VIP booking companies include VVIP and Ludih, which have packages ranging from out of town getaways, luxurious villas and yacht parties. Ludih offers a luxe yacht party from $349 per person for eight hours, plus fishing tackles and of course, the requisite booze. VVIP offers a wide range of packages, but their most attractive deals are their nightclub promos. Starting at $299 per person for their VVIP Gold package, it includes priority entry into a premium nightclub and bottles of alcohol – plus some party girls to entertain guests. If you're flush with cash, you can even upgrade the experience with addons like a personal butler, a bodyguard and paparazzi to really make you feel like you're red carpet royalty.
Of course, not everyone can afford to splash out on luxe packages (particularly if you've spent most of your savings on the wedding banquet) – but there are plenty more cost effective options you could consider – for example, going to McDonald's. In this case, make it the most legendary McVisit of all time with their party options. At $12 a guest, everyone gets a Happy Meal set that comes with a kiddie burger and, if you like, a personalised party favour if you don't want your bros to get a 'Made in China' plastic figure. After all, we all know that within every man is a boy, and what that boy really wants is, you know, a Happy Meal.

Alternatively, spend the day playing arcade games. Book a round of playing time at TimeZone arcade. At $24 per person, you get a rumpus room to hang out away from the masses, one-and- a-half-hours of unlimited play on most of the arcade games, and six free games each on pricier machines like Daytona racing.

If that's a bit too old-school for you, head down to Resorts World Sentosa's Adventure Cove ($36) or Universal Studios ($74) for a fun day of water slides or roller coasters – even though you're getting married, some things never lose their thrill.
Return to your manly hunter roots
If proving your manliness before marriage is part of your agenda, check out SkillMinistry for listings on the more hardcore group outdoor activities available at good rates. For the soldier who misses the firing range from his army days, check out paintball sessions by Red Dynasty or a safer game of Lasertag by Wow Experience. A little competition is definitely healthy, and priced at $33 for two missions, a bout of LaserTag can be played almost anywhere – just give the organisers a little space to set up, and off you go shooting each other.

Paintball sessions are held at Red Dynasty's grounds at Bottle Tree Park, and a one-hour session with 500 paintball pellets is priced at $96 per person. If you're a pacifist, opt for their Laser Clay package instead ($35/30 min), where you can shoot simulated bullets at flying targets – compete on accuracy and skill, rather than aim for the balls like in paintball. For those who don't want anything to do with guns, order up a ZOVB ball experience from SkillMinistry and make like an anti-gravity hamster by rolling up and down hills ($50/two complete runs).

Ultimately, remember that when planning a stag party, the bachelor is the star of the day, so keep it safe and make it a night to remember. We don't want to find him trapped on a rooftop of some hotel the next morning.