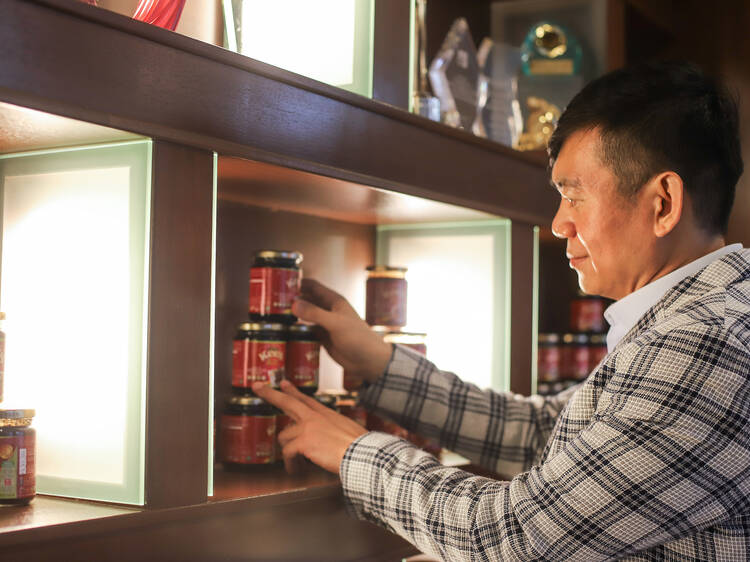 Photograph: Kashmira Kasmuri
How tragedy started it all
Roger&Sons, originally called JR&P Industries under Morgan's father, manufactured office furniture – think standard work cubicles and desks. When his father passed away from pancreatic cancer, the company was under a lot of debt and it was Morgan – fresh from completing his studies in uni – who made the ultimate decision to continue running the business.
Morgan and his brothers pivoted to local carpentry, transforming the business into a bespoke woodworking studio in Jalan Besar. He explains: "My dad's workers were a small team, but they're very skilled workers. So I felt it was a little bit of a waste to get them to do something that anybody can do and instead focus on doing something better and has more value to customers. That's why we did it and we did it because we also wanted to learn."
Wilfred speaks candidly about the family portraits on the wall and explains how it all began in the 1970s with his parents losing their jobs. When the factory they worked at shut down, his parents teamed up to make basic sauces that they would peddle to roadside food hawkers. Fast forward to today, Chng Kee's is one of Singapore's most popular sauce brands in the food production industry.
Tragedy struck when his father passed away from colon cancer when he was 14 and his elder sister took the reins, despite still being a student in university. His father's death was not the only loss and hardship the family faced. The same elder sister who took over the company, went through the pain of losing her husband – who was also an integral part of the company – and her maternal grandmother who had cared for her when she was young. Despite losing their loved ones, Wilfred and his siblings became even closer and this time, the business they were running had truly become personal.