There has never been a better time to get into the habit of staying healthy. From eating better to taking regular walks daily, everyone has their own way of keeping well – physically and mentally – in these tough times. And the key to this really is consistency, which is what the personalised supplement platform Moom is about.
Started by two sisters, Mili and Maya Kale, Moom aims to transform women's health from one-size-fits-all to a more tailor-made approach. The Moom journey begins with users taking an expert-backed questionnaire to discover how to uniquely support their mind and body. After that, users get personalised recommendations and if they chose to sign up, their supplements will be packed into nifty daily sachets and delivered monthly to the doorstep. Moom's goal according to Mili and Maya is to "make holistic solutions for women's health more personalised and more accessible."
"We don't believe in extremes and think that wellness should be a daily experience and that your self-care rituals don't need to make you feel like you need to change who you are – they work with what you got!"
How did the idea of it start? And why keep to women's health?
The conversation and idea for Moom started years ago when we went to college and would forget to take the supplements our Mom would pack for us in our suitcase. We both started using monthly supplement boxes to make it easier, but would sometimes forget to replenish (college is distracting)! Eventually, over the holidays, we started making individual, daily bags with the small jewellery plastic bags that would last us for the next three months. That really helped and friends in college started doing the same. We have continued to do that for the last several years, and finally decided it was time to make it official (and a little less wasteful)!
We decided to focus on women's health for two main reasons. Firstly, we are women and a lot of what we hope to create is based on personal experience. Secondly, women's health seems to be this magical abyss that lacks conversation, personalisation, and a true sense of community. There are so many platforms and medical/wellness practitioners that have 'hero' products or believe that there is one solution to a host of issues, but we struggled to find anything targeted specifically to women, and even more specifically to each woman in a unique way. While our supplements are for anybody (men, women, trans, non-binary), our quiz (especially the first half of it) is more targeted and developed for women who menstruate. We believe that the more specific we are about what we do, the greater the impact we make.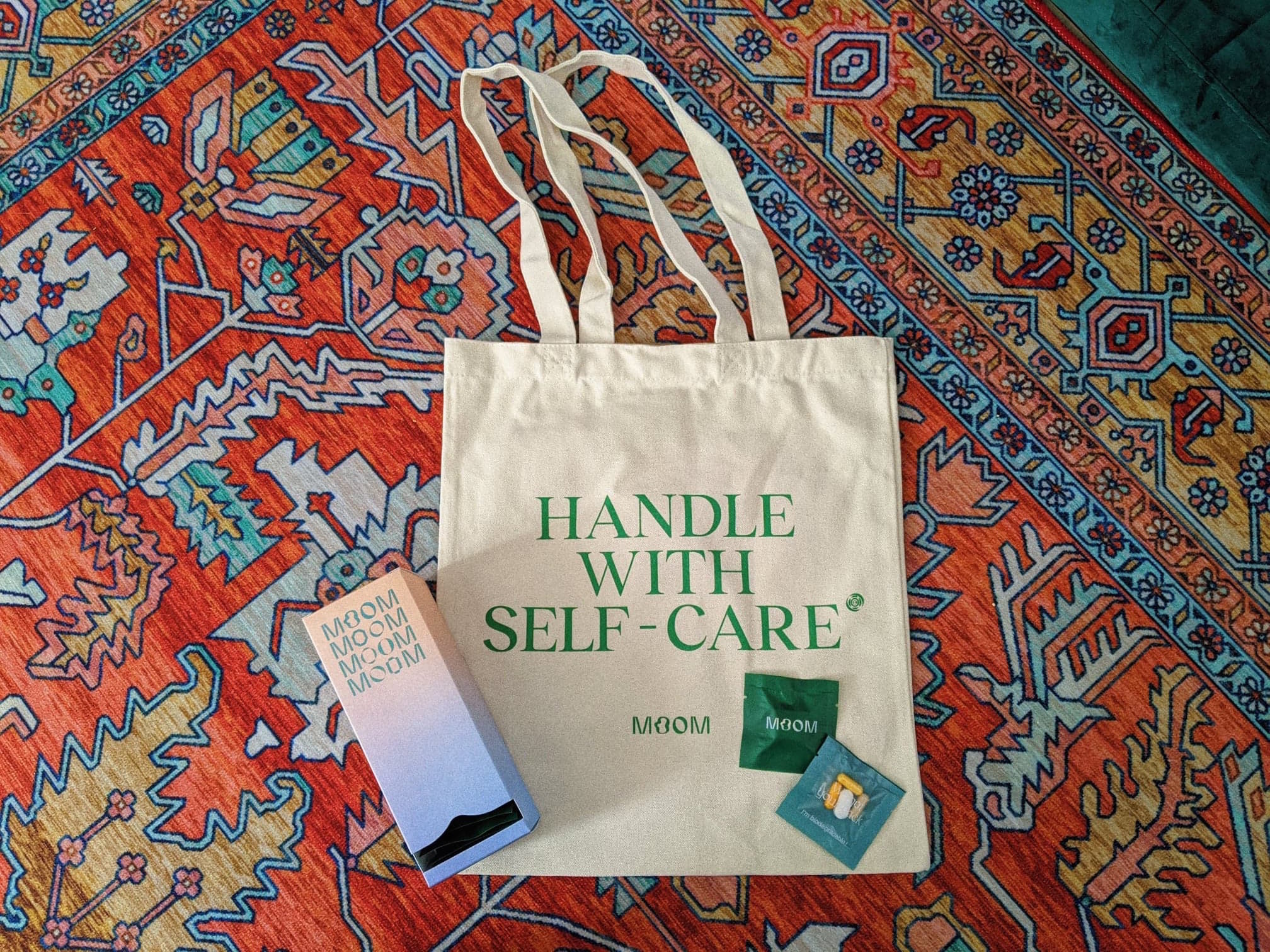 What would you say is Moom's wellness culture?
Possible, not perfect. Enjoy your glass of wine, your chocolate, your french fries; just remember to also make time for your daily dose of vitamins and minerals, some kind of movement, and enough water! We don't believe in extremes and think that wellness should be a daily experience and that your self-care rituals don't need to make you feel like you need to change who you are – they work with what you got!
Healing starts from within. It seems like an obvious one, but understanding that everything starts with you and your needs. Be it physical, mental, or emotional, it is so important that you know how to appreciate yourself in its entirety and accordingly advocate for what you need.

Now tell us more about Maya and Mili. What are your own wellness journeys like?
Maya: I was diagnosed with polycystic ovary syndrome (PCOS) at the age of 15 and immediately was told to take the wonder drug for all women's hormonal issues: the birth control pill. Doctors repeatedly told me that the pill would 'normalise' everything and while it did 'normalise' my period (aka I got it every month), it messed with everything else. I stuck to the pill, out of fear and lack of knowledge about anything better, and after five years I realised I hate it and was starting to hate myself on it. My boobs were sore all the time (I literally couldn't lie chest down on a yoga mat), I was moody, I had no sex drive, the list went on. I moved back to Singapore and decided to explore other methods (I finally listened to my mom) and finally, after hours of appointments and too much money, I found a set of daily supplements, dietary guidelines, and lifestyle adjustments that helped 'normalised' my PCOS- without all the side effects. It took a long time, but it was worth it and it took me off the pill!
Mili: I was the teenager and college student that never had acne, could always fall asleep, and rarely reacted to stress. But slowly, and unfortunately, it all caught up. It started with stress resulting in sleepless nights (I became used to sleeping three to four hours a night). Immediately doctors prescribed sleep aids to help me relax but would result in me feeling drowsy, weak, and unclear in the morning. Next up, stress acne and eczema at the ripe age of 28. It hurts at 13, but at 28 it's just unexpected. It started with the occasional pimple and eventually resulted in an explosion of acne across my cheeks and eczema underneath my eyes, looking like I had been punched. I visited seven dermatologists all of whom told me to take Accutane- another wonder drug with plenty of side effects. Like Maya, I finally listened to my mom, and found a holistic blend of supplements and certain dietary restrictions that helped my stress - and as a result my acne and sleeplessness.
"Women's health seems to be this magical abyss that lacks conversation, personalisation, and a true sense of community."
What were you doing before starting Moom? What inspired you to be in the business of wellness?
Predominantly our own experiences. Growing up with late-stage hormonal acne/eczema (Mili) and PCOS (Maya), we have seen all the medical practitioners, been frustrated with 'conventional' diagnosis, and struggled to navigate and find our way through the confusing, saturated wellness market. We have seen the benefits from taking supplements and incorporating elements from both 'eastern' and 'western' traditions, but it has taken us years, countless hours and appointments, and far too much money to create a personal ritual- and both of us have had to do this separately (we have very different concerns). Now that we both feel we are in a good place (there is still so much more learning to do), we are able to enjoy our self-care and wellness rituals, and think that should be the case for everyone- a joyful experience, not one that seems like a chore!
Maya has a background in International Relations and Women's health from Claremont Mckenna College. She worked at a startup in New York, after which she joined the founding team at WeWork in Singapore and was part of the Community Development team and Marketing Team. Currently, she is the Global Education Manager with Smile Makers, a wellbeing brand that supports sexual empowerment.
Mili has a background in Education Policy and was a fellow with Teach for India (TFI), working in a low-income school in New Delhi, after which she attended graduate school at Columbia University. Most recently she was the Head of Junior Counselling at Essai Education, a boutique education consultancy and still serves as a consultant for the company.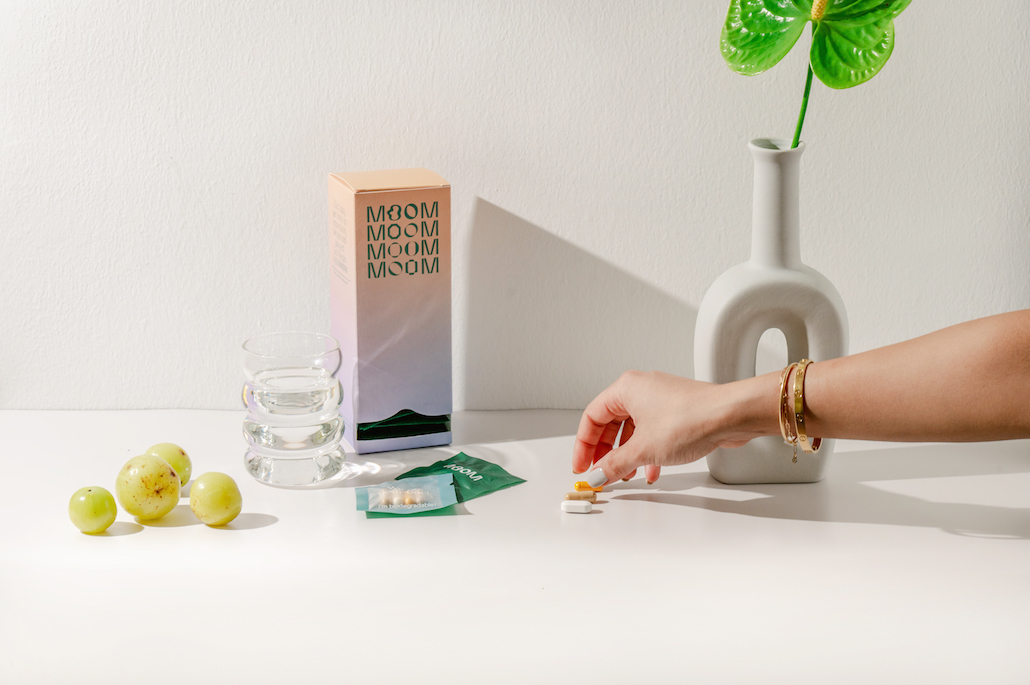 Most of the supplements for Moom use natural ingredients – tell us more about this. What are some of these special ingredients and their benefits?
When we started Moom, we knew one thing would always be a priority: the quality of our remedies. We use organic when necessary, genetically modified-free when possible, clinically proven and studied when available, and consistently work to source the highest concentrated ingredients. Many of our products are made with patented ingredients known to be the best in the world. Our quality standards go way beyond government controls, and will continue to do so as we continue to develop and grow!
Currently, we offer three "SUPER" supplements (all natural) that are patented products:
• Amla (AmVigour TM) a standardised extract and has undergone rigorous clinical trials. Amla is a cornerstone of Ayurvedic medicine and a very rich source of Vitamin C. It is one of the most nourishing herbs for your hair and skin. It helps strengthen hair follicles and increases blood circulation in the scalp, stimulating hair growth. Amla is also Ayurveda's best anti-ageing secret, given its collagen-building properties.
• Ashwagandha (KSM-66) is USDA Organic, has over 14 years of R&D, and is grown primarily in the Indian State of Rajasthan. Ashwagandha is an ancient adaptogen that helps the body adapt to stress, fatigue, and anxiety, and promotes a 'balancing' effect on the body's metabolic processes. Rooted in Ayurveda, the herb has been used to promote physical and mental health.
• Curcumin (Curcuboost TM) is considered to be the gold standard of curcumin extracts. Curcumin is a powerful antioxidant known for its anti-inflammatory (glowy, acne-free skin) and pain-reduction properties (bye-bye, cramps). We have formulated our Curcumin with piperine, the active ingredient in black pepper, which has been shown to increase Curcumin's bioavailability by 2000%!
We truly do take pride in all of our products and formulations, as they have all been selected and developed in consultation with eight medical practitioners. But if there were any standout ones, we would say these three.
"We have seen all the medical practitioners, been frustrated with 'conventional' diagnosis, and struggled to navigate and find our way through the confusing, saturated wellness market."
What are some of the feedback you have received since launching?
Our beta community has been so helpful in regards to having us understand what we should prioritize, how to approach the public, what formulations work and what doesn't. It was through feedback from our beta community that helped us refine the length of the quiz, that urged us to prioritise sustainability in our packaging (our sachets are biodegradable and our boxes are all recyclable and made from tree-free paper), that led us to further understand the importance of high-quality products at accessible price points.
The learnings from our community have been and will continue to be endless. With Moom, we want to create a wellness community that is along for the journey and continues to help us be the best we possibly can.
Why should we trust ancient rituals/medicine and what is something interesting you discovered along the way?
These rituals, herbs and medicinal traditions have been around for hundreds of years and have stood the test of time- there has to be some reason that has been the case. While there have been several advancements in the field, we believe that it doesn't need to be an either/or situation. We believe you should trust and utilise ancient rituals, but also have belief in modern science and research – Moom is a blend of both.
Something interesting we have discovered along the way is that the overlap between fields and traditions is tremendous. Be it between different medical fields - naturopathy to dermatology- or different traditions- TCM to Ayurveda- many 'solutions' are rooted in the same source, but come in different forms (herb, vitamin, supplement, tincture, and more).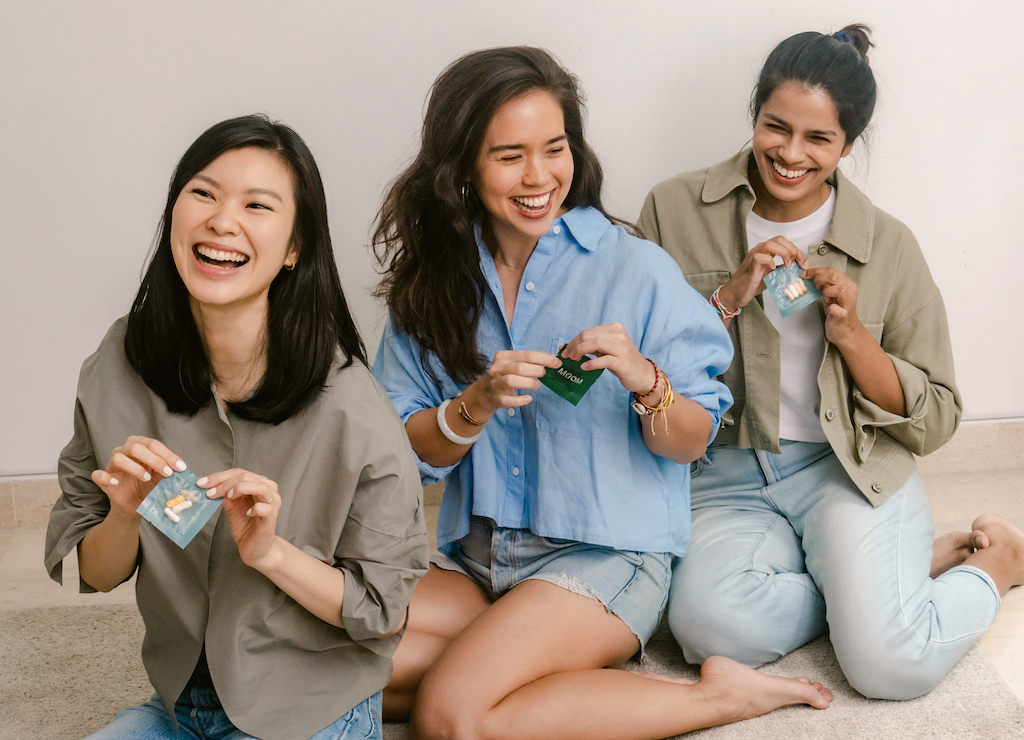 What advice would you give someone starting on a wellness journey with Moom?
Consistency is key. Supplements, like most things that are good for you, are not an overnight fix; they take a while to show their true colours. Based on what we have seen, personally, and learnt from our experts, we would recommend taking your daily dose consistently for three months (minimum), but ideally, six months to begin seeing the impact. Give it time and take your daily dose; if you miss a day, don't stress – just start back up the next day. Remember, possible, not perfect!
What does MOOM hope to achieve in the long run?
We want to be the go-to brand for natural remedies for women's health across the region. We believe there is a huge gap in wellness – and products are either made by brands our parents told us to take or ones with an exorbitant price point, or they aren't available to us – and we're here to fill that gap. We're excited about this and we're going to continue to create products that speak to our generation that are accessible, fun, and high quality.
Curate the ideal wellness day out in Singapore.
We start the day with a walk through the Botanic Gardens, picking up a coffee and baked good from Micro (after exiting on Cluny), get home for a nice long shower and then bingeing on television shows with a face mask on and a snack in hand (a couple of sticks of Tori-Q for #protein). If we can, we'd fit in a massage at Natureland, Yin Class at Hom Yoga and end the day by cooking a meal with friends at home and pair it with natural wine from Temple Cellars. As much as this would be an ideal day, we're not sure if we always have the motivation to care for ourselves quite this much!
Let's put aside wellness for a while – what's your favourite local guilty pleasure?
Mili: Char kway teow with a Milo Dinosaur.
Maya: Prata with teh.
Start your journey with Moom today