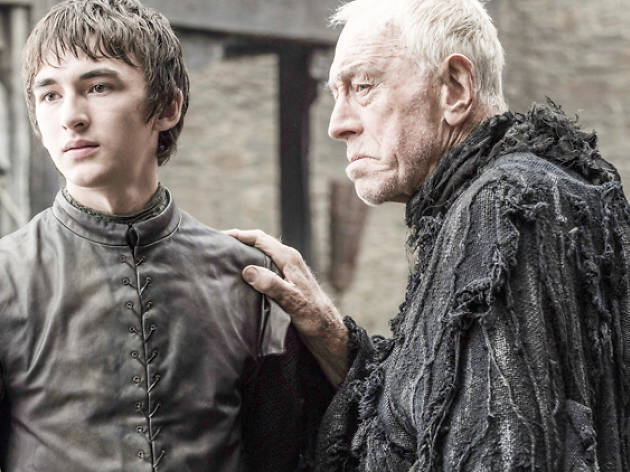 Interview: Isaac Hempstead-Wright, aka Bran Stark on 'Game of Thrones'
The actor hops off Hodor's back to tell us about Season 6 of the fantasy drama, his favourite character, and who he'd like to see capture the Iron Throne
If Isaac Hempstead-Wright got his way, Seth Rogen would make a cameo in an upcoming season of Game of Thrones. 'He could be a funny character, like the knight at Joffrey's wedding!' laughs the 17-year-old English actor, who plays Bran Stark in the HBO series. Maybe being left out of the previous season has turned him soft. Hell, he even admits Bran would much prefer 'hanging in his tree or cave' than rule from the Iron Throne.
But fate would have it differently. When he returns to the wicked world of Westeros in Season 6 of the fantasy epic, the young Stark lord might just be a power to be reckoned with. 'Bran's never been great at controlling his powers,' explains Hempstead-Wright, who's in Singapore to promote the show. 'So he's been learning to actually start using them himself.' For those who've been living under a Stone Man, the 'power' the character wields is called 'warging': the ability to enter the mind of an animal – or less-gifted human – and control it. So we turned the tables around and picked Bran's brain for a change.
Isaac Hempstead-Wright at HBO Asia's The Game Of Thrones Experience: Worlds Of Westeros in Singapore
Photo: Vamos Photography
'The obvious choice [of who Bran would like to kill] would be Jaime Lannister for disabling him'
How did you feel watching the show last year when you weren't on it, and how was it like to come back?
It was strange to not go in the summer to Belfast and see all these people – it's like a yearly summer camp I go to act and hang out with friends. It was also really nerve-wrecking back on set. I don't know if it was because I was away or if Game of Thrones had become bigger by then… it became more massive in Season 5, and everyone's like' 'You're not allowed to talk to people anymore.' [Laughs]
What will Bran bring to the story in the next season?
This season, Three-Eyed Raven's been trying to bestow upon [Bran] a sense of responsibility and make sure he understands that these are serious powers that could have a fairly tremendous effect on the entire climate of Westeros. [And these powers] are required in this world where the balance of the magical powers is firmly stacked against the humans and very much in favour of the White Walkers.
So are you still on Hodor's back?
It would look ridiculous, no – my legs are quite long. But we're pretty much all sitting down now, in the cave chilling out. So no need for that.
If you could warg into any animal, what would it be?
I'd love to fly, so maybe an eagle? If dragons were real, them, too!
Photo: Vamos Photography
'[On who he would like to ressurect] Well, Jon Snow, obviously.'
Who would you pick to rule Westeros?
Sansa! She's been through a really horrendous time. But through all of that, she's been privy to all the scheming that goes on in the political world of Westeros. She has experienced first-hand what that can do to a person, and how quickly that can be thrown away, so she's grown a very thick skin and cunning mind, which would suit her well for the throne.
If Bran were to turn evil, who would be on his 'kill-list'?
Ooh, I don't know if Bran's a particularly vengeful character. He has a fairly measured, zen feeling about him. But I'm sure it wouldn't be beyond him to make some people pay. The obvious choice would be Jaime Lannister for disabling him. But, personally having seen him go through everything, I'm kind of sympathetic. It's really clever writing. But I reckon Bran could make it look like an accident – knock a tree over with his mind powers or so.
And who would you resurrect?
Well, Jon Snow, obviously [laughs]. Or Robb Stark, it'll be nice to have one of the Starks back. All the Starks, really.
Actor Peter Dinklage as Tyrion Lannister
'I love Tyrion [Lannister] – he's got that sense of wit and cynicism that are crushed in Westeros, where you end up with people murdering each other.'
If you weren't a Stark, which House would your allegiance lie?
The Tullys seem like a nice enough bunch. They seem to have the same kind of honourable tendencies as the Starks. Definitely not a Lannister.
Who's your favourite Game of Thrones character?
I love Tyrion [Lannister] – he's got that sense of wit and cynicism that are crushed in Westeros, where you end up with people murdering each other. I saw this article where mathematicians mapped who the biggest characters were through their interactions, and it was Tyrion and Daenerys [Targaryen]. So: Team Tyrion!
Game of Thrones S6 premieres on HBO Asia on Apr 25.