Guide to Peranakan culture
Iola Lenzi takes a day tour of all things Peranakan, from the shophouses in Katong to the Peranakan Museum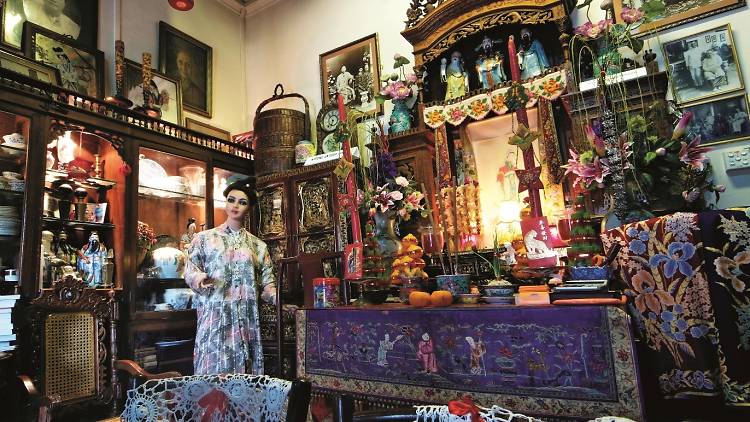 Their shophouses are ornate, their jewellery makes Western bling look discreet, and who can forget those little beaded slippers. Peranakans – aka Baba-Nyonyas or Straits Chinese – make up one of Singapore's most distinctive cultures. These early Chinese immigrants to the Malay Peninsula embraced Malay customs tinged with European, Indian and Arab influences, and now form a significant community in Singapore. It's easy to explore the heritage of the Peranakans – if you know where to look.
A Peranakan enclave
Start in the Katong/Joo Chiat area, home to the island's largest remaining assemblage of Baba architecture. Built principally in the early 20th century, this enclave still boasts stuccoed, tiled and terraced Peranakan shophouses, as well as sprawling bungalows put up by Singapore's Peranakan and Eurasian communities looking for a seaside view.
For lunch, enjoy a steaming bowl of Katong laksa at one of many kopitiams on East Coast Road. Afterwards, stop at Peter Wee's Katong Antique House (208 East Coast Rd, Tue-Sun 11am-6pm by appointment only; 6345 8544). Long interested in his ancestry, Wee, a fourth-generation Baba, sold Peranakan antiques before setting up his ancestral home as a private museum. The terraced building Wee inherited from his grandfather is a time warp, stuffed with Peranakan objects and documents such as the Bible in Baba Malay. Thoroughly approachable, Wee will share his considerable knowledge with anyone interested.
Another East Coast stop is Peranakan Alvin Yapp's The Intan (69 Joo Chiat Terrace, by appointment only; 9338 2234). In this post-war Joo Chiat house kitted out with Peranakan antiques, Yapp hosts dinners based on his mother's Nyonya recipes, including a delectable beef rendang and otak otak. 'I have always lived with Baba furniture,' Yapp says. 'I used to put on Peranakan spreads for my friends, and people so loved it that I decided to make the cuisine and the ambience into a business.'
'A diverse, fluid and living culture'
From Katong, make your way south to Armenian Street to explore the new Peranakan Museum. Run by the Asian Civilisations Museum (ACM), this ten-gallery exhibition venue that many will remember as the Hokkien Tao Nan School houses the world's largest and best overview of Peranakan cultural life.
Explore documents and artefacts – jewellery, silver, furniture, textiles and crockery predominate – brought to life via interactive and multimedia stations. The museum does not focus on any particular timeline, eager to avoid the nostalgia that many associate with the Peranakan lifestyle, for example Singapore in its pre-economic boom kampong days, when hawkers still plied the streets and established Peranakan Chinese families held sway.
And though much of the material dates from the pre-war period, the museum presents recently taped interviews with members of Singapore's Peranakan community. 'Peranakan culture is diverse, fluid and alive,' says Tan Huism, deputy director of curation and collections at ACM. 'With our presentation of the collection we aim to show how being Peranakan means different things to different people. This is a quintessentially South-East Asian culture: hybrid, evolving and ultimately far more than the sum of its parts.'
The museum explores Peranakan life and culture on three floors. On the first level, the Introductory Gallery defines the culture in broad terms, noting that there are Peranakan Chinese communities beyond Singapore (in Indonesia, for example), but also that the Indian diaspora that has embraced Malay culture is also known as Peranakan.
The second level's four galleries are devoted to the Peranakan wedding and its associated rituals and accessories. Here highlights include a sumptuous carved, lacquered and gilded wedding bed from 19th century Penang, embroidered wedding outfits (their mixed Chinese-Malay style made evident by both sarongs and kebaya) and a wealthy display of jewellery that attests not only to Malay and Chinese influences but also to Indian stylistic touches – the peacock emblem, for example.
On the museum's third level, the Nyonya, Religion, Conversation, Public Life and Food Galleries, flesh out the Peranakan heritage. Through material evidence such as beaded clothing, the Nyonya Gallery examines Peranakan women's traditional values.
The section elaborating religion is the museum's most surprising, explaining the divergence within the Baba community and so illustrating the culture's pluralistic essence. A video of a Catholic Mass given in Malay, the Tan Kim Seng ancestral altar table referencing traditional Chinese rituals, and displays documenting animistic folk superstitions embraced by some families provide a snapshot of Peranakans as a diverse and cosmopolitan group.
Rituals and religion
Seeking to underscore the importance of ritual in the culture, curators have devised the 'wailing corridor', where mourning clan members are recorded grieving at a family wake. Finally, the Food Gallery looks at the most widely recognised aspect of Peranakan culture: a fully laid tok panjang ('tok', Hokkien for 'table'; 'panjang', Malay for 'long') boasts an array of wildly decorated Peranakan porcelain while a video screens food preparation.
If after touring the new Peranakan Museum you're still not sated, make your way south of the river to Chinatown, where you can experience life in an affluent Straits Chinese household circa 1928. The 150-year-old Baba House on Neil Road has a façade adorned with elaborate, multi-coloured stucco pilasters that reference Peranakan architecture's mixed Malay, Chinese and English roots.