Five reasons to visit Fiji
From zip-lining and jet boating to snorkelling with sharks and a luxury cruise through ancient volcanic islands, here's why Fiji is the happiest place on Earth. By Dan Koh
Checking into paradise has never been easier: once you pass through the freshly upgraded Nadi International Airport from one of Fiji Airways' direct flights, more than 330 islands are yours to explore. Make the most of their stunning natural beauty with this line-up of activities that'll take you from ocean to ground to sky – and back again.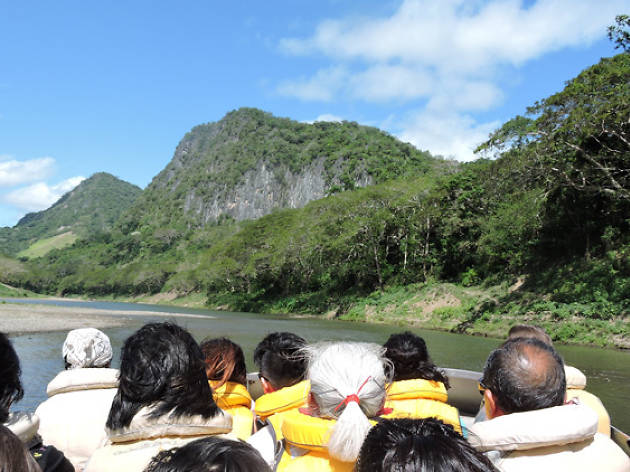 Speed down 17 kilometres of the Sigatoka River – the longest river on Fiji's largest island, Viti Levu – in a jet boat, complete with drenching turns, twirls and drifting. See why the surrounding valley's called Fiji's Salad Bowl, with glimpses of villagers line-fishing and horse-riding farmers beneath the fertile mountains, where parts of Jurassic Park were filmed.

Switch up the pace with a leisurely visit to Naveyago Village. The birthplace of rugby star Semi Kunatani, who helped clinch Fiji's first Olympic gold, the huts here are where you'll be inducted into the local way of life with a kava (a beverage with sedative properties) ceremony. This comprises the ritualistic grinding of Yaqona – the root of a pepper species – and the presentation of the resulting grog to your group's chief guest. Kava's taste? Acquired, to say the least, plus slightly mouth-numbing, but well worth trying to steel yourself for the even faster ride back.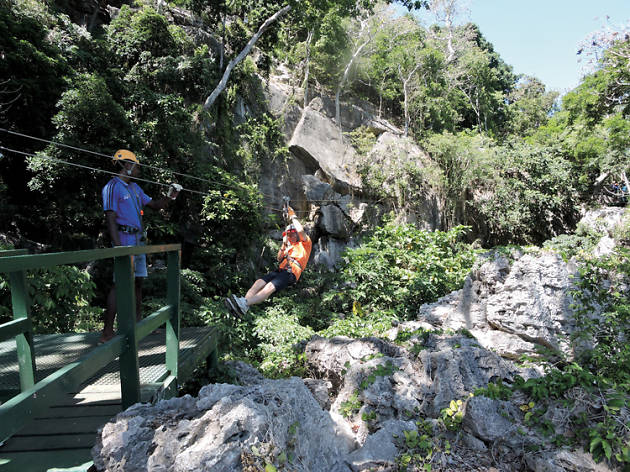 One of Fiji's newest attractions, Zip Fiji boasts 16 lines that zoom you over ancestral Nadi wilderness, 480 metres above sea level. After a quick lesson, you'll be trekking past rare Vesi trees up to the beginner-friendly zip line to embark on your treetop adventure. Gripping the lines with both gloved hands, the trick is not to brake too soon – there's a guide at the other end to catch or even rescue you. Once you get the hang of things, savour views of Mamanutha Islands and Tavarua, the famed surfing spot.

This unmissable experience includes an eye-opening tour through the bat-filled Oho Caves, one of Fiji's first settlements. Emerge back into bright light to spot your cheeky guides performing upside-down and no-hands tricks on the two-kilometre-long zip lines – give it a go to live up to Zip Fiji's tagline, 'We'll give you a story to tell!'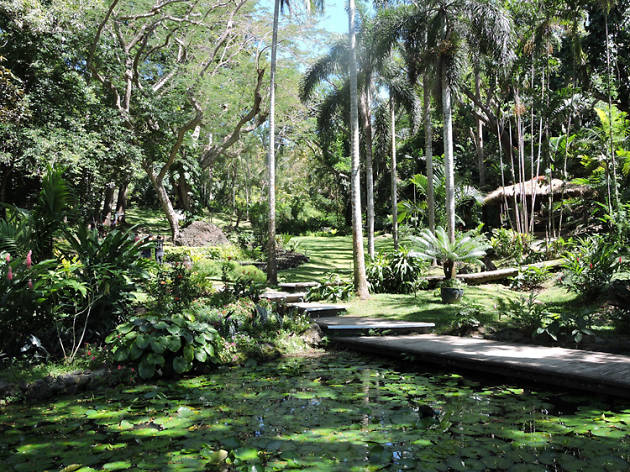 Tread quietly into the Garden of the Sleeping Giant to where happiness resides. So named for Mount Batilamu's profile, this 20-hectare garden in the foothills of the Sabeto Mountains was once the private property of American actor Raymond Burr (Perry Mason, Rear Window). Blooming at every turn with over 2,000 types of Asian and Cattleya hybrid orchids, plus indigenous flora and fauna, you too can traverse its hallowed grounds on scenic boardwalks with a knowledgeable guide who'll point out its pretty lily ponds, secret swings, hammocks and local art installations. Alternatively, trek by yourself under the mountains' shade to take a proud Singapore selfie with our national flower.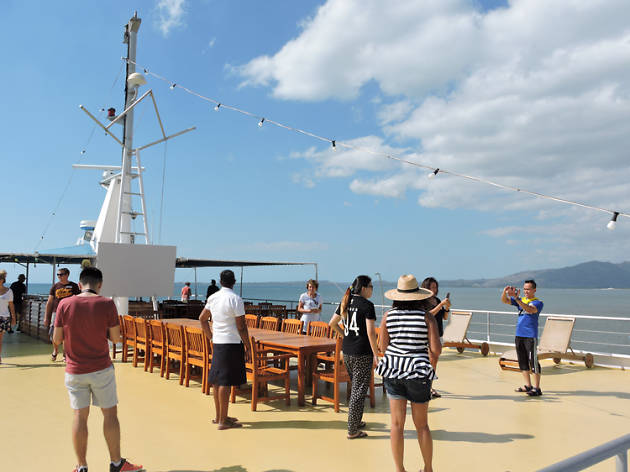 Hop on a leisurely cruise
A luscious chain of 20 volcanic islands, the Yasawas are best experienced on board Blue Lagoon Cruises' Fiji Princess ship. Accommodating up to 68 lucky passengers, you can be sure of making new friends over gourmet meals, line-fishing with the crew or late-night, impromptu song-and-seemingly-endless-kava sessions on the fairy lights-suffused deck.

During the days, which blend into one another in ecstasy, take a dip in the splash pool before rejuvenating at Senikai Spa. Or curl up in your room with a title from the ship's library – how about The Blue Lagoon or Cast Away, which were filmed around you? Then, welcome each evening with a cocktail in hand, reclining on the sky deck's lounge chairs, as you admire Fiji's tri-coloured sunsets. With map-reading sessions by the captain, bingo nights, Bollywood-themed parties and more, this is a one-way ticket to set adrift on bliss.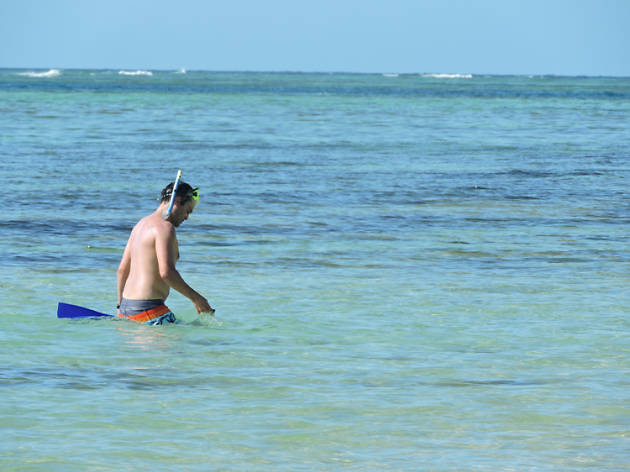 Life teems within Fiji's warm, emerald waters – you'll find sharks and 1,500 other species of marine life. Even with no snorkelling experience, you'll be able to get up-close and personal with the sea's apex predators off Kuata Island.

Your safety-oriented instructor will guide you to the shallower coral reefs – themselves a worthy sight – where schools of white- and black-tip sharks reside. With buoyancy aids available, confident and amateur swimmers alike can witness how the black-tip sharks tend to shy away, while their larger white-tip relatives are extremely inquisitive by nature – they may even swim over to sniff you out. If they appear much larger than their average length of 1.5 metres, don't panic: it's just an optical illusion from your face mask.

Once you've had your adrenaline rush, retire to the beach to recharge. Over a tropical lunch, perhaps ponder how, on Earth's happiest place, even the most frightening creatures become friendly.
Want to visit Fiji?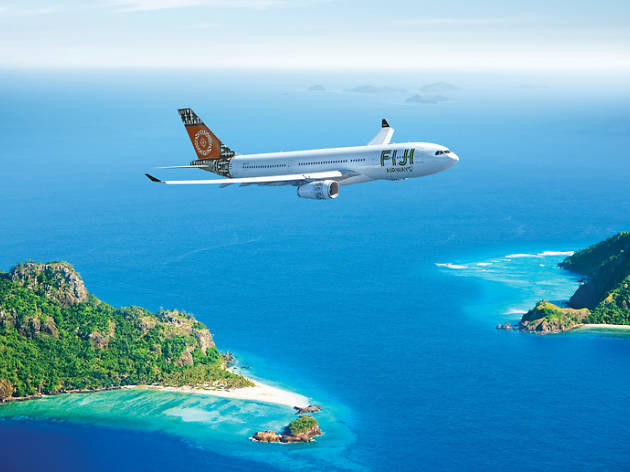 Travel to Fiji on Fiji Airways
Fiji Airways flies to Nadi International Airport from $699 (return trip).