The best things to do in Yokohama
By the sea and over the hills, Yokohama is known as the San Francisco of Japan. We tour the nation's second-largest city. By Sihan Tan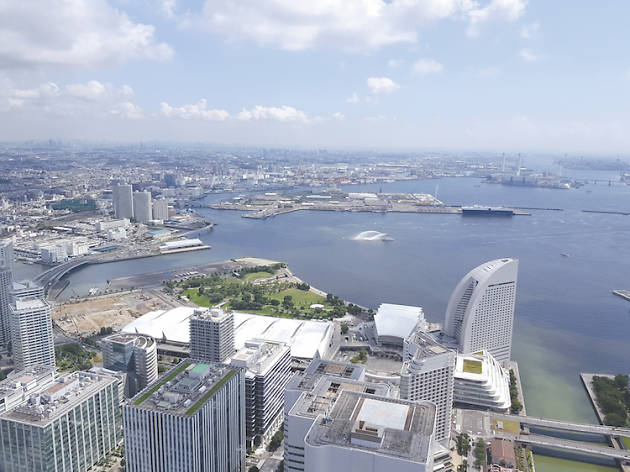 Halfway on their trip 'round the world, Phileas Fogg and Passerpartout knocked down pints of ice-cold Kirin beer in the port city of Yokohama, awaiting the long passage to San Francisco. The story of Yokohama, as Jules Verne can only fictitiously attest, is one of beginnings and reinventions. Unofficially the birthplace of modern Japan, Yokohama was the little fishing village that grew and grew into East Asia's window to the world.
By the 1870s, Yokohama would harbour Japan's first daily newspaper, an expat community and their modish Western fashions, and the nation's first ice cream and beer factories. A shinkansen hour away from the capital, Yokohama throngs with Tokyoites looking for quick respite among the quaint European-inspired buildings that dot the port city. On blue-skied days, one can see quite clearly from Osanbashi pier the beloved crowned towers of Yokohama: the Queen (Yokohama Customs building), the King (Kanagawa Prefectural Office), and the Jack (Yokohama Port Opening Memorial Hall). Here are the other highlights of the city.
Anpanman Children's Museum and Mall
Where to go
Kirin Beer Factory is a cathedral for the eternally thirsty. Centred around Japan's oldest first-press beer (that's Kirin Ichiban), the breezy tour is peppered with enough interactive installations, theatrically tactile effects and snazzy videos you'd almost believe you understand the science of beer-making. And that's not to mention the free flow alcoholic and non-alcoholic beer awaiting visitors at the end of the experience.
Try your hand at the famous 'three-pour method' that creates a dictionary-thick head, and save tummy room for the exquisite beer-and-food tasting set, which features a curious selection of beers infused with, green onion, Japanese ginger and other local ingredients.
Ready your DSLRs for the Nissin Cup Noodle Museum and its mosaic of every single cup noodle flavour in the world. The exhibits, modern art and hands-on experiences with the history of instant noodles – and the guaranteed MSG satisfaction – culminates in the making of your very own bespoke cup noodle.
Not strictly for kids, Anpanman Children's Museum and Mall promises a helluva ride. Named after the cartoon character who sports a pastry puff for a head, the museum features collectibles and rotating exhibits that range from the child-friendly to the downright bizarre.
Motomachi Shopping Street
What to do
Red bricks were all the rage in turn-of-the-century Japan, but Western bricks would prove unfavourably brittle in the face of earthquakes. Still, the restored Yokohama Red Brick Warehouses 1 and 2 make for gorgeous sightseeing (and shopping). They're by-the-waters scenic and house dozens of stalls selling indie fashion and accessories. For a taste of old Yokohama, Kadohei delights with tsuke-ten (tempura in soup) and cold soba lunch combos.
Motomachi Shopping Street was once Japan's most cosmopolitan avenue. Now primed towards the middle-class residents of the neighbourhood, it retains the unfussy grace of a European shopping parkway, where the likes of Zara and Laura Ashley mingle with cosy-chic boutiques and quiet cafés. For refreshments, check out the roastery and drip coffee amid manga and jazz at Café Kamenohashi.
Walking tours
If the free-and-easy route doesn't quite suit you, Yokohama offers a number of walking tours that take you through the city's best sights.
The Yokohama Port City Strolls is a good place to start if it's your first time visiting. It begins at Chinatown, which was founded in the 1870s and has grown into the largest of its kind in East Asia. With hundreds of restaurants and shops (including the many streetside fortune-tellers and panda-themed gift stores) along narrow pedestrian-only passageways, it can perhaps also lay claim to being one of the most photogenic Chinatowns around.
After ambling through Chinatown, you'll be brought to Yamashita Park. Home to the famous 'Girl with the Red Shoes' statue and built nearly a century ago from the rubble of the 1923 Great Kanto earthquake, the serene park is great for picnics, bayside romance and expansive views of cruise ships.
Hamakkos – those are the Yokohama locals – are serious cruise afficionados. So it makes sense that The Sea Inside tour takes you through the Osanbashi Yokohama International Passenger Terminal, a utopist's amphitheatre with wide, rumbling waves of wood and grass. Sharing the reclaimed coastline with Yamashita Park and Red Brick Warehouse, the terminal extends outwards like a pier-shaped island, providing a paranomic vista of Yokohama's skyscrapers and the ship-dotted Sea of Japan.
Beluga whales are the white diamonds of Hakkeijima Sea Paradise, your next stop on the tour. The sprawling complex includes an aquarium (Aqua Resorts), a theme park (Pleasure Land), and a museum (Aqua Museum) – walruses, whale sharks and sea turtles are just a few of the marine creatures that call it home.
A bar-lined street in Noge-cho
All houses of pleasure in Yokohama's red-light district, Isezaki-cho, are advertised as 'soaplands'. Gentlemanly lust aside, the Yokohama After Dark tour brings you to some of the best night binge-shopping, eating and drinking joints in Yokohama.
Araiya is the bastion of the city's signature dish, the gyu-nabe (a version of the sukiyaki beef hot pot), and has been around since 1895. For a more Murakami-esque experience, check out Sogetsu for its curation of whisky, cigars, jazz and French New Wave film posters. No cats, unfortunately.
For late-night supper, sake, coffee and (even more) jazz, Noge-cho is another popular semi-residential neighbourhood whose closet-sized bars and cafés serve only five to eight people at a time. In this district, you'll also find Gay Town Noge, Yokohama's LGBTQ hangout that features over 30 watering holes.
Trains from Tokyo's Haneda and Narita Airports to Yokohama will take about 25 minutes and 90 minutes, respectively.