Places to visit in Nuwara Eliya
Here's more on where to visit if you ever find yourself in the whimsical world of Nuwara Eliya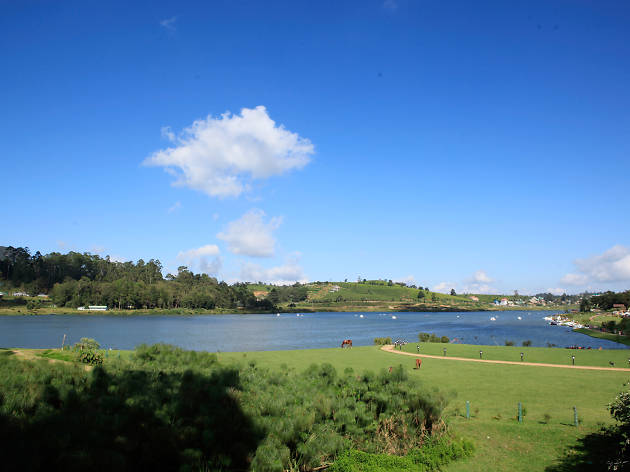 Attractions, Parks and gardens
Gregory Lake is a serene environment, complete with a stretch of green grass and grazing horses where countless visitors go to unwind. Here, along the lake you will see groups either enjoying a family picnic, riding horses, on a paddle boat or taking a leisurely stroll. One of the main attractions in Nuwara Eliya, Gregory Lake was built by Governor William Gregory between 1872 and 1877, in order to utilise the water from the Nanu Oya which runs across the town. It is said that the lake was used for water sports and recreational activities during the British period.
As suggested by its name, Victoria Park is named after Queen Victoria. Established in 1897, the park is a pleasant space filled with colourful flowers that you will not be able to witness in any other part of Sri Lanka! The Park is also popular for bird-watching activities and is also a favourite for children, who enjoy the miniature train ride found at the Park. The Museum built by Mahinda Dodampe Gamage, the Mayor of Nuwara Eliya is located at the back entrance. Visit the museum and discover their collection of photographs and artefacts depicting the bygone years of the town.
Locally referred to as the Bale Bazaar, it is also called the Winter Market. Aptly named, at a glance you will see that the market houses a majority of products that are winter-related (cold weather, since there is no real winter in Sri Lanka). This is where you should go to gear up for the harsh climates, if you're planning to stay a day or two in Nuwara Eliya. You will also come across a countless number of people who have driven in from far off, with the sole purpose of stocking up on some high-quality and affordable winter-wear before they fly back to their wintery homes abroad. The Bale Bazaar is a great stop filled with a diverse array of clothing and winter wear which you can get for a great bargain. Don't miss out!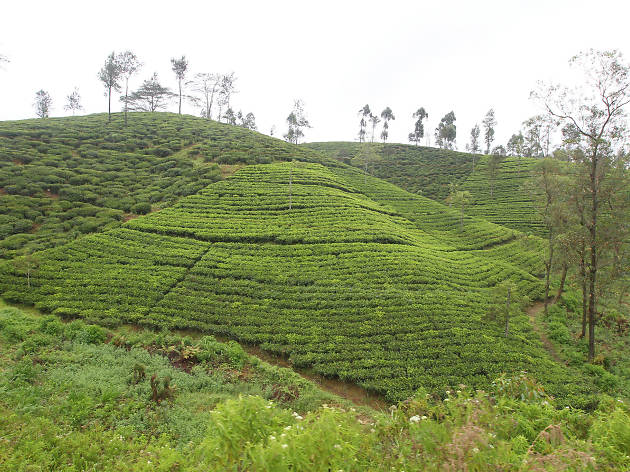 © BT Images
On the way to Nuwara Eliya or if you are to drive a few minutes away from the town, you will be treated to breathtaking views of tea estates! Make your way through the maze of tea bushes and discover where the elixirs of Sri Lanka come from. There are many tea plantations and tea factories that will be more than happy to show you around, and explain the tea plucking and tea-making processes as well as let you try some of their freshly brewed tea! A truly Sri Lankan experience.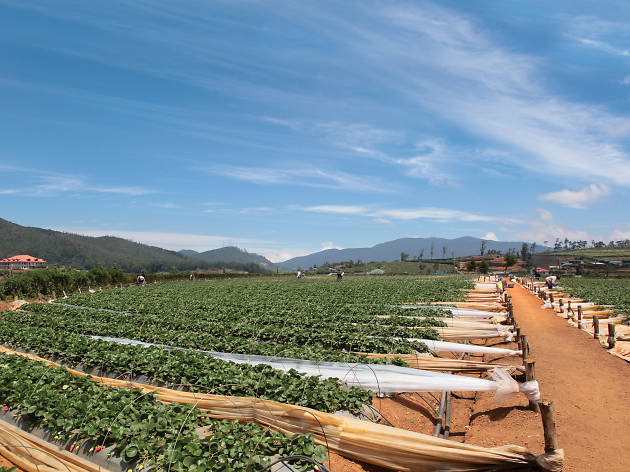 © BT Images
For an enchanting experience, visit one of the many strawberry fields in Nuwara Eliya. A sea of emerald dotted with juicy strawberries will greet you as you inch closer (a great backdrop for your photographs) and at certain fields during the season time, you are able to walk through the fields picking your own strawberries! It is also possible to arrange a tractor tour around the premises—just speak to your tour guides or the ticketing counter. Some of these fields also have an attached shop where freshly picked strawberries along with jams, juices and other strawberry-based products are readily available.
A must visit—The Ambewela Farm, sometimes referred to as 'Little New Zealand', is set in a picturesque landscape, and surrounded by lush greenery and mist-shrouded hilltops. Here, you can observe cows and cattle grazing in the farm along with other farm animals that visitors can interact with! If you're lucky, you just might get to see milking of the cows. You can also purchase farm-fresh dairy products here!
A treat for all the nature lovers! The Botanic Gardens at Hakgala was established in 1861 and is situated at an elevation of 1745m above sea level. The impressive display of flora spreads out over a span of 28 hectares and consists of various sub-gardens that are sure to intrigue: Upper Flower Garden, Fernery, Rock Garden, Arboretum, Rose Garden and Glass House among others. Visit the Hakgala Botanical Gardens and make a day of it!
Attractions, Religious buildings and sites
A remarkable religious and historic structure, Seetha Amman Kovil (Temple) is located amidst the misty mountains and tall pine trees. A striking and sculptured temple, it is said to be the place where Sita was held captive by Ravana according to the Ramayana story. The legend says that, Lord Hanuman, who was sent to save the captivated queen, Sita first spotted her at this temple. Here, you will be able to see footprints that are believed to be of Lord Hanuman and apart from the occasional poojas you can also see the colourful and festive celebration of 'Rama Navami' every March 28th.
Attractions, Parks and gardens
The central plain located in Nuwara Eliya is called the Moon Plains, locally referred to as 'Sandathenna' and is a vast greenland complete with a surrounding forest reserve, tea estates, gardens and vegetable farmlands. The towering mountain range that is just visible, complements the winsome ambience. An ideal location for relaxation and a refreshing stay (not far off, you'll find cottages and bungalows that are straight out of a children's fairytale!)