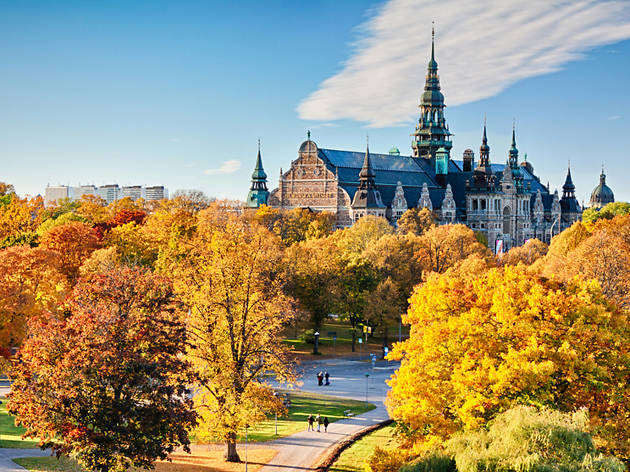 The 10 most beautiful buildings in Stockholm
Witness the city's most stunning buildings, from Nordic classicist styles to modernist and centuries-old structures
Stockholm is a city that has exploded outwards from just one tiny island, and its architecture reflects that journey. From majestic 14th-century buildings in the old town to the Nordic classicist and modernist constructions spread across the inner-city, including familiar attractions and plenty of other Instagrammable places, the variety of Stockholm's architecture is best explored to help visitors understand how different eras have shaped this city.
This list includes some of Stockholm's finest, starkest and most controversial architecture, from a 1980s stadium that resembles a giant golf ball to wooden cottages that housed working-class Stockholmers centuries ago. Ticking them all off is one of the most satisfying things to do in Stockholm, a truly unique Nordic capital.
Most beautiful buildings in Stockholm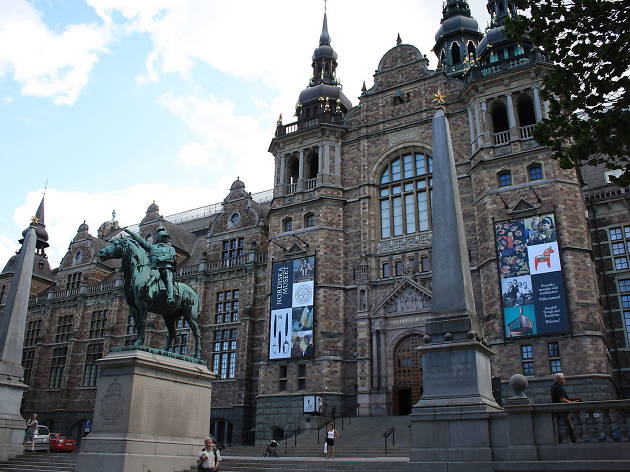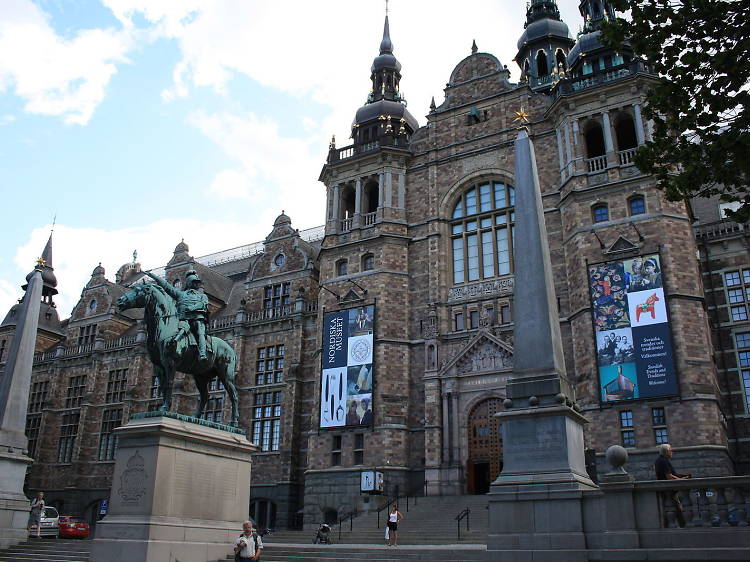 Photograph: Courtesy CC/Wikimedia Commons/Tvabdou
1. The Nordic Museum (Nordiska Museet)
The cathedral-like Nordic Museum sits on the shore of Djurgården, facing Stockholm's east end. With spires that stick up like something straight out of a Harry Potter novel, this early 20th-century extravaganza was built to collect all that is Nordic, and that remains what this museum displays at present. Exhibitions include an exploration of the unique Scandinavian relationship to light, a remake of a typical 1940s Swedish apartment and the history of the indigenous Sami people. It's a gorgeous building, both inside and out, and offers free entry every Tuesday between September and May.
Stockholm's most iconic building sits at the tip of Kungsholmen island, just opposite Central station. Stockholm City Hall is more than just the seat of local politics: it also hosts Stockholm's most important events, including the annual Nobel Prize banquet. On a tour of these 1920s red-brick halls, you can mingle like a Nobel laureate as you're granted access to the glitzy Golden Room, the walls of which are covered in 18 million gold mosaic tiles. Outside, the city hall has a neat garden that looks across the water to Södermalm; a perfect place to catch some midday sun.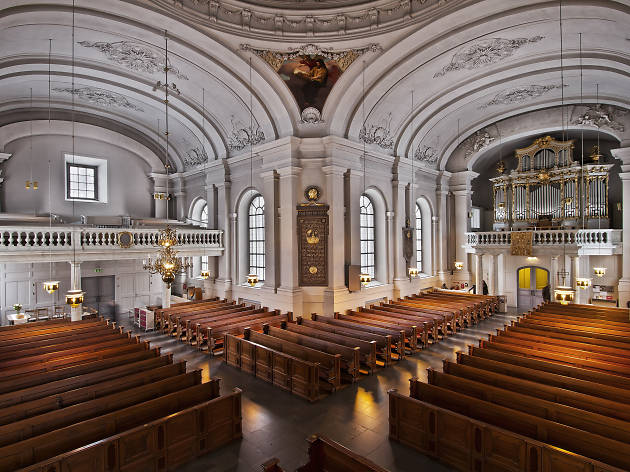 Photograph: Courtesy CC/Flickr/Kah Wai Lin
Nordic churches are known for their simple style, and Adolf Fredrik in central Stockholm is no exception—but this one is beautifully simple. With a white dome that sticks out amongst Norrmalm's modern skyline, this large church has a picture-perfect yard, laid out with flowers and benches that makes it a gorgeous inner-city spot on a summer day. Sweden's late Prime Minister Olof Palme is buried here—his grave is the one that normally has red roses on it—and the headquarters of his Social Democrat party are just across the street on Sveavägen. Whilst the area surrounding this church teems with history and politics, it's a sanctuary of calm inside, with elegantly painted ceilings and countless candles. If you happen to be in town over the holidays, the atmosphere is best captured during a carol concert for the festival of light, St Lucia's Day in December.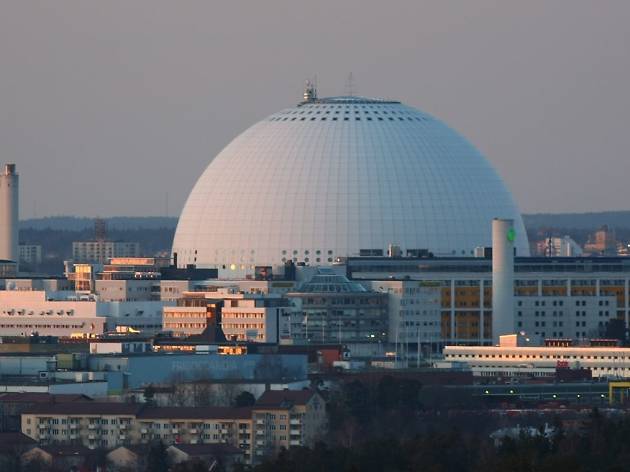 Photograph: Courtesy CC/Wikimedia Commons/bengt-re
Pushing at the boundaries of what counts as a beautiful building, Stockholm's premier concert venue deserves a place on this list for its sheer imagination. What essentially looks like a giant golf ball sits just south of Södermalm; and while the design of the Ericsson Globe might not be to everybody's taste, all agree that it is a wonder, at least. Whilst the functionalist, modernist area surrounding it is one of shopping malls and restaurants; the Globen stadium itself is first and foremost a place to see live music or catch a hockey game. There's also the Skyview, a kind of outdoor "bubble" lift that goes up the Globe, providing a wide view over southern Stockholm.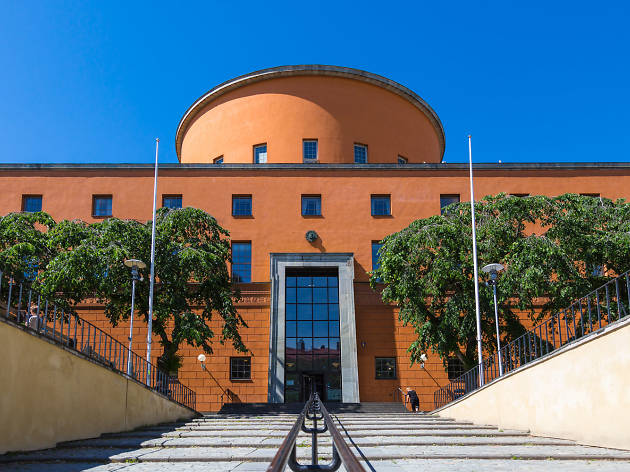 Photograph: Courtesy CC/Flickr/Rupert Ganzer
5. Stockholm City Library (Stadsbiblioteket)
Stockholm's city library looks like a large orange top hat at the crossroads of Sveavägen avenue and Odenplan square. This gem of Nordic classicism, with its pyramid-like entrance, certainly strikes the eye, but its interior is just as captivating; the main, circular hall frequently appears on Instagram as an exemplary haven for booklovers. Note also the faux-Egyptian carvings in the entrance hall. Meanwhile, the side-halls make perfect study corners, with leather-topped desks and antique lamps. There are plenty of English books to pick up in the main hall for some vacation reading, and a collection of newspapers from around the world in the international library just next-door.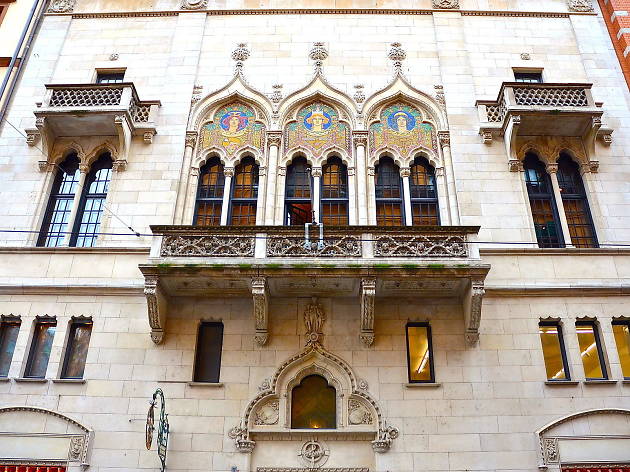 Photograph: Courtesy CC/Wikimedia Commons/Frankie Fouganthin
6. The Artist House, (Konstnärshuset)
Just by Norrmalmstorg square in central-eastern Stockholm sits this Neo-Gothic gem, boasting a lavishly decorated balcony that Gaudi would be proud of. As you may have guessed from the name, the Artist House was built as a space for the Swedish Artists' Association, and it remains so today. That would explain why this unusual building, with mosaics and carvings that reflect Spanish and Italian influences, sticks out amongst the more classical red-brick or pastel buildings that fill this grand end of central Stockholm. Nowadays, the Artist House is open for contemporary exhibitions, showcasing Sweden's latest up-and-coming artists.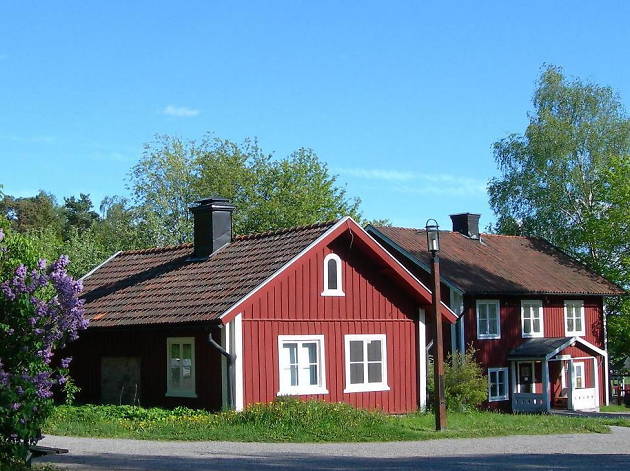 Stockholm was once a small city with much less global influence, and occasionally you can still catch a glimpse of this other world. There are several old houses dotted around the centre which were once the homes of ordinary Stockholmers; one of the best examples is on Stigbergsgatan, a quiet street on Södermalm. Here you'll find a classic Swedish cottage, painted in copper-red with a huge, low roof and multiple chimneys. The now-gentrified island of Södermalm was once Stockholm's working class district, so the occupants here would've been cleaners or nannies for the richer residents of the old town. This house is not only gorgeous, but an authentic snapshot of old-world Stockholm.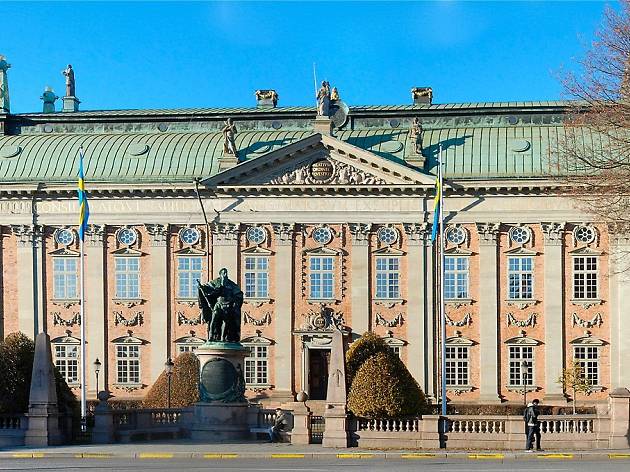 Photograph: Courtesy CC/Wikimedia Commons/Ankara
8. The House of Nobility (Riddarhuset)
The old town island of Gamla Stan is a maze of cobbled streets and centuries-old buildings in warm colours, and one of the finest examples of this particular era of architecture is the House of Nobility, by a bridge to the off-shoot island of Riddarholmen. 'Riddar' means 'knight': this is the island of the nobility, and Riddarhuset the house where their records have been kept for centuries. Riddarhuset exemplifies the Nordic Classic style; a many-windowed, candy-pink palace that sticks out from the rest for sheer grandeur. The house is open to the public, with self-guided smartphone tours available in many languages as well as a full calendar of year-round cultural events.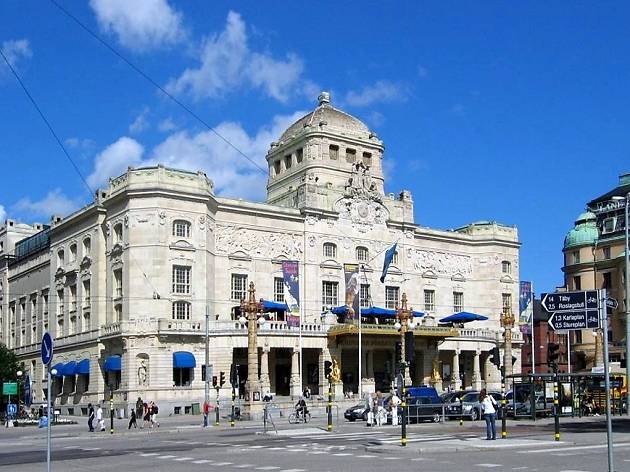 Photograph: Courtesy CC/Wikimedia Commons/Jonnie Nord
9. The Royal Dramatic Theatre (Dramaten)
On Nybroplan, a square where Östermalm meets its harbour, is a theatre so dazzling you cannot miss it; it quite literally dazzles when the sun is shining, with all that gold around its entrance. This feast of Neo-Baroque and Art Nouveau style from the turn of the 20th century is still, one hundred years later, Sweden's primary theatre. Dramaten regularly showcases new Swedish playwrights, as well as hosting international theatre companies. Even if you're not a theatre buff, it's worth stopping by this glorious building and checking out its opulent interior over a drink at the theatre bar.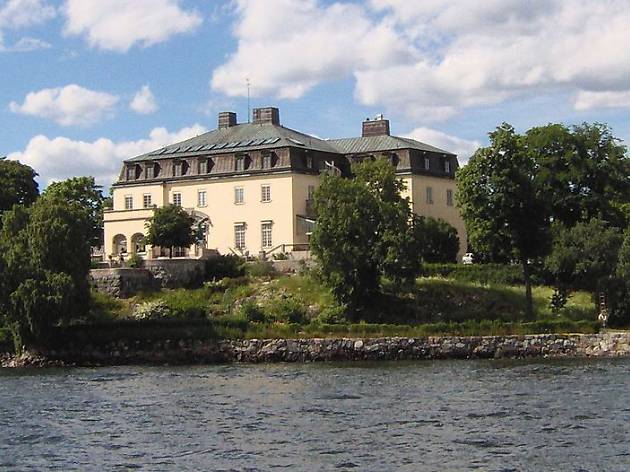 10. Prins Eugens Waldemarsudde
Beyond the cluster of museums around Skansen, Djurgården island is an oasis of calm and nature in the centre of Stockholm. On one of Djurgården's many quiet and lovely corners you can find Waldemarsudde house, a former royal residence in a classic Nordic style. What was once the home of Prince Eugen has now become a space exhibiting 20th century Swedish artists, with a café and a sculpture park in its carefully curated gardens. The surroundings of the house are just as beautiful, as Waldemarsudde looks across the water to Nacka island, which makes the bench at the end of the garden perfect for watching cruise ships sail past.
See more stunning sights in Stockholm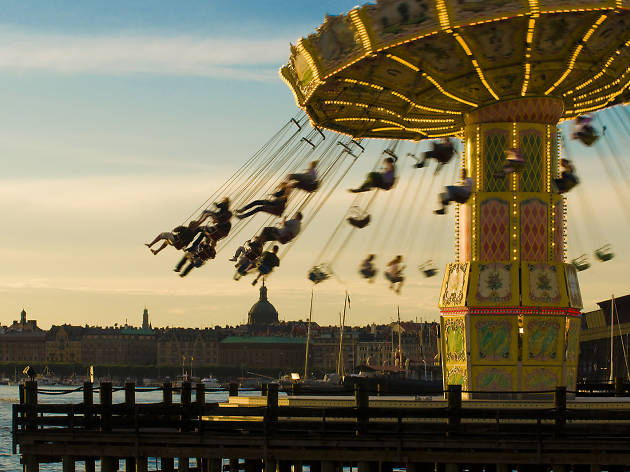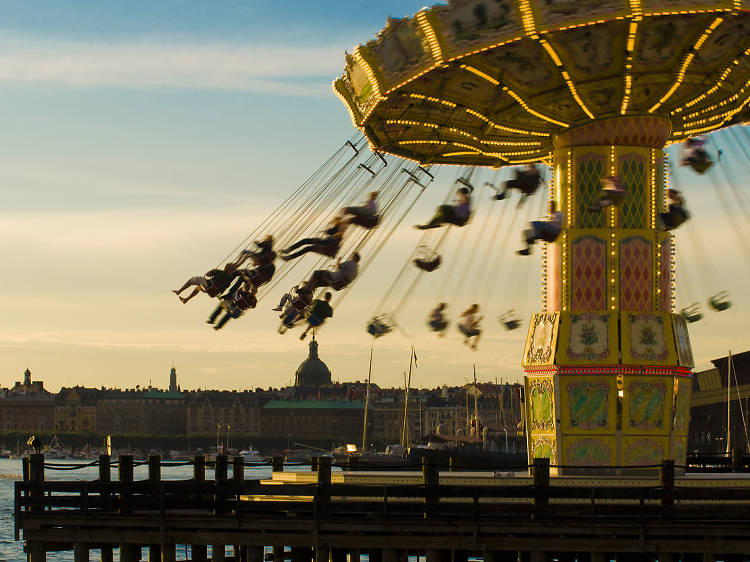 Photograph: Courtesy CC/Wikimedia Commons/Benoît
The visual appeal of Sweden's capital, nicknamed the 'Venice of the North,' speaks for itself. Grab your smartphone or camera and start exploring at these top spots for 'gramming.