Heads up! We're working hard to be accurate – but these are unusual times, so please always check before heading out.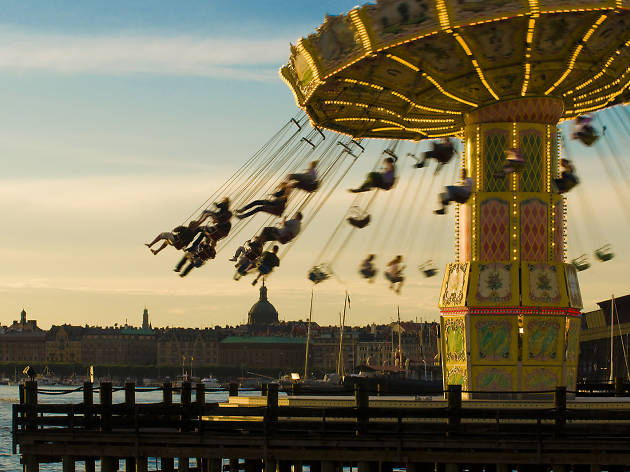 The 10 most Instagrammable places in Stockholm
With its picturesque harbors, buildings and vibrant city life, you can bet Stockholm is ready for its close-up
The visual appeal of Sweden's capital, nicknamed the 'Venice of the North,' speaks for itself. The bridges connecting the inner-city islands make fantastic spots for a shot of the lakes and city all in one (and probably some snow), but there are plenty of other sights worth capturing. Here we've collected the top ten dazzling, visually stunning places in Stockholm that will light up your Instagram account. (Or, if your feed is exclusively for food, take a look at our list of the finest restaurants in Stockholm.)
Some are outdoor, summer locations like Gröna Lund or Skansen park; others are iconic and beautiful buildings and attractions like the city hall and Stockholm's city library. We've also included indoor retreats: cafes with award-winning design and even artist-curated metro stations—the Stockholm metro system is not called the world's longest art gallery for nothing. Grab your smartphone or camera and start exploring at these top spots for 'gramming.


Stockholm City Hall (Stadshuset)

Stockholm City Hall—with a spire that sticks out above old-town Stockholm's skyline, at the tip of Kungsholmen island and just opposite Central Station—is by far Stockholm's most iconic building. And it's more than just the seat of local politics: it also hosts Stockholm's most important events, including the annual Nobel Prize banquet. You can mingle like a laureate on a tour of this 1920s red-brick hall, which lets you into the glitzy Golden Room, whose walls are covered in 18 million mosaic tiles. Outside is a garden that looks across the water to Södermalm, an eye-catching site in itself, and a perfect place to catch some midday sun or a photo of sunset over central Stockholm.


Gröna Lund
On the coast of Djurgården island, looking back towards the city centre, is Gröna Lund, the Scandinavian concept of an amusement park which does so much more. With its rollercoasters, vintage ghost trains, sweet shops, waterside restaurants and pubs, Gröna Lund is a playground for all ages. In the summer, it also hosts Sweden's longest-running music festival: Bob Marley set the record when he drew a crowd of 32,000 to the park in the 1980s. It's a picture-perfect setting when the midsummer sunset makes the tips of the pastel-coloured rollercoasters glow until late into the evening.


Fotografiska
Less than ten years ago, an old red-brick customs house on the northern shore of Södermalm was transformed into one of the world's biggest photography collections. Fotografiska has since established itself as one of Stockholm's biggest attractions, with New York and London versions opening up since. Fotografiska is loved not just for its thought-provoking exhibitions, but also for its top-floor restaurant and cocktail bar with views across the old town and eastern islands of central Stockholm. For an open-air view, climb the steps up the cliff behind Fotografiska onto Fjällgatan street, to get a sweeping view of inner-city Stockholm in one photo.


Skogskyrkogården
Despite being named a UNESCO World Heritage site, this vast woodland cemetery in the south of Stockholm is one of this city's best kept secrets. Here you'll find chapels in weird and wonderful Scandinavian design, intriguing sculptures and, in the winter, children sledging down its miniature hills. You'll also find the graves of some famous Swedish writers, architects and actors, including Greta Garbo. All of this is set against a forest backdrop: making Skogkyrkogården (although a mouthful to pronounce!) the perfect setting for a photo in any season. It's especially magical at dusk on November third when Swedes have left candles on the graves of their loved ones for All Saint's Day.


Bar Central, Östermalm
Bar Central serves up hearty and high-quality pub dishes, Swedish-style—but it's not just the food you come for. This bar was recently named one of the top twenty most beautiful restaurants in the world for its elegant Scandinavian décor. Think dark green walls and low-hanging brass lamps under a zig-zag-patterned ceiling. Outside isn't such a bad sight either: Bar Central lies on opulent Östermalms central avenue, Birger Jarlsgatan. This is the ideal location for an inner-city snapshot of Stockholm, as fancy cars and taxis whizz by along a street lit up late into the night with cafes, clubs, shops, cinemas and restaurants.


Trädgården, Skanstull
Stockholm isn't an easy place to strike up a conversation with a stranger in winter: Stockholmers retreat to their homes or to the pub in small groups, with little outside interaction. But all of that changes in summer. As the sun stay out later, the outdoor bars open up and so do the locals. One of the most sociable spots is Trädgården, the garden of club Under Bron (Under the Bridge). A night at Trädgården (located exactly where you'd expect) feels more like you're at a festival than a bar. There are string lights, food trucks, comedy performances, DJs and plenty of conversation with people in double denim. Trädgården is the place to capture the local indie scene of Stockholm by twinkling lights on a late summer evening.


Skansen, Djurgården
At the heart of Djurgården island is Skansen village, where museums and amusement parks cluster around a quaint centre of old, colourful Swedish villas. One of these museums is Skansen; here you'll find traditional crafts, markets, an outdoor stage with popular Swedish music performances, big New Year's Eve and Midsummer celebrations and restaurants serving traditional Swedish food. It's also home to Stockholm's only zoo, where you'll find typical Nordic animals like bears, wolves and falcons. Aside from capturing a slice of traditional, historical Sweden, this is a great place for a sunset photo: Skansen's model houses and gardens run up around a hill, from which you get great views across the east of the city centre.


Stockholm City Library (Stadsbiblioteket)
Stockholm's main library is an architectural wonder: it looks strikingly like an orange top hat landed at the crossroads of Sveavägen avenue and Odenplan square, and the inside of the building is just as captivating. The main, circular hall frequently appears on Instagram as an exemplary haven for booklovers. Yet there's plenty else worth capturing here, like the pyramid-like entrance and faux-Egyptian carvings in the entrance hall. The side-halls make perfect study corners, with leather-topped desks and antique lamps. There are also plenty of English books to pick up in the main hall for some vacation reading, as well as a collection of international newspapers in the international library just next door.


Il Caffe, Södermalm
In the centre of Södermalm island lies Södermannagatan, a street lined with old Swedish cottages and modern boutiques. Here you'll find Il Caffe, one of Stockholm's top coffee establishments and bakeries. The sweet buns and sourdough sandwiches speak for themselves, but it's the setting that really seals the deal. Simple, low-lit tables are perfect for a quiet bit of work or meeting with friends in a cozy corner. Good news for your nose and your Instagram page; the place is always filled with the smell of flowers, as there's an exposed wall between the café and the plant boutique next door. It's picture-perfect: not just for the treats and the décor of the café itself but also the street outside it, which is the very essence of Södermalm.


Kungsträdgården Station
Stockholm's metro system is also known as the world's longest art gallery, and with good reason: Over half of its stations have been designed by commissioned artists, featuring bizarre sculptures, cave-like walls and eye-popping colours and patterns to brighten up any commute. Kungsträdgården (or The King's Gardens), the southernmost stop on the blue line, is especially unusual. The artist imagined what it would be like if this station was discovered in an archeological dig after a nuclear wipeout. Broken statues, lamps and rubble are scattered around the main bridge to the exit, and nuclear-themed patterns adorn the cave-style ceiling. Many of Stockholm's metro stations make for a great Instagram photo—see the rainbows at Stadion station for another great example—but Kungsträdgården certainly has the most outlandish concept.
Looking for more places to point your camera?
This list includes some of Stockholm's finest, starkest and most controversial architecture, from a 1980s stadium that resembles a giant golf ball to wooden cottages that housed working-class Stockholmers centuries ago. Tick them all off, and you'll have cut through the many layers of this unique Nordic capital.