Heads up! We're working hard to be accurate – but these are unusual times, so please always check before heading out.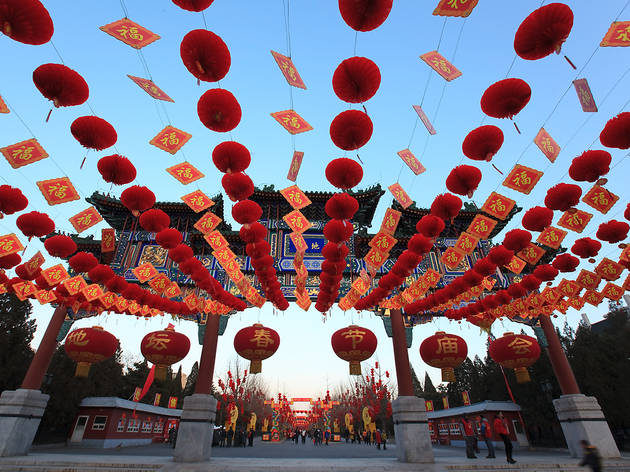 Chinese New Year 2021: How the huge annual celebration is changing this year
Here's everything you need to know about Chinese New Year 2021, including key dates, fun dinner ideas and this year's animal
Millions of people all over the world are gearing up to celebrate Chinese New Year later this month. Also known as the Lunar New Year, the Spring Festival, Tet and Seollal, the official start of the new lunar calendar will mean wiping clean the slate of the past 12 months and opening the door to a hopefully much more positive new year.
In 2021, celebrations across the globe will be a heck of a lot quieter, but filled with many of the same traditions, customs and super-delicious food as usual. Here's everything you need to know about the huge annual holiday this year.
When is Chinese New Year 2021?
The Chinese New Year marks the first day in the lunar calendar, which begins the day after the first new moon appears between January 21 and February 20. This year the New Year falls on Friday, February 12. The celebrations usually start on the evening preceding the first day of the new year (February 11), and run until the fifteenth day (February 26), when lantern festivals traditionally take place.
Where is Chinese New Year celebrated?
All over China, for a start: the period from February 11 to 17 is a national public holiday. But the lunar new year is also celebrated in many other regions and countries which either use the lunar calendar or have large Chinese or Chinese-speaking populations. This includes Malaysia, Vietnam, Korea, Myanmar, Thailand, Cambodia, Singapore and the Philippines, along with Chinese communities in almost every other country in the world.
How is Chinese New Year celebrated?
New Year traditions and customs vary widely in different regions and countries. In a normal year, however, you might well expect parades and performances, often involving elaborate dragons and lions, people in traditional costumes, and plenty of fireworks and firecrackers, which are said to ward off evil spirits.
'New Year festivities in Hong Kong usually kick off with an annual night parade featuring massive floats, costumes, acrobats, lion and dragon dances and various performances,' says Tatum Ancheta, editor of Time Out Hong Kong. 'It's usually the liveliest and most vibrant way you'll experience the city after the Christmas festivities.'
However, social-distancing restrictions mean this year is going to feel quite different. But while the majority of public events have been cancelled – or gone virtual for the first time – in 2021 you will still find all manner of dazzling New Year displays in Chinatowns and other iconic spots around the world.
If travel restrictions allow it, many will also celebrate the annual holiday with family as planned. 'One of the main highlights of the New Year is a reunion dinner with the family,' says Delfina Utomo, editor of Time Out Singapore. 'Sometimes there will be several rounds of this, depending on how big your family is. Food is a huge part of the celebrations.'
Families will usually clean their houses on New Year's Eve, to sweep away any bad luck, and adorn their windows and doors with red paper-cuts and lanterns. Money and presents are given and received in red envelopes and packaging (again, to ward off evil and augur good health). Families may also buy fresh flowers to decorate their house.
What is the Chinese New Year animal for 2021?
Each new year is characterised by one of the 12 animals that make up the Chinese zodiac. This year is the Year of the Ox, which symbolises strength and determination – handy, because we could all do with a lot of that right now.
How can you celebrate Chinese New Year at home?
Feast, feast, feast. Although many major streets and Chinatowns across the globe will feel eerily quiet for this time of year, the all-important family dinner on New Year's Eve will still be a goer for most people. And for those unable to travel back to see family, cooking their own feast will hopefully provide some home comfort in these bizarre times. Plus there are plenty of delivery services offering Chinese New Year meals in cities around the world.
What is traditional Chinese New Year food?
Many big dinners will feature a communal hotpot, which is thought to represent the reunion of family members around the table. Most will also be centred around unusual meats or seafood that are expensive or otherwise hard to get hold of.
For example, Ancheta says many Hong Kongers will go for poon choi – 'a traditional Cantonese big-bowl meal filled with an assortment of seafood, like fresh abalone, conpoy (dried scallops), sea cucumber and prawns, as well as mushrooms and roast meats'.
In Singapore, meanwhile, Utomo says locals may well opt for pen cai, another one-dish meal featuring abalone, mushrooms and conpoy which is cooked in a clay pot. Yusheng (a raw fish salad) is a common starter, and for dessert, pineapple tart and nian gao (a sticky rice cake) are popular choices.
Other common traditional foods in mainland China include noodle soups, dumplings, spring rolls and, for dessert, tangyuan (sweet rice balls). So whether you're cooking for yourself this New Year's Eve, ordering in, or even meeting family or friends where it's safe to do so, one thing is certain: you won't go hungry.
Chinese New Year around the world