The best Chinese New Year events in Sydney
Celebrate the Year of the Dog with lunar markets, giant lanterns and vibrant street parties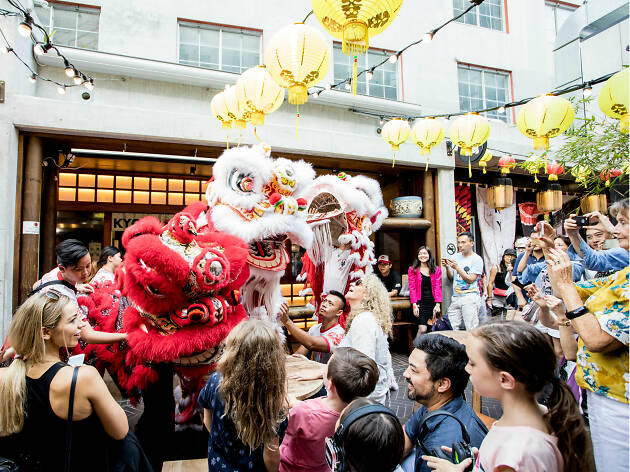 Lunar New Year is a shared celebration for many cultures represented in Sydney, including our Chinese, Vietnamese, Thai and Korean communities. Sydney's official festival program alone has 80 events across arts, culture, food and sport, making it one of the largest Lunar New Year celebrations outside Asia. We've picked out some of the highlights from this year's festivities that are sure to satisfy both your hunger and curiosity. Chinese New Year is celebrated on Friday February 16, 2018.
RECOMMENDED: The best yum cha in Sydney and the best playgrounds in Sydney.
Chinese New Year events around Sydney
Every Friday night, Dixon Street in Chinatown is lined with market stalls selling colourful phone covers, Pokémon toys and paw-waving cats. But the best stalls to visit are the ones selling street food from all corners of Asia. Go late and finish your night with karaoke at Dynasty (found via an unobtrusive doorway in the middle 
of Dixon Mall leading to an elevator) or at Golden Century – the late-night food haunt of chefs and hospitality workers.
Feed the whole family
Whether you're after specialty Sichuan spots or hot Cantonese kitchens, Sydney has some seriously great Chinese restaurants in the CBD and surrounding suburbs. There are places where you can go all out on a mud crab, or simple Chinese dumpling houses. On a budget? Here are the 50 best cheap eats in Sydney. RECOMMENDED: The best restaurants in Sydney.