[Update, July 16] In May, Hands on Tokyo asked for donations of unopened packets of cloth face masks that were sent to households by the government, receiving more than 40,000 mask donations. Now, instead of reusable masks, the organisation is seeking donations of disposable face masks for children, seniors and special needs homes.
Send disposable masks by post to this address:
NPO Hands On Tokyo
Gardenia Roppongi #101,
5-16-46 Roppongi, Minato-ku, Tokyo 106-0032
***
[May 4] Face masks are necessary in protecting yourself and helping to curb the spread of Covid-19 coronavirus. Unfortunately, they are difficult to procure these days. A mask shortage has caused people to think creatively: no-sew masks and DIY crafts are now de rigueur, even facial protection made from vintage kimono has become a fashion statement. The Japanese government answered our pleas for more masks by distributing two reusable cloth masks to every household in the country.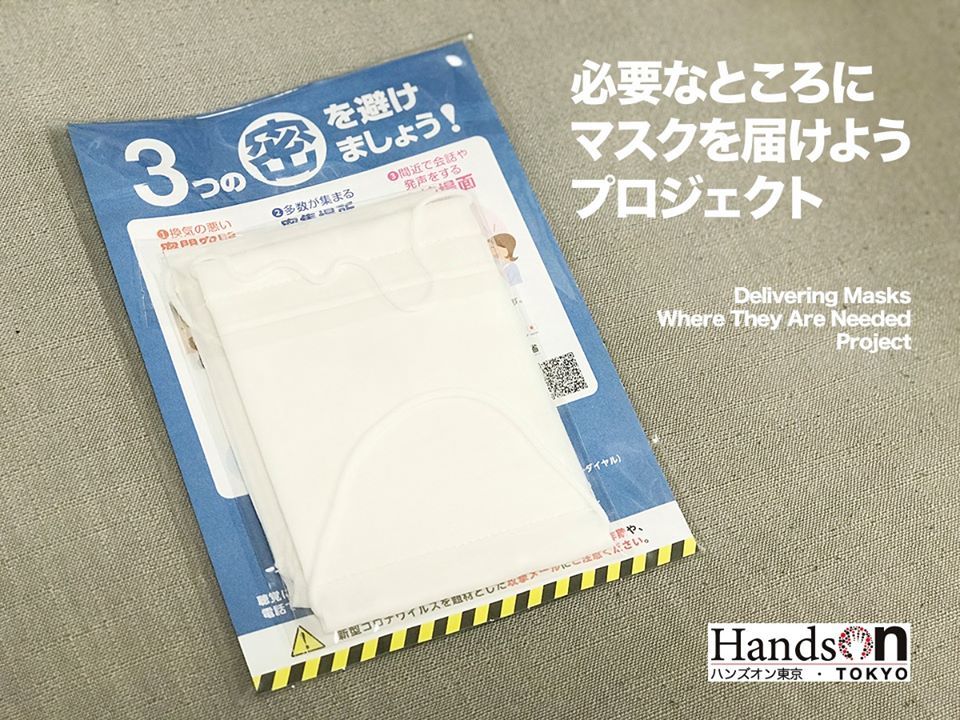 Don't need your free government-distributed masks? Donate them to Hands on Tokyo for its Delivering Masks Where They are Needed project. The Tokyo organisation will collect the masks and send them to organisations in need, such as children and senior homes.
An affiliate of the Hands on Network-Points of Light Foundation, an American volunteer organisation with outposts in 37 countries, Hands On Tokyo is a bilingual volunteer group helping people in need. The organisation has helped regions affected by the Tohoku and Kumamoto earthquakes, hosts programmes teaching English to students with visual impairments, and supports women's shelters, children's homes and senior citizens.
Send your unused and unopened masks by post to the address below:
NPO Hands On Tokyo
Gardenia Roppongi #101,
5-16-46 Roppongi, Minato-ku, Tokyo 106-0032
More to do at home
Best things to do at home over Golden Week
The best documentaries about Japanese food
Call in for a FaceTime with the spotted garden eels at Sumida Aquarium
Watch these international theatre shows for free online
Download free craft and colouring pages featuring the Tokyo Olympic mascots