Across Japan, train companies are offering all sorts of deals to entice people to travel, from half-price tickets in Hokkaido to trains decorated with adorable pandas. On September 12, JR Kyushu will be launching a Pixar-themed bullet train to commemorate the 25th anniversary of the original 'Toy Story' movie. This special shinkansen will be running between Hakata and Kagoshima stations, passing through destinations like Kurume, Kumamoto and Sendai.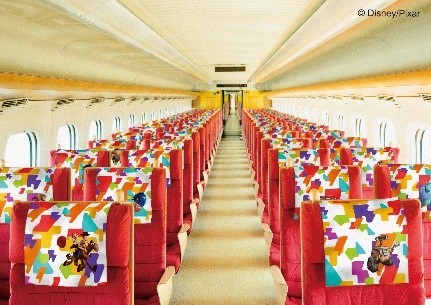 The 'Go! Waku Waku Adventure with Pixar' campaign sees a six-car shinkansen train covered with colourful Kyushu-inspired motifs and Pixar characters, including crowd favourites from 'Monsters Inc.', 'Finding Nemo', 'The Incredibles' and of course, 'Toy Story'. The front of the train features the classic Pixar lamp just like the start of every Pixar movie. Each seat has a special headrest cover featuring different Pixar characters.
Those who board the very first train on September 12 at 12:19pm will receive an exclusive Pixar printed boarding certificate and flag to commemorate their trip. Don't worry if you can't get a spot on the maiden voyage, because you'll have a chance to purchase exclusive merchandise during the journey, too.

The train schedule will be released on the JR Kyushu website shortly and you can book your tickets online here. Tickets cost the same as a trip on a regular shinkansen and you'll be able to book a journey along the southern coast of Japan with your favourite Pixar characters until May 2021.
This isn't the first time JR Kyushu has brought cartoon characters onto its trains. In 2019, the company launched the 'Go! Waku Waku Trip with Mickey' campaign, decking out a shinkansen with Mickey Mouse cartoons to celebrate his 90th anniversary on screen.
Before you go out, check out our guide on going out safely in Tokyo and Japan.
Most popular on Time Out
This new nighttime exhibition in the forest of Kyushu features 21 teamLab artworks
How to prevent heatstroke when wearing a mask during the summer
Japan has the most adorable anime- and animal-themed kindergarten buses
JR East shinkansen tickets are now half price until March 2021
You can now ride a real Thomas the Tank Engine train in Japan