It seems like teamLab is everywhere this year, bringing some much-needed light and fun to these dark pandemic days. The world-conquering digital art collective is illuminating Saitama's Higashi Tokorozawa Park with large colour-shifting acorns, while the teamLab Forest in Fukuoka features seven brand new works for a whole new Instagram photoshoot.
For an outdoor and social distancing-friendly option, the 500,000sqm Mifuneyama Rakuen Park in Kyushu's Taeko Onsen town is hosting teamLab's annual summer-autumn installation, 'A Forest Where Gods Live'. The 21 pieces of indoor and outdoor art meld Kyushu's lush forest with teamLab's signature lighting and projections. Unlike last year's exhibition, which featured both daytime and nighttime art, this exhibition only opens once the sun sets, creating an otherworldly atmosphere.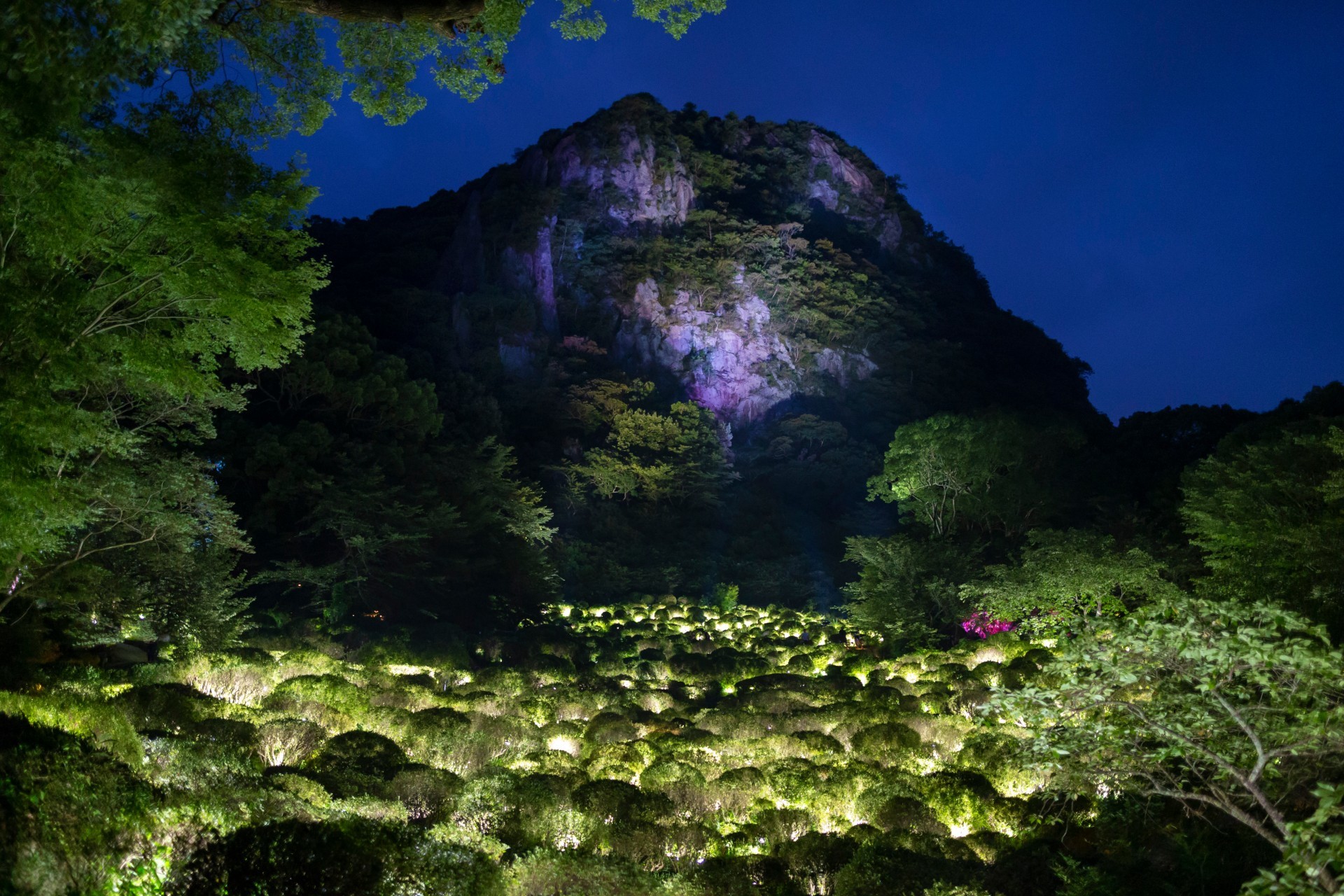 Nature and spirituality are a huge part of 'A Forest Where Gods Live', and the art respects and reflects humanity's connection to the land. The 3,000-year-old Okusu tree sits on the grounds of Takeo Shrine on the edge of the park, while Mifuneyama Rakuen Hotel is on the other side, separated by the forest and teamLab art. 'Life is a Continuous Light - Azalea Valley' and 'Resonating Mt Mifuneyama' bring the two sites to life with illuminations that shine and fade, highlighting the natural beauty of the forest.
For a soothing and therapeutic experience, watch coloured lamps bob slowly along the water in 'Floating Resonating Lamps - One Stroke, Fire'. Light travels through each lamp and changes colours throughout the night, from a cool midnight blue to a warm, fiery red.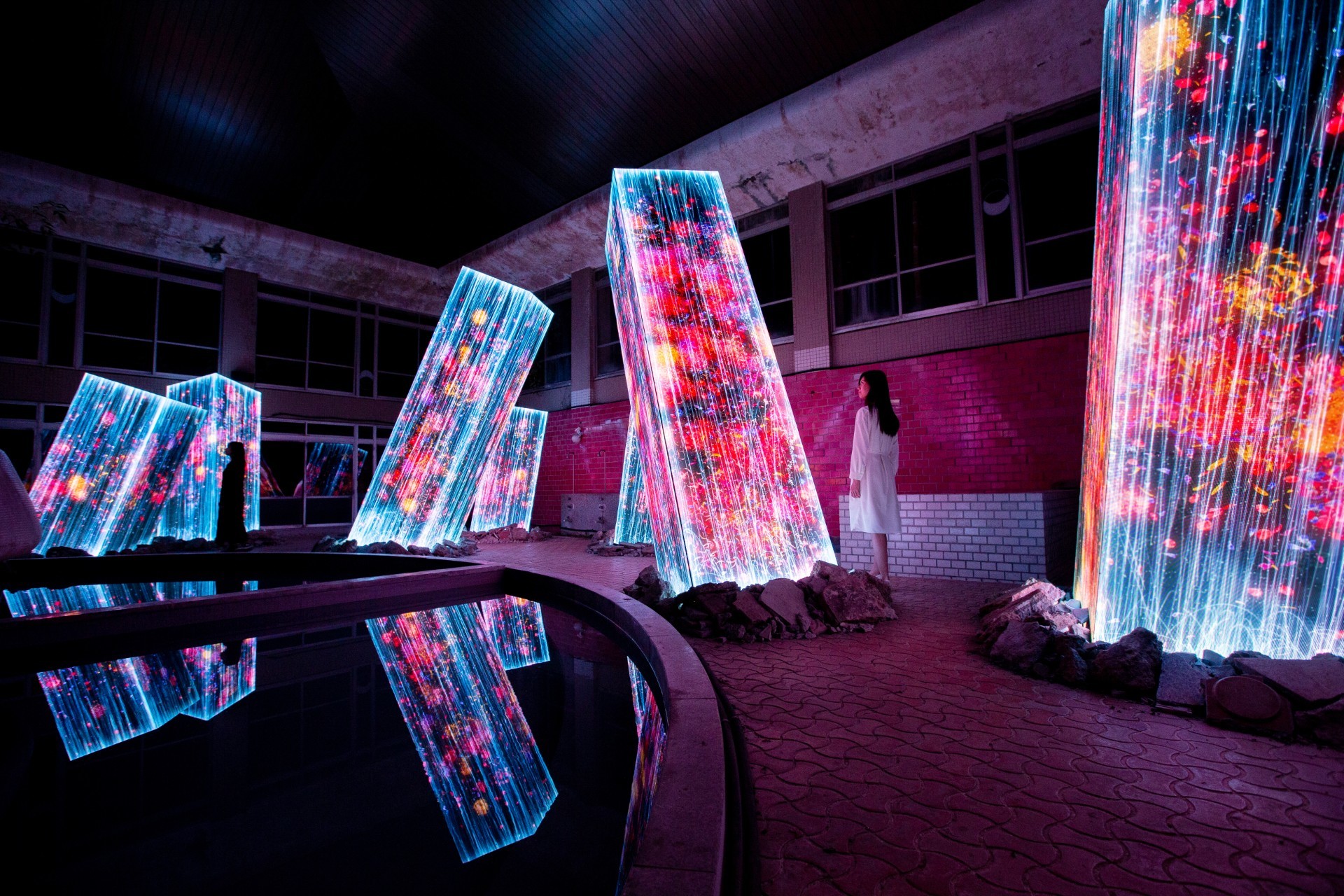 'Megaliths in Bath House Ruins' is inspired by Mifuneyama Rakuen's ancient boulders and bath houses. Digital projections of flowers or water move between slanted monolithic pillars, lighting up the abandoned bath house where the installation takes place.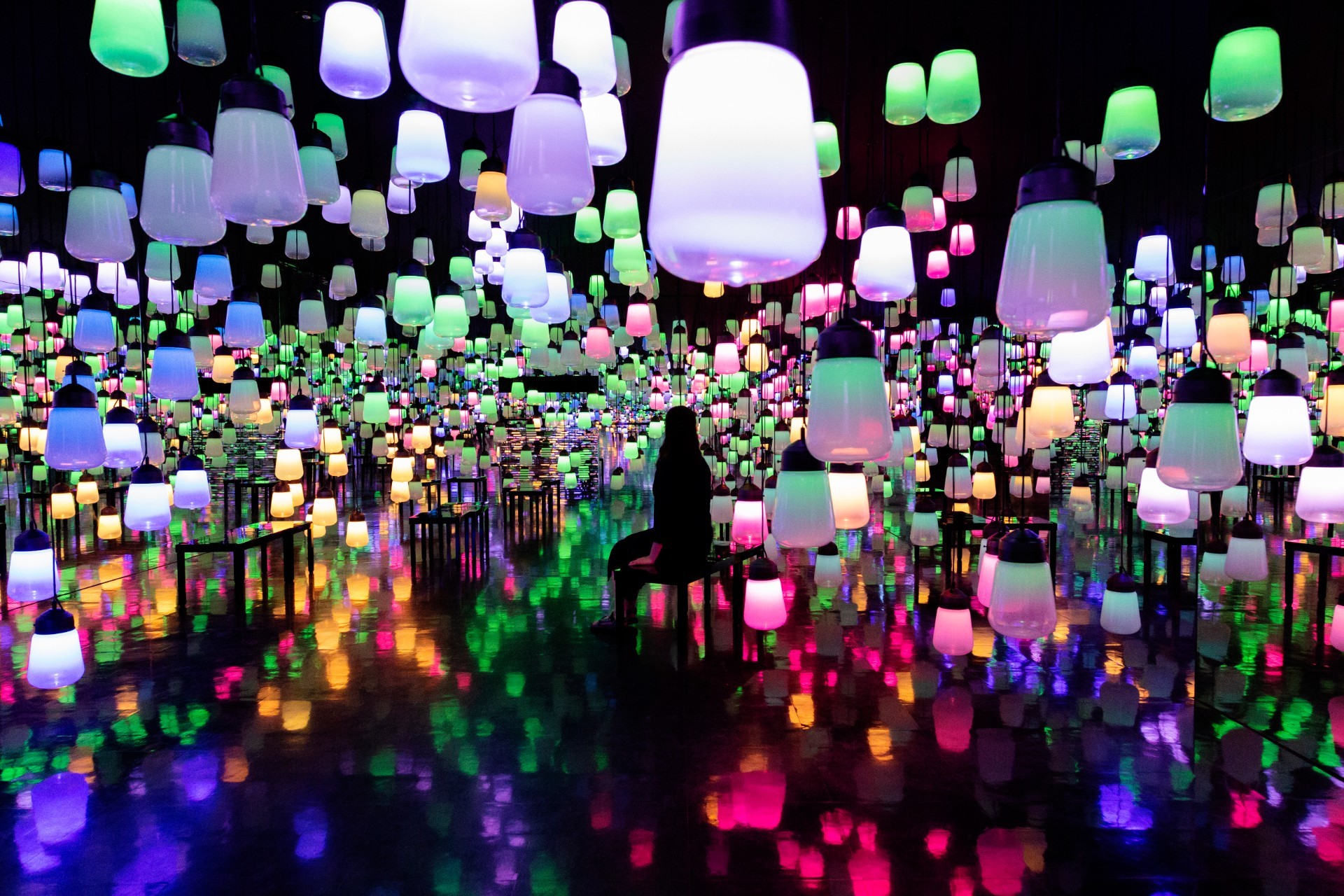 If you can't make it to teamLab Borderless in Tokyo's Odaiba, see the magical 'Forest and Spiral of Resonating Lamps in the Forest' here. The lamps respond to the viewer's proximity to them, changing colours and spreading patterns of light throughout the room. Always reflecting the season, this exhibition brings the vivid colours of summer indoors, with lights reminiscent of orange blossoms and hydrangeas.
'A Forest Where Gods Live' runs from July 22 to November 8 and is only open after the sun sets: 7pm to 10.30pm (July 22 to September 13), 6pm to 10.30pm (September 14 to October 11) and 5pm to 10.30pm (October 12 to November 8). Tickets are ¥1,200 on weekdays and ¥1,400 on weekends, and you can purchase them online.
Remember to check our guide on staying safe and the government's new domestic travel guidelines while you're out and about in Japan.
Discover more art in Tokyo and Japan
Five things to do at the 2020 Yokohama Triennale – in person or online
Tokyo's Art Aquarium is opening its first permanent museum this August
There's a sleek new robot statue by Hajime Sorayama outside Shibuya Parco
This new Yayoi Kusama exhibition will feature never-before-seen works of art