Japan's state of emergency has been lifted in 39 out of 47 prefectures but unfortunately, Tokyo residents are still expected to stay at home due to the large number of Covid-19 coronavirus cases. At the time of writing, there are 5,065 confirmed cases in Tokyo, although the daily number of new positive cases is slowly decreasing.
On Friday May 15, Tokyo Governor Yuriko Koike released a roadmap for easing restrictions in her weekly English video update. Currently, the restrictions are still in place.
To begin reopening the economy, the most crucial deciding factor is the number of new coronavirus cases – it must be under 20 per day, consecutively for a week. The total number of cases each week should also be under the previous week's and at least 50 percent of new cases must be traceable.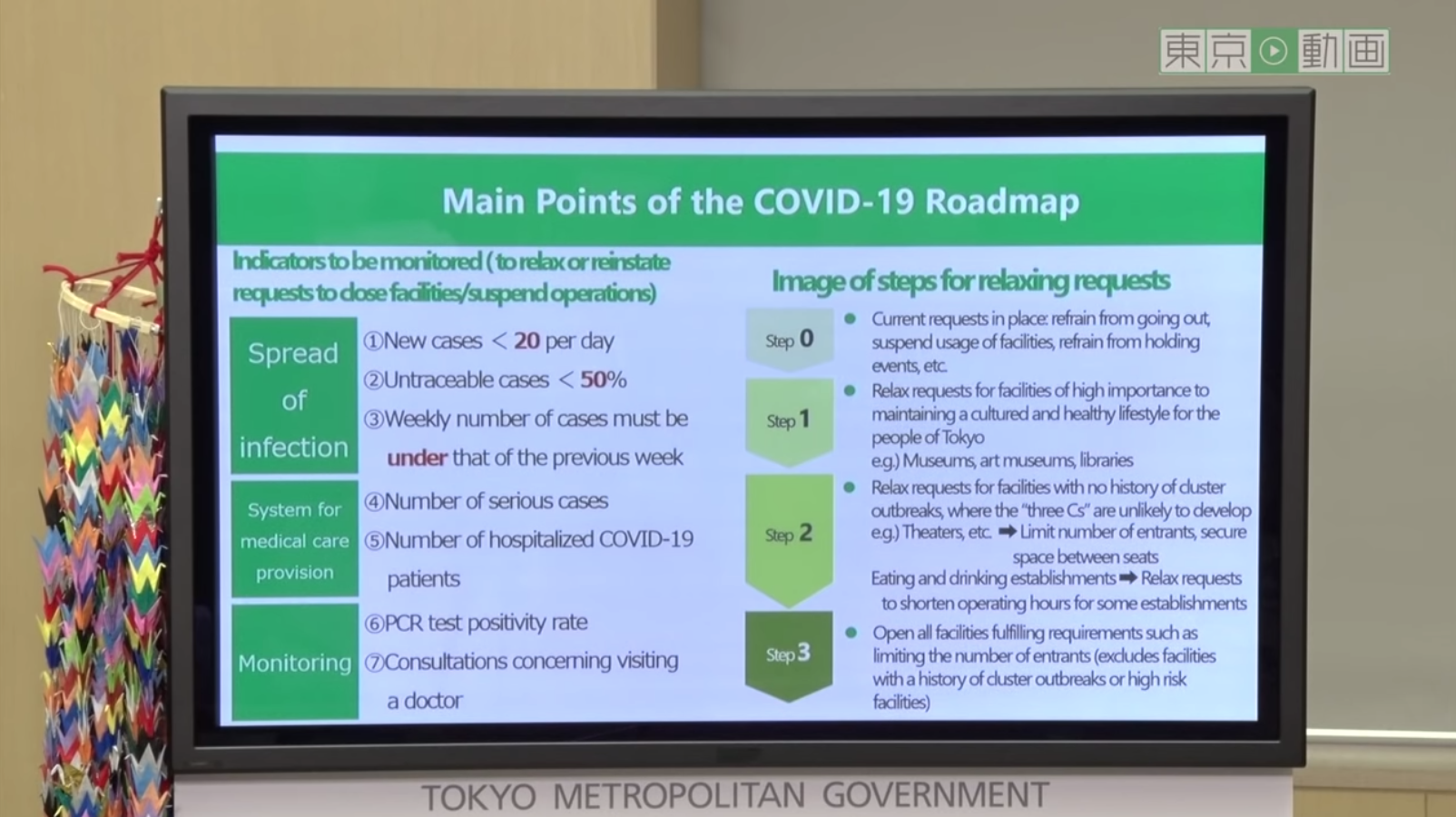 Koike said the goal of the roadmap is to 'strike a balance with the lives of Tokyo citizens and socioeconomic activities'; this means letting residents participate in their daily activities while also cautiously restarting the economy. If there is a sudden increase in positive cases, there will be a 'Tokyo Alert' and residents will again be asked to stay home.
Currently, we are at Step 0: residents are staying home and nonessential businesses are closed. If Koike's conditions are met, then museums and libraries will be the first to reopen, while following strict social distancing policies.
Next, establishments such as restaurants and theatres will follow, as long as they can accommodate the Three C's: no enclosed spaces, no crowds and no close physical contact. Eventually, all businesses without a previous cluster of outbreaks will reopen, albeit with shortened opening hours and limited entry.
Japan Today reports that the details of the roadmap are not yet finalised. In her video update, Koike said the final roadmap could be announced as soon as this week. However, she asked for residents to continue practising social distancing and stay at home as much as possible to avoid spreading the virus.
Even though the number of confirmed cases is decreasing, it's important to stay cautious to avoid another spike. As Governor Koike says in her videos, let's work together 'so we can return to normal everyday life as soon as possible'.
Watch Koike's video update in English every Friday at 7.15pm on the Tokyo Government's YouTube channel.
More coronavirus resources in Japan
Why is Japan not in a hard lockdown over coronavirus?
The Japanese government wants people to adopt a 'new lifestyle' to fight coronavirus
How to get the ¥100,000 government stimulus
Where to buy face masks online in Tokyo and Japan
How to get help in Tokyo during the coronavirus pandemic