Summer 2019 issue out now: 101 things to do in Tokyo, Japanese breakfast and Golden Gai's best bars
Also: Tokyo's rooftop gardens, Japanese souvenir shops, guide to the Ogasawara islands, and more. Read the magazine now for free
Tokyo is an enigma. You punch a button on a machine for some of the most memorable meals of your life. You willingly squeeze into a broom closet of a bar in Golden Gai and end up having the time of your life. You can marvel at cutting-edge architecture, enter a trippy new dimension created by digital projections, say a prayer at an ancient shrine, join the crowd at crossing the world's busiest junction, take respite in a city-centre forest, splurge on raw fish, eat dessert for supper, slow down for a tea ceremony, spend the night in a library… and still have not seen enough of Tokyo.
[You can get a copy of the August-September 2019 issue for FREE at these locations starting July 31. Don't worry if you're not in Tokyo; the FREE digital edition is available for download now.]
Tokyo is bewildering, fascinating, confusing, overwhelming, exciting and inspiring all at once. But where to start? Well that's where we come in. We've compiled a list of the 101 most amazing experiences this city has to offer. Be prepared for Tokyo to blow your mind.
What is a traditional Japanese breakfast, you ask? We break down the common set meal eaten in the morning, and guide you to the best restaurants in the city serving this hearty, well-balanced meal.
Looking for the perfect made-in-Japan souvenirs? These shops carry artisanal, beautifully designed crafts and products that will remind you of the great times you've had in Tokyo.
Tokyo is not all concrete jungle. Some of the city's best gardens are hidden on high-rise and shopping mall rooftops.
Japanese art went through a drastic growth when the nation reopened its borders after almost 300 years of self-imposed isolation. Today, the country has produced some of the world's most celebrated contemporary artists. Here's a primer on the evolution of Japanese art.
No trip in Tokyo is complete without a night out in Shinjuku's famous Golden Gai. But which bars are open to tourists, and which offer the best drinking experience? We've got the list right here.
The remote island archipelago of Ogasawara is nicknamed 'the Galapagos of the Orient'. It's worth taking the 24-hour ferry ride to revel in its natural beauty teeming with marine life.
For all this and much more – guide to Rugby World Cup 2019, Tokyo's indie music scene, outdoor cinemas, best lesbian bars, etc – pick up your FREE copy at any of our distribution points in the city, download the PDF version here, or get the mag delivered by placing an order here.
Cover credit: Steve Nakamura (art director), Naohiro Tsukada (photographer), Doraemon ©Fujiko-Pro
Looking for our previous issues?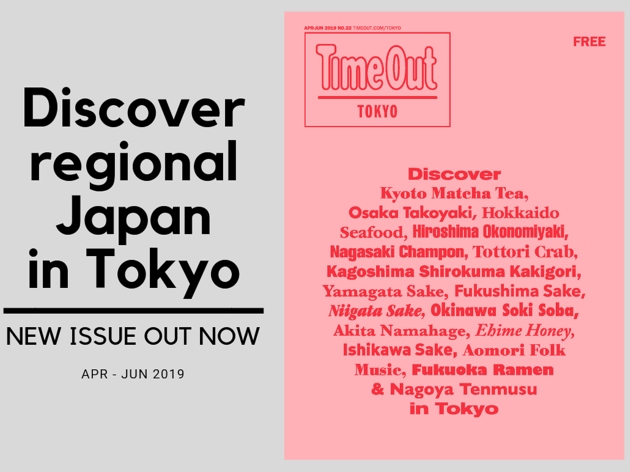 Also: beautiful bento lunch boxes, Tsukiji nightlife guide, footbath cafés, craft workshops and more. Read it now for FREE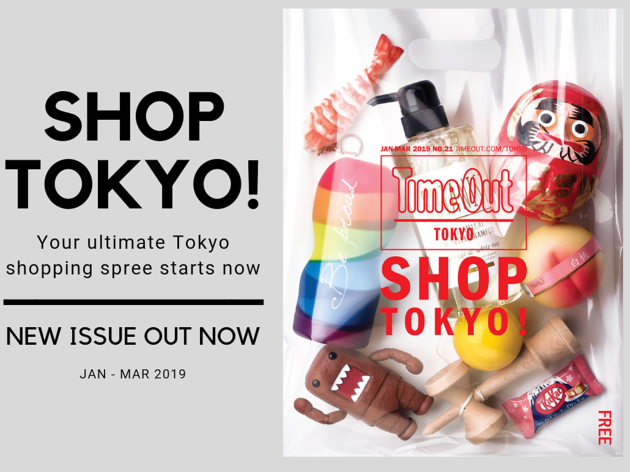 Read the latest issue of Time Out Tokyo magazine for FREE: pick up a copy in Tokyo or download the PDF version now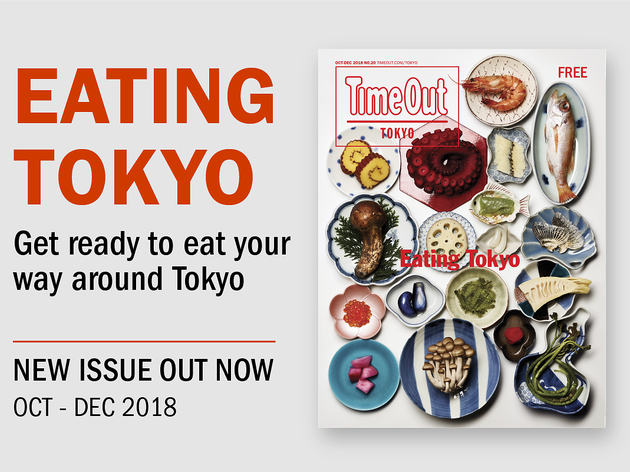 Read the latest issue of Time Out Tokyo magazine for FREE: pick up a copy in Tokyo or download the PDF version
Best selling Time Out Offers