101 things to do in Tokyo along the Seibu lines
Ride the yellow train around town and all the way up to 'little Edo'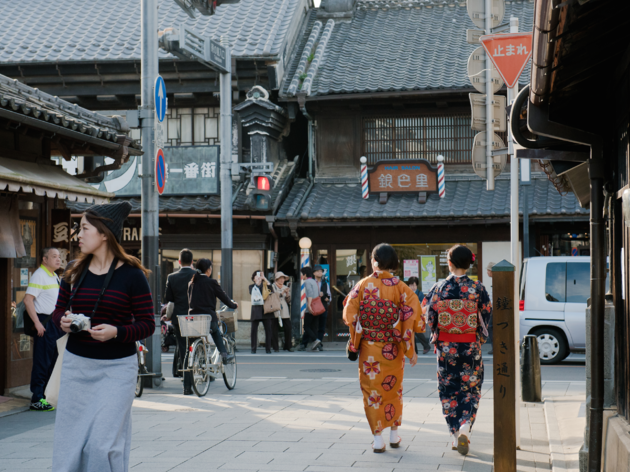 Running from Shinjuku and Ikebukuro stations through Tokyo's western suburbs and all the way up to Kawagoe and Chichibu in Saitama, the Seibu train lines are great for exploring some of the city's less trendy 'hoods, filled with age-old public baths, run-down shopping arcades and quirky parks, not to mention rowdy izakayas, ethnic eateries and box-sized cafés.
Our complete guide to fun along the Seibu lines takes you from the heart of Tokyo all the way to the historic town of Kawagoe, which features one of the few remaining Edo-period streetscapes, and scenic Chichibu, where you can do things like spend a night in a temple and go river rafting in a traditional wooden boat. Check out our picks below and start exploring – and consider also reading up on 'Aranumano', one of the most interesting areas along the yellow train's tracks.
87
This shrine is one of the three main shrines in Chichibu City, and features several rare sculptures that are popular with visitors. The shrine's night festival, celebrated in December, is a designated Important Intangible Folk Cultural Property. Chichibu Shrine
Read more
88
The owner of this brewery, which has been here since 1753, will guide you in finding your favourite local sake. Buko Masamune
Read more
89
Visit this Zen temple in the mountains of Chichibu for a retreat complete with first-hand insight into the life of a Buddhist monk. Meditate, try sutra copying, and enjoy tasty vegetarian food. Taiyoji Temple
Read more
90
Overlooking the city of Chichibu, this spacious hilltop park is a favourite amongst locals. In late April to early May, it gets covered in a carpet of pretty pink moss flowers. Hitsujiyama Park
Read more
91
An old-established butcher near Chichibu Shrine. Its miso pickled meats are one of the most popular souvenirs from the area. They're also famous for offering boar meat. Yasudaya
Read more
92
Located on top of Mt Mitsumine in Oku-Chichibu, this shrine boasts a colourfully decorated main hall and a pretty hot spring bath. Mitsumine Shrine
Read more
93
Awarded one star in the 2011 Michelin Green Guide Japan for its beautiful sculptures, this shrine's deities are meant to protect people from natural disasters. Hodosan Shrine
Read more
94
Cycle around town...
Admire the scenery on an electric bike rented at spots including Seibu-Chichibu and Nagatoro stations for ¥600 for two hours (other plans also available). Bring cash and your passport. Rental bicycle at Seibu-Chichibu and Nagatoro stations
95
After river rafting, enjoy some down time on this expansive area of crystalline schist rocks, which are designated as a natural monument. Flat Rocks
Read more
96
Stop for refreshments at this pretty tea salon near Ohanabatake Station that serves a range of tea from French black to quality Chinese oolong tea. Try their green tea or seasonal lunch set for something traditional. Ku & Kan
Read more
Show more
Explore Ikebukuro in more depth
Take your pick of everything from major attractions to tranquil art galleries and unique bars
Read more