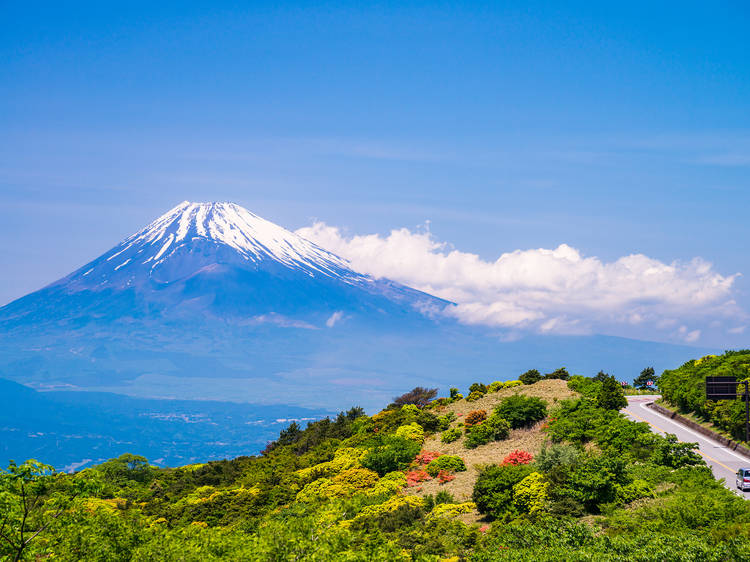 Photo: Yoshitaka Sato/Pixta
Route: Izu Skyline to the Sengokuhara Susuki Grass Fields
Total distance: 65km
A beautiful drive that stretches from Ito city towards Atami, the Izu Skyline winds through the mountains and takes in views of Mt Fuji – you can stop for photos at various car parks and lookout points. As the route onlyrequires about an hour to complete, you can extend your road trip through the onsen hub of Hakone before making your way up to the Instagram-famous Sengokuhara Pampas Grass Field, where the tall grass turns a silvery hue in autumn. To make the most of your trip, spend a night in Hakone where you can rejuvenate in one of the natural hot springs the town is famous for.
Pit stops: This drive is all about the photo-ops. Aside from catching Mt Fuji, you'll want to stop along the shores of Lake Ashi to snap a photo of Kuzuryu Shrine Hongu – the vermillion torii gate rises from the water on the east bank of the lake.
Culture lovers should take advantage of the area's diverse range of art museums. The impressive Hakone Open Air Museum with its myriad of outdoor sculptures is great for families while the Pola Museum of Art has a sizeable collection of works by French impressionists including Claude Monet and Pierre- Auguste Renoir.