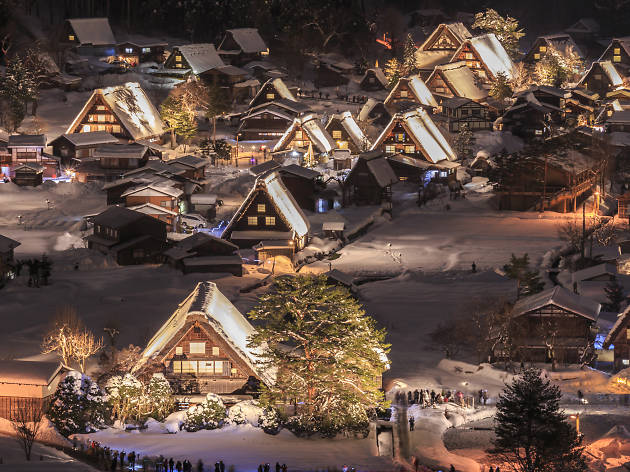 1/2
Photo: Supparuj Taechatanont/Dreamstime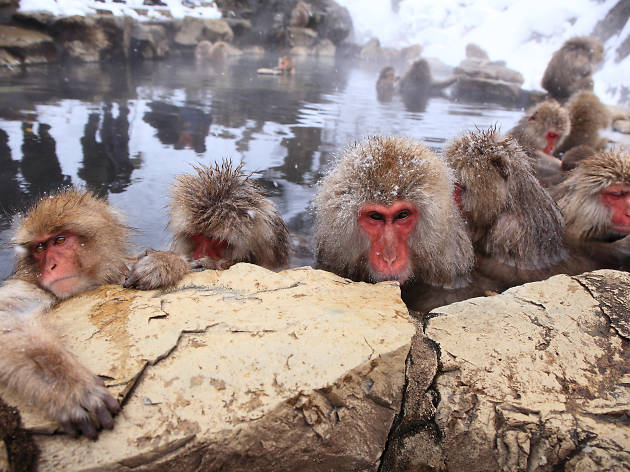 2/2
Photo: Norikazu/Dreamstime
Winter getaways from Tokyo
Embrace the cold and head out to these snowy adventures near Tokyo – all perfect as a weekend or short overnight trip
Winter in Japan is a scene like no other, as most of the country is blessed with abundant snowfall. You could go for a sporty adventure at one of the many mountainous ski resorts, pamper yourself with an onsen (hot spring) retreat, or fill your Instagram feed with stunning winter scenery. For the latter, here are some of our favourite winter short trips from Tokyo – playful snow monkeys included.
RECOMMENDED: Prefer to stay in Tokyo? Here are the top winter activities in the city
Top winter destinations near Tokyo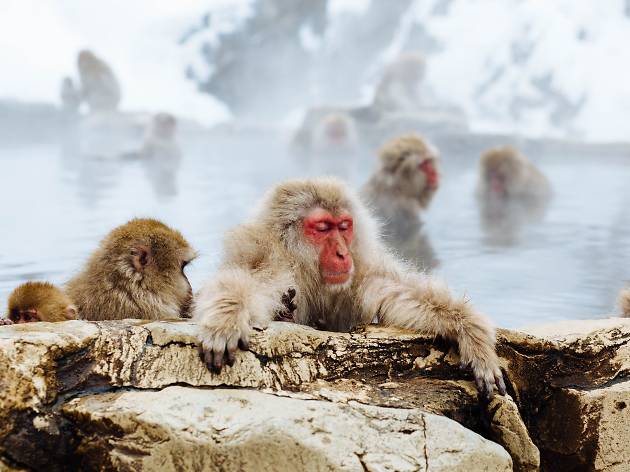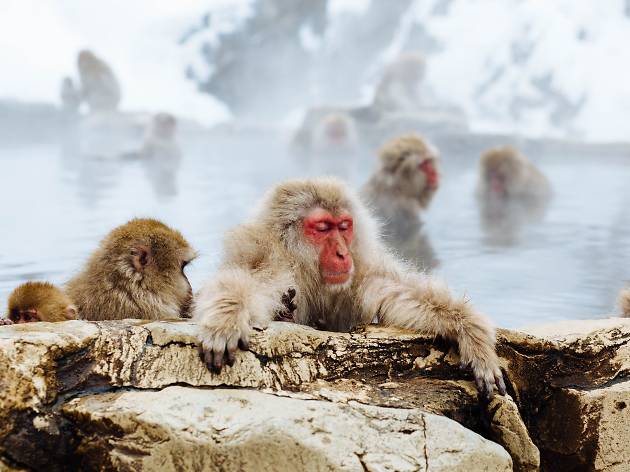 Photo: Fezbot2000/Unsplash
Search for 'winter in Japan' and you'll most likely come across photos of these adorable snow monkeys (also known as Japanese macaque) frolicking in the snow and taking a dip in a natural outdoor onsen (hot spring). If you want to witness this natural phenomenon, make a trip to the namesake Snow Monkey Park near the base of the Joshinetsu Kogen National Park in Nagano prefecture.
The Snow Monkey Park was established in 1964 as a conservation area for the monkeys to continue living and thriving in their natural habitat. The park has no barriers or fences separating visitors from the monkeys, meaning you can get a proper and up-close view of them in their most natural state. Although these monkeys can be spotted year-round at the park, it's especially magical to visit during winter when the park is covered in snow.
While Japanese macaque can be found all over the country, it is only here that you'll find these primates enjoying a soak in the hot spring to keep warm – just like us humans do. This special onsen just for the monkeys – so no, you're not allowed to bathe with them – uses water from a local hot spring source. Entrance into the Snow Monkey Park is ¥800 for adults and ¥400 for children aged 6 to 17.
Getting there
Snow Monkey Park is located approximately three and a half hours from Tokyo Station. Take the direct shinkansen to Nagano Station, then board the Shiga Kogen Express bus from the bus station's platform 23. It takes about 55 minutes to get to the Snow Monkey bus stop, from which you'll have to walk for another 30 minutes to the park proper.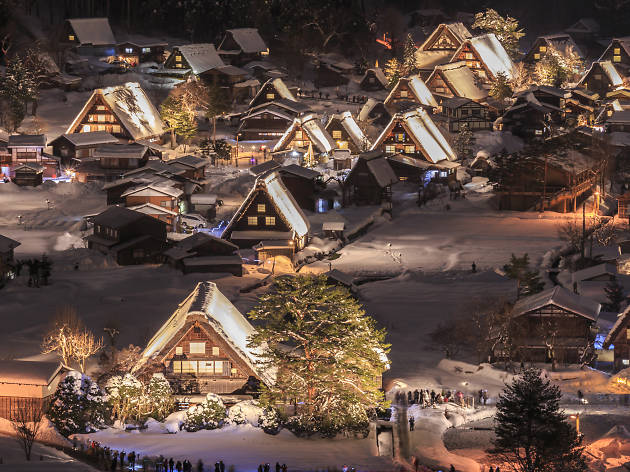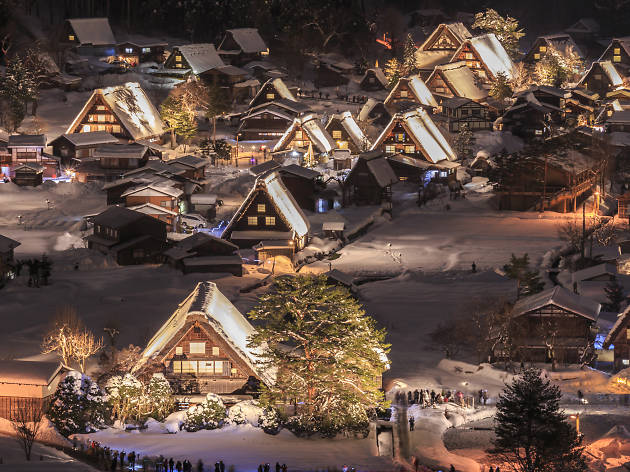 Photo: Supparuj Taechatanont/Dreamstime
The Unesco World Heritage Site of Shirakawago – along with the nearby Gokayama – looks like real-life gingerbread villages. The fairy tale-like gassho-zukuri farmhouses are only found here in Japan and there's a reason behind their distinctive steep thatched roofs. Being in a mountainous region deep inside Gifu prefecture, the villages see heavy snowfall come winter and these roofs are designed to withstand the harsh weather.
It's especially scenic here in winter when the villages and the surrounding forests and mountains are covered in snow. Moreover, for six days in January and February (Jan 13,19, 26, Feb 2, 9, 16; all Sundays except Jan 13 which is a public holiday), the main and largest village in the area, Ogimachi, will be lit up after dark from 5.30-7.30pm.
Due to overwhelming tourist crowds in the past, the Shirakawago Winter Light-Up now restricts the number of visitors in Ogimachi village. You won't be able to visit using the regular bus as the last service departs before the illumination starts. So you'll have to book a bus tour from Tokyo or nearby Takayama, Kanazawa, Toyama or Takaoka towns, self-drive with a parking reservation, or stay in the village itself. If you're booking a tour, make sure you get one with a shuttle ticket up to the Shiroyama Viewpoint, which opens out to a stunning aerial view of the village cloaked in white.
Getting there
Your best bet is to take a bus tour from Tokyo. The journey from Shinjuku to Takayama Nohi Bus Centre takes about five and a half hours. You will then transfer to another bus that will take you to the village in about an hour.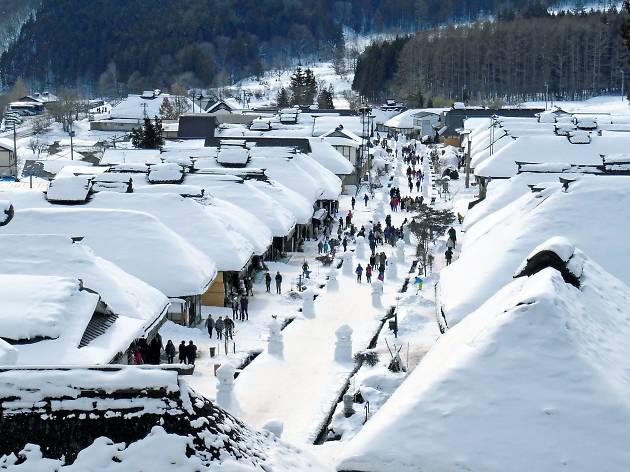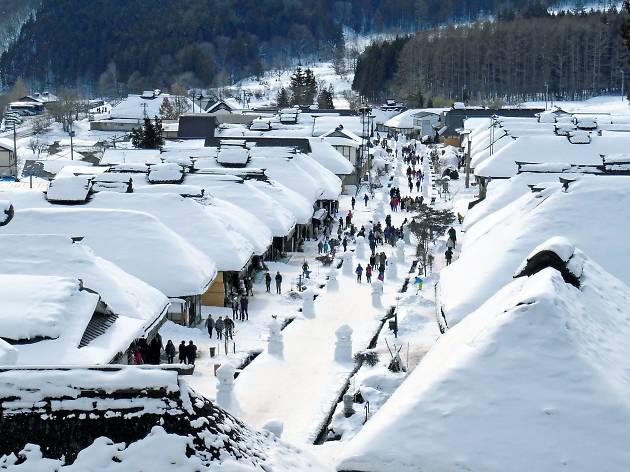 Photo: Croissant/Photo AC
Ouchijuku, a historic little charming village in Fukushima prefecture, is the perfect destination to combine your snowy adventure with a spot of time travelling back to the Edo period (1603-1868). The former shukuba, a post station for travellers to rest along their journey, is located along the former Aizu-Nishi Kaido trade route which used to connect Aizu with Nikko in Tochigi prefecture.
The scenic attraction with its quaint little shops, restaurants, cafés and minshuku (traditional Japanese inn) is especially worth visiting in winter, when the thatched-roof houses are blanketed in thick layers of white snow. Plus, on the second weekend of February (8-9), locals celebrate the annual Snow Festival with handmade snow lanterns and igloos lining the main road.
In the day during the festival, you can enjoy taiko drum performances, join in a period costume contest, participate in a soba noodle-eating competition (at Ouchijuku you eat the local speciality with a leek instead of chopsticks), and fuel up on free amazake (non-alcoholic sweet drink made from fermented rice) and meat stew. Come nightfall, fireworks colour the clear winter sky. For the ultimate photo op, climb up the stairs at the end of the main road that leads to the Shoho-ji temple. From here you'll have a splendid panoramic view of Ouchijuku.
Getting there
Ouchijuku is about 3.5 hours from Tokyo. Travel from Tokyo Station to Koriyama Station via the JR Tohoku Shinkansen, and then change to the JR Ban-Etsusai line and alight at Aizu-Wakamatsu Station. Here, get on the local Tadami line for Yunokamionsen Station, from which Ouchijuku is a 15-minute taxi ride away.