Heads up! We're working hard to be accurate – but these are unusual times, so please always check before heading out.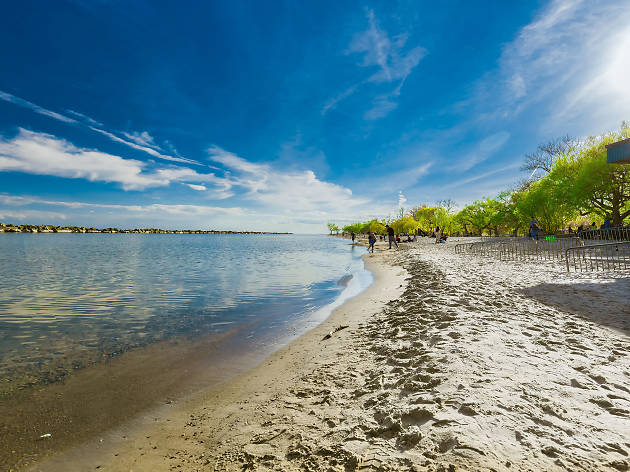 The 10 best beaches in Toronto
Most of them meeting eco-friendly standards, the best beaches in Toronto get crowded as soon as the weather turns warm
The beach scene in Toronto is seasonal, as swimming in the frigid winter is probably not how you want to spend your day. But when the sun shines and temperatures rise, tourists and locals alike flock to the best beaches in Toronto.
There are many sandy shores and splashing waves to choose from and several local beaches boast Blue Flag certification, an eco-friendly designation bestowed upon clean, accessible marinas and beaches that meet safety and water quality standards. Beware, though, if your eco-friendliness is of utmost importance, you should know that heavy rains and high water levels in Lake Ontario are often behind failures of local water quality standards. During those less-than-ideal beach days, we suggest you take the time to explore local attractions, delicious restaurants and, of course, awesome theatre offerings.
Let's think positive, though! Put on those bathing suits and get ready to tan and swim your way around the very best beaches around this Canadian gem of a city.
Best beaches in Toronto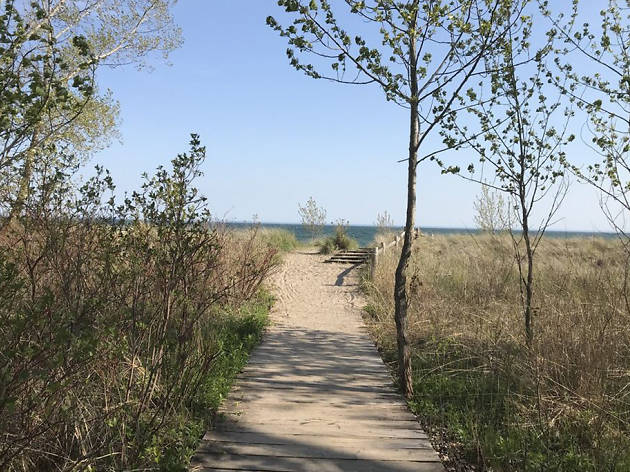 Photograph: Courtesy Yelp/Jason B.
Families flock to Centre Island Beach on the eastern shores of Toronto Island. Facing Lake Ontario, the area is accessible by ferry or water taxi. Despite being only fifteen minutes from downtown Toronto, you'll feel like you've left town once you hit the sandy shores and clear blue water crashing against the shore (worry not, a rock breakwater is in place to keep kids safe). The Blue Flag beach is also home to a pier and offers lockers and changing rooms. The best part of it all? The Centreville Theme Park is close by.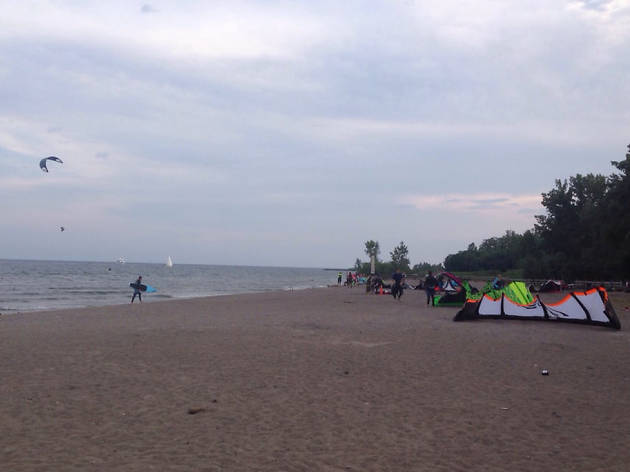 Photograph: Courtesy Yelp/Jimmy B.
Downtown dog lovers round up their pooches and come to the off-leash area at Cherry Beach. The beach, at the bottom of Cherry Street in the Portlands area, is the place to be to see kite boarders and surfers in action (bring water shoes as there are rocks around). Surrounded by tall trees, the area is also ideal for a pic-nic that will be naturally complemented by the delicious offerings from the popular Fry truck found on premise all day.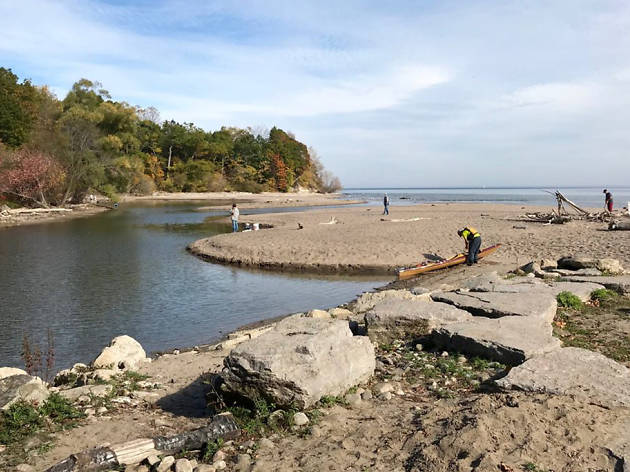 Photograph: Courtesy Yelp/Rob L.
If you want to combine swimming and hiking, Rouge Beach, Toronto's eastern most beach in Scarborough, is the spot for you. Set in an urban nature park, the beach is home to marshes, wetlands, a pedestrian bridge, trails, wildlife and beautiful sunsets: you can easily spend the entire day here. Bonus points: It's also a great canoeing destination.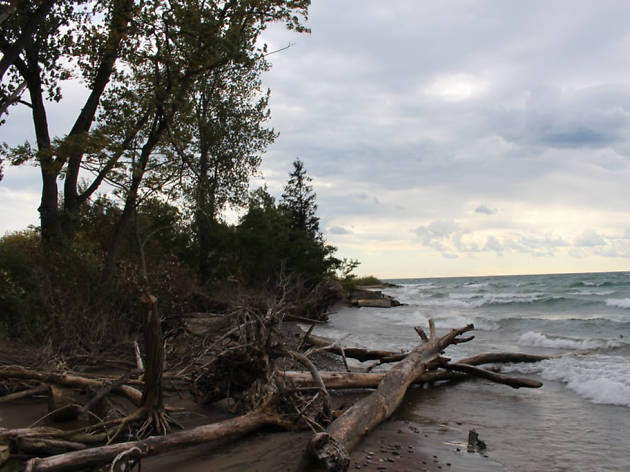 Photograph: Courtesy Yelp/Ryan L.
For a rather freeing beach day, you'll want to head to Hanlan's Point Beach, a clothing optional area perfect for nudists or anyone looking to bare it all under the sun. Found on the western shores of the Toronto Islands, you'll need to board the ferry to get here. Expect a bike trail, fire pit, volleyball and tennis courts, and a lighthouse to keep you entertained all day long.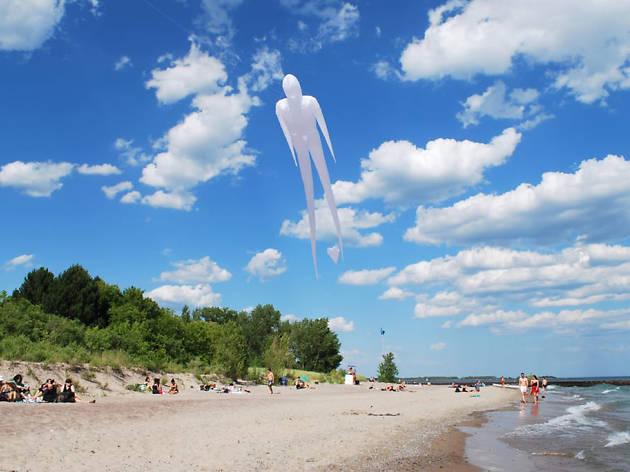 Photograph: Courtesy Yelp/Artscape Gibraltar Point
What was once the Gibraltar Beach Sand Dunes is now a nice stretch of sandy shores between Centre Island and Hanlan's Point on the Toronto Islands. This Blue Flag-certified beach is under the radar and is accessible from the main ferry to Centre Island or the Hanlan's Point Ferry at the docks. The islands are actually connected, so you can walk from one to the other.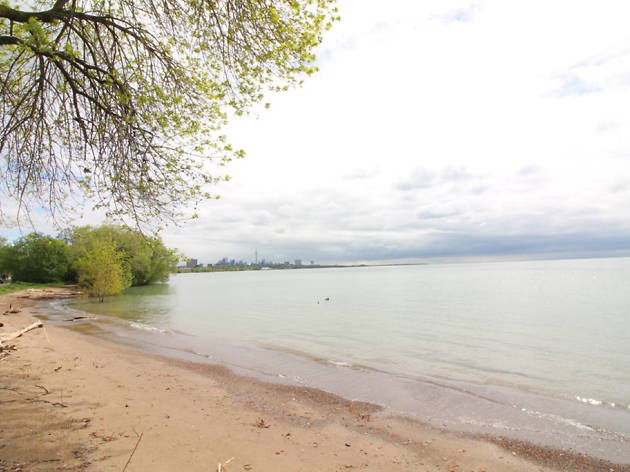 Photograph: Courtesy Yelp/Ryan L.
Although not a certified eco-friendly beach, water levels at Sunnyside Beach near Lakeshore Boulevard are tested daily so you will know if it's safe to swim here and if the water meets provincially established safety standards. It's typically not too busy here, which makes it a grandiose destination. If you go exploring, you will likely notice cyclists and rollerbladers zooming along the nearby Martin Goodman Trail, which is part of the Waterfront Trail System.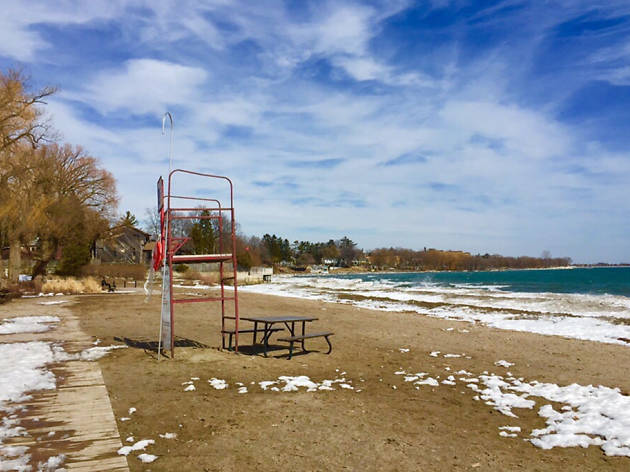 Photograph: Courtesy Yelp/Irina Y.
Marie Curtis Beach is a neighborhood beach that's located off-the-path at the end of a residential street and attracts a local crowd. It's near the Toronto-Mississauga border at the end of the Queen Streetcar line and, pay attention here, it is not safe for swimming. Why visit it then, you may ask? You'll get to see Etobicoke Creek flow into Lake Ontario or walk nearby paths, play beach volleyball, stroll the boardwalk or take your kids to play on the playground.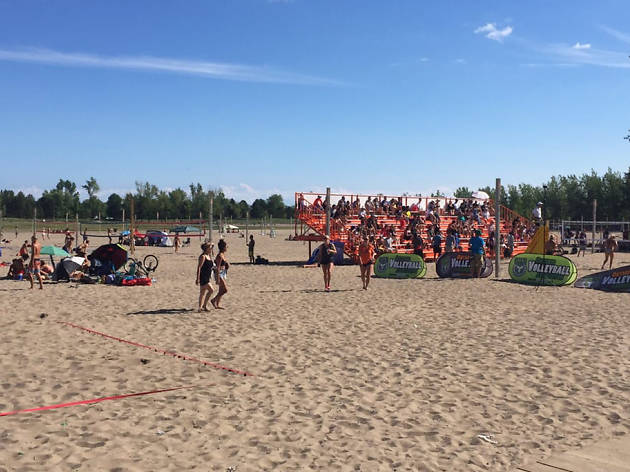 Photograph: Courtesy Yelp/Pauline W.
Head to the eastern shores of Toronto's stunning waterfront and splash in the waters at Woodbine Beach. This urban beach is located near a residential area and features a playground, volleyball nets and miles of sandy waterfront ideal for creating sandcastles under the sun. There is a nearby outdoor pool with changing rooms, showers and a water bottle filling station to keep you hydrated.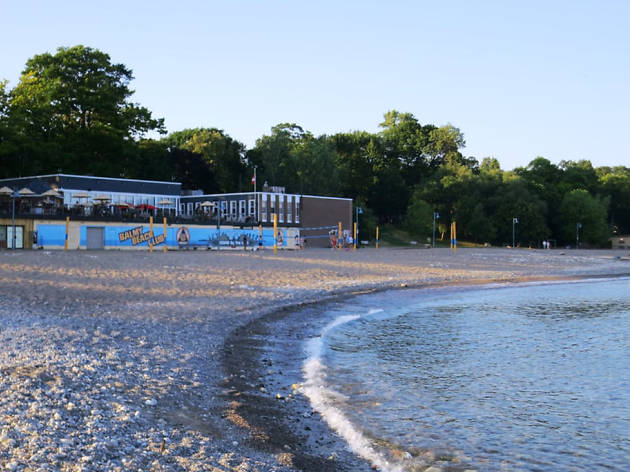 Photograph: Courtesy Yelp/Jennifer K.
Kew-Balmy Beach is located near Woodbine beach and is a popular weekend hotspot. Notice the nice boardwalk that runs from Kew Gardens to Silver Birch Avenue and the off-leash dog park where locals bring their furry pups while kayakers and canoers paddle by.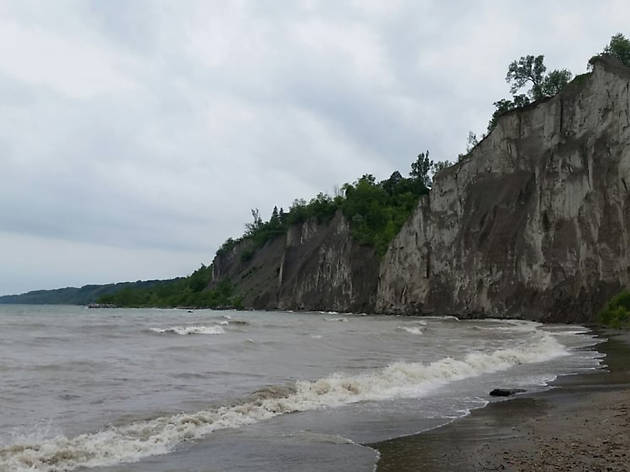 Photograph: Courtesy Yelp/Tracy C.
If you want to combine a day of hiking and swimming, head to Bluffers Beach Park beneath the stunning Scarborough Bluffs on Brimley Road. This Blue Flag-certified beach boasts gorgeous views, a marina, pic-nic areas and, of course, soft sands you'll want to run on. The famous Bluffs were formed by the erosion of packed clay and are a 5,000-year-old escarpment, so bring your camera and post photos for cultural bragging rights.
Not warm enough to hit the beach?
The Six has a little bit of everything, from a museum dedicated entirely to footwear to a historic home allegedly haunted by the ghost of a former mayor