Heads up! We're working hard to be accurate – but these are unusual times, so please always check before heading out.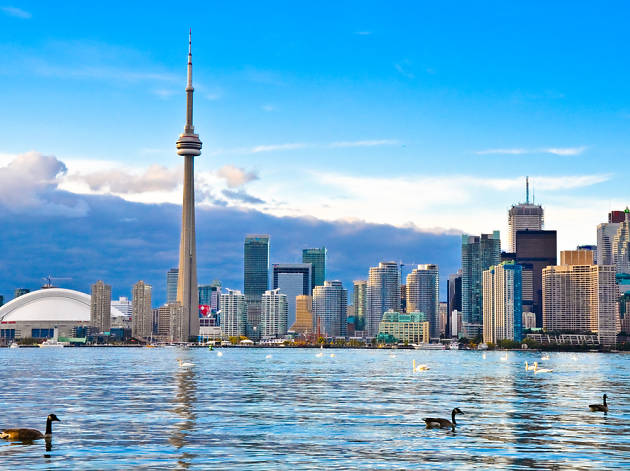 The best neighborhoods in Toronto
Trying to figure out where to stay when in town? Consult our guide to the best neighborhoods in Toronto
Toronto is the ultimate multicultural destination, as underlined by its many ethnic enclaves (did you know there are four different Chinatowns and three Little Italys here?), all peppered with a variety of delicious restaurants, coffee shops and bars.
Although each neighborhood offers a deep dive into its dominant culture's retail and culinary offerings, they all somehow also cater to a variety of urban tribes, from the creative to the foodie type. Together, they tell the tale of a city both resolutely heritage-minded and full-throttle dedicated to its burgeoning future.
Here is some expert advice: the two most prominent subway lines run east-west and north-south and it is a local unwritten fact that the trendiest neighborhoods run east to west while the more commercial ones can be found along the north and south corridor. Ready to get exploring? Here is the ultimate guide to the best neighborhoods in Toronto.
Best neighborhoods in Toronto
Think of Kensington Market, which hides behind thoroughfares Dundas and College Streets, as Toronto's belly. In its earlier days, it was home to Jewish immigrants that worked as shopkeepers (it's where starchitect Frank Gehry grew up!). The grandchildren of some of these early denizens are returning to the area today to open artisan bakeries and destination-worthy restaurants, alongside a new wave of immigrants. It's been designated a National Historical site, after all.
Don't forget to explore Chinatown, which bleeds into Kensington, while in the area as well. You'll probably want to stop by a bit later at night: Hong Shing, a delicious Chinese restaurant, is open until 4am and it is usually packed with off-duty chefs from around the city at that hour.
STAY
The clean and charming Baldwin Inn is a bed and breakfast with six bedrooms in a banana-colored Victorian house. The location, on lively Baldwin Street, puts you right in the centre of the Kensington action. In need of a bit of silence? Worry not! The inn itself is quiet and the lovely backyard patio turns out to be the ideal environment to enjoy a glass of wine in.
EAT
You might notice a craze for tacos while scouring the market, coupled with a growing interest in indigenous cuisine. Ojibway chef Sean Adler combines the two at his popular Pow Wow Cafe. Try the Indian tacos: made with bannock, traditional fried bread, they are astounding.
DRINK
Cold Tea is a speakeasy marked by a red exterior light over the doorway that can be accessed through a modest storefront in Kensington Mall. Sing along to '90s hip-hop while the bar team prepares your hibiscus ale or a great cocktail made with ingredients purchased at the market. The venue's name is a nod to the after-hours beer that was often served in teapots in Chinatown restaurants.
DO
A food tour is the thing you want to do here. Culinary Adventure Co.'s Chinatown-Kensington Market food tour intersperses tastings while divulging the truth about the area's history throughout three-hour sessions on the weekends.
If you do just one thing…
Head down what seem to be nondescript alleyways and expect them to be submerged with famous street art. You'll definitely want to stop by Kensington Avenue, with its beautiful rows of 1870s bay-and-gable housing, a Victorian-inspired residential style destination that is unique to Toronto.
West Queen St. West is, as the name suggests, the bustling western section of major Toronto artery Queen Street. Lined with independent bakeries, cafés, shops and galleries, it offshoots into trendy neighborhoods like Parkdale (fun fact: the area is sometimes referred to as Vagandale, given its propensity and sensibility towards meatless dining) and Trinity Bellwoods.
STAY
Since first opening almost 15 years ago, The Drake has set a standard for hip neighborhood boutique hotels. It was initially conceived as a kind of crash pad for those who'd stayed past the late night live music concerts in the hotel's basement theater or those who drank one too many Maharajas in the retrofitted bar. Today, guests revel in the art that adorns the space (there's an in-house art curator!), the Sky Yard rooftop bar (heated in the winter!) and the slightly ironic details making up the various rooms' walls.
EAT
Terroni is an iconic Italian West Queen West eatery that offers some of the best thin crust pies in town. There are a few other Terroni local outposts but this location is the first and was instrumental in changing the face of the neighborhood when it first opened in the early '90s. The charming backyard patio is crammed with locals sharing plates of tagliere del salumiere and bottles of lesser known Italian players.
DRINK
Convenience Toronto is decked out to look like the corner convenience store of your youth: the front counter is even stocked with old school candy. In the back, there are more grown-up treats, including great five dollar cocktails on tap—negronis! Paper planes! Old fashioneds! Piña coladas! Daiquiris! The spot also happens to be an Instagram favorite, with a vintage Pac-Man machine and a wall displaying video footage of failed convenience store holdups.
DO
Shop the indie boutiques and artisanal and designer markets that are integral to the ethos of the neighborhood. Pick up handmade jewellery at Made You Look, head to Horses Atelier for jumpsuits and other cool fashion made from natural fabrics from Japan and Italy by best friends and novelists Claudia Dey and Heidi Sopinka and then head to Type, a longtime independent community bookstore beloved by the city as a whole.
If you do just one thing…
A Tibetan dumpling crawl is the kind of niche experience you'll love Toronto for. The city is home to a significant Tibetan expat community and shops selling momos, Tibetan dumplings, have been springing up in the neighborhood.
As its sobriquet, the "mink mile," suggests, Yorkville is home to the swankiest shopping in Toronto. Located in midtown, it is easily accessible by both subway and car. Beware, though: once here, you may have to idle in traffic as the streets tend to be chock full of Ferraris.
Fun fact: Yorkville started off as Potter's Field and, in the 1960s, was deemed the ultimate hippie hangout. Things have changed, huh?
STAY
Toronto is the birthplace of the Four Seasons Hotel brand and its shiny flagship on Yorkville Avenue rises to expectations as the ultimate luxury stay in town. From the outsize floral bouquets in the lobby area to the art installation designed to look like an oversized dandelion that hovers over front desk, from the sublime spa to the awesome swimming pool, the hotel offers chic sensory overload… and then some. Make sure to sip on a Yorkville Affair while scoping out the scene at the hotel's D Bar.
EAT
Chabrol is a postage stamp-sized restaurant serving authentic French bistro fare. Sit at the bar and watch the chefs prepare toro white fish en papillote or the puy lentils and parsnip dish: it's literally poetry in motion. The restaurant also happens to spill out onto a sunny terrace surrounded by designer shops that will have you reach for your credit card in no time.
DRINK
Sorry Coffee Bar, inside the Yorkville outpost of Canadian fashion brand Kit and Ace, is the perfect place to rest throughout your retail workouts. Run by Dylan Wu, of the city's renowned De Mello Palheta Coffee roasters, the spot serves strong espressos in an elegantly designed space complete with black walls and a marble bar.
DO
Milk mile is also known as museum mile and for good reason. Visit the Royal Ontario Museum (ROM) and pay particular attention to the controversial art by architect Daniel Libeskind. What is inside the space is perhaps more enticing, albeit equally eclectic: expect a permanent exhibit of over 2,500 exceptional artifacts that shed light on Chinese culture through the ages in addition to cutting-edge temporary exhibitions devoted to the works of, among others, fashion legend Christian Dior.
If you've done your rounds at ROM, opt to visit the nearby Gardiner Museums for charming cerebral exhibits about modern and ancient ceramics or the Bata Shoe museum, a cultural destination dedicated entirely to shoes, the people who design them and those who wear them.
If you do just one thing…
Visit Philosopher's Walk, a scenic footpath abutting the ROM and the Royal Conservatory of Music that offers a quiet reprieve from the hustle-and-bustle of the city. Step through the path's Queen Alexandra Gate, with its splendid wrought iron lamps with griffins holding up glass shades in their mouths, and it'll feel like the beginning of a stroll back in time.
Many Broadway and East End plays do first runs in Toronto, so the Entertainment District wears its theatrical pioneering badge proudly, if with a touch of Canadian modesty.
The city's main cultural hub is sandwiched between the Financial District and midtown. Its main drag, King Street is lined with elegant old theatre houses such as the Princess of Wales, Royal Alexandra Hall and Taragon Theatre.
The neighborhood is also home to the city's biggest night clubs and sports destinations. Home arenas of the Toronto Blue Jays (baseball), Maple Leafs (hockey) and Raptors (basketball) are all within easy reach by streetcar, subway or cab.
The many bars and restaurants here lean towards mainstream fare, although there are a couple of culinary heavy hitters that are popular meeting places for post-theatre or -sporting events.
STAY
Le Germain Toronto Mercer is tucked away on a small street in the Entertainment District, just steps away from many theatres. At this outpost of the chic boutique chain started by Quebecer Christiane Germaine, rooms hum with quiet feel-good design and thoughtful attention to tiny details. It's a great choice for people who like the intimate boutique experience but in the kind of location typically taken over by bigger chain hotels.
EAT
The Toronto outpost of David Chang's famed Momofuku is found within an airy, double-height glass box that cantilevers over broad University Avenue. Inside the cube, find three other eateries, including the relatively new Kojin, boasting an Asian-flecked, meat-centric menu.
DRINK
The Bisha Hotel is owned by Toronto's king of nightlife Charles Khabouth, so expect a scene peppered by some of the best views in town at its rooftop bar on the 44th floor. Try the mezcal-based Oaxaca Mule while taking in the incredible, panoramic views of the city, Lake Ontario and Toronto's iconic CN Tower.
DO
Go to a movie at the TIFF Lightbox. The the city-block-long, purpose-built home base of the Toronto International Film Festival has six state of the art theatres that show retrospectives of classics, art house and critically lauded flicks.
If you do just one thing…
Take a comedy class at Second City. The famous comedy club that was the breeding ground of comic luminaries Mike Myers, Dan Aykroyd and Martin Short offers Drop in Improv classes several evenings a week. Try your hand at unscripted games like Whose Line Is It Anyway.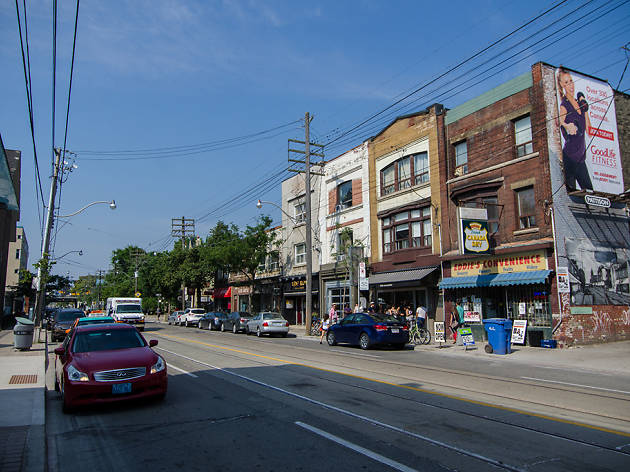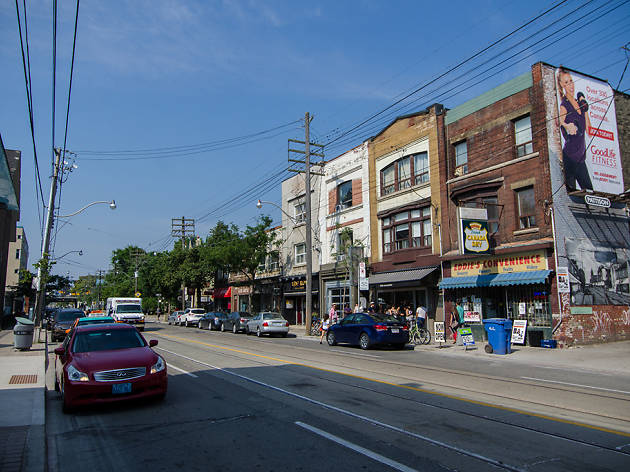 Photograph: Courtesy cc/flick/Jeff Hitchcock
A 15-minute Uber ride from downtown, Leslieville, on the further reaches of Queen Street East, is trying hard to dethrone West Queen St. West as the city's ultimate trendy enclave. Huddled together are side-by-side houses, resolutely independent shops, Victorian industrial architecture constructions and green parks full of young parents with expensive baby carriages who somehow manage to find time to frequent the many great eateries in the neighbourhood.
STAY
The building that currently houses the Broadview Hotel was once home to an infamous strip club. Now a six-floor hotel, the structure's beautiful brick Romanesque facade exterior was meticulously restored last year. Note the many ironic call-outs to Toronto's old Anglo culture, including the murals that lead up to the back stairs, which are the work of Toronto design group Supermilk. They tell the story of this once working class neighborhood: as you climb up, you'll notice whimsical drawings of soap factories, curling venues, union halls and, at the very top, naughty strip joints. Reward yourself after the climb with a phenomenally concocted cocktail at the buzzy roof bar.
EAT
Canadian celebrity chef Lynn Crawford opened Ruby Watchco before the neighbourhood became what it is today. She offers a market-inspired set menu that is served family style. The elevated mac and cheese made with ripe Ontario cheddar is a favorite—when it's on the menu, of course. Meats are prepared with an expert hand, be it venison tartare or fried chicken with rosemary honey. Taste some of the region's greatest wines as well.
DRINK
Join the locals at favorite neighborhood coffee spot Box Car Social. The brick space was previously a library and a furniture store so, as you can imagine, it's spacious-yet-intimate in here. In addition to coffee, the venue also serves wine and beer.
DO
Get a taste of Leslieville's cool art scene when stopping by Project Gallery, a private commercial gallery representing emerging and mid-career contemporary artists like Ken Monkman.
If you do just one thing…
Have a beach vacation in the city. The Beaches (locally called The Beach) is a neighborhood that's basically an extension of Leslieville. A gem of sandy expanse, it consists of four adjacent beaches situated on Lake Ontario. They are lined by a three-kilometre boardwalk that is perfect for a relaxing stroll, ice cream in hand.
No need to break your wallet to enjoy the city properly
We take into account all of the little things that make a hotel special, like fancy soap in the bathroom when you want to stay in and relax, and a short walk to the city's big-ticket attractions when you want to go out