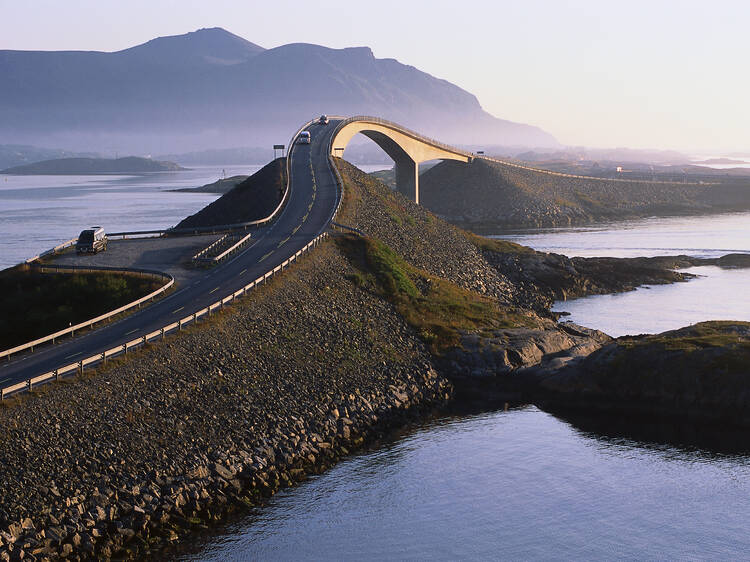 Photograph: Terje Rakke / Nordic Life AS / www.fjordnorway.com
If you're an aficionado of the Dangerous Roads website – and anyone with a car and a death wish really ought to be – you'll probably already know about this spectacular eight-kilometre stretch of tarmac hugging Norway's north coast. No Time to Die traverses this seriously Asgard-looking corner of the world in a scene that may or may not link to the movie's Faroe Islands sequences (see below). And for a more Oslo-centric Bond pilgrimage, head to the Langvann lake in Nordmarka. It's around 40km outside the capital and seems the likely location for the bit where Rami Malek's baddie, Safin, takes a machine gun to an icy lake.
What to expect An easy journey from the nearby city of Molde, followed by a drive along the edge of the world, with a series of dizzingly undulating bridges carrying you from island to island. Bad weather – or Bond villains – can render it borderline terrifying, so pick your moment.
Where to stay Cabins, mountain lodges and campsites are plentiful in this remote corner of Scandinavia. But would 007 camp? Naaah. He'd probably head to the nearby island and fishing village of Håholmen to brood with a Heineken. The Håholmen Havstuer hotel can help with rooms, sea views and boat transfers.