Heads up! We're working hard to be accurate – but these are unusual times, so please always check before heading out.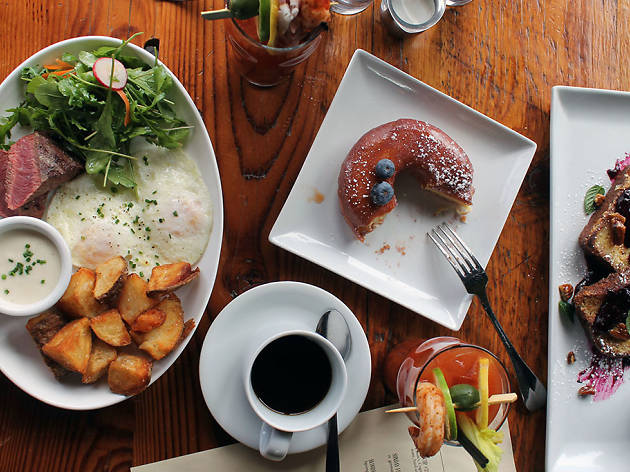 Where to eat the best brunch in America
From scrambled eggs to fluffy pancakes and mimosas, these restaurants serve the best brunch in America
Love it or hate it, it's hard to argue against the diversity of brunch: after all, at what other meal can you dig your fork into perfectly cooked scrambled eggs, dip your spoon into a creamy dessert while tasting fluffy pancakes and sip on a boozy mimosa, all at the same time? We, personally, love brunch: whether we're attacking the best burgers in America, inhaling the best pies in America or sipping on the best brunch cocktails, you can find us doing so between the hours of 11am and 3pm on a Saturday or Sunday at any one of these 20 spots, all serving the best brunch in America.
Best brunch in America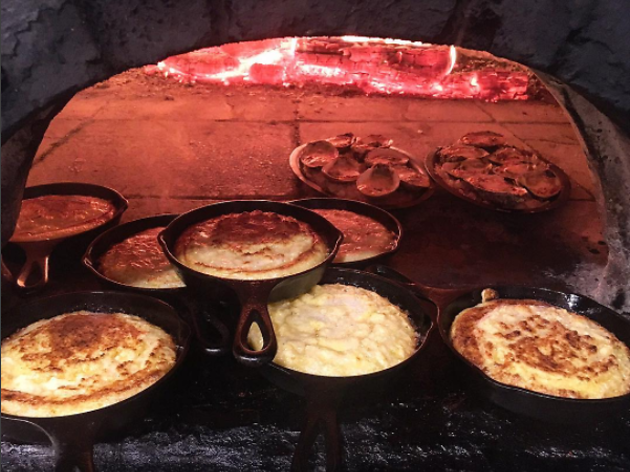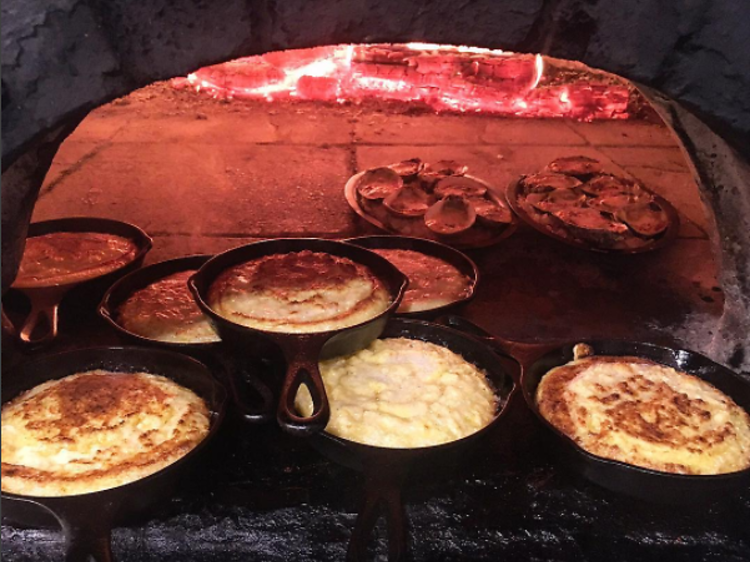 Photograph: Courtesy Husk
1. Husk in Charleston, SC
Restaurants in the south tend to know their way around brunch-time classics like grits, biscuits and country ham, and the shining example of this very traditional type of soul food is the team behind Husk, chef Sean Brock's loving ode to time-tested southern ingredients and techniques. The outstanding brunch menu changes often, but look for dishes such as South Carolina-raised quail served over johnnycakes and topped with a poached egg, and an immoderate Monte Cristo sandwich packed with fried softshell crab and Tennessee cheddar, served with a sausage and potato hash.
Enrique Olvera's Mexican blockbuster has been a tough reservation to snag since its opening in late 2014, but it's less of a chore to enjoy the smash hit during brunch service. Pull up a stool at the sleek, blond-wood front bar for a serrano-infused Bloody María and inventive Mex plates like seafood-stuffed avocado (take that, avocado toast) and duck enmoladas dolloped with crème fraîche.
Pastry chef Karen Hatfield has created a brunch mecca at Sycamore, where crowds flock to for pork belly hash, ricotta and buckwheat blintzes, and pastries galore. The cookies here are worth writing home about, particularly the chocolate chip rye version: not too sweet and with the perfect balance of a chewy interior and crunchy exterior. Order at the register and take a seat at the lofty outdoor patio. Late afternoon sweet seekers—the sticky bun is a must—are rewarded with pastries that are half off at 4:30pm.
Bostonites love their seafood and Saltie Girl finds ways to serve up plenty of it even during the morning hours, in inventive dishes such as a briny uni Benedict served over buttery brioche and a fabulously indulgent waffle dripping with sweet corn butter and crowned with crisp-fried lobster claws. Light, fruity cocktails such as the Watermelon (with gin, basil and lime) and the Peach (with vodka and ginger beer) wash down the top-tier grub with ease.
Ignacio Mattos doesn't do predictable. Even the more toned-down, approachable work at his intimate brick-walled Soho restaurant with co-owner Thomas Carter (Blue Hill at Stone Barns) is still plenty bold. His grab-bag brunch? Expectedly unexpectd: lamb ribs glazed in North African chermoula and honey and the kitchen's superb burrata with herbaceous salsa verde and hunks of charred bread.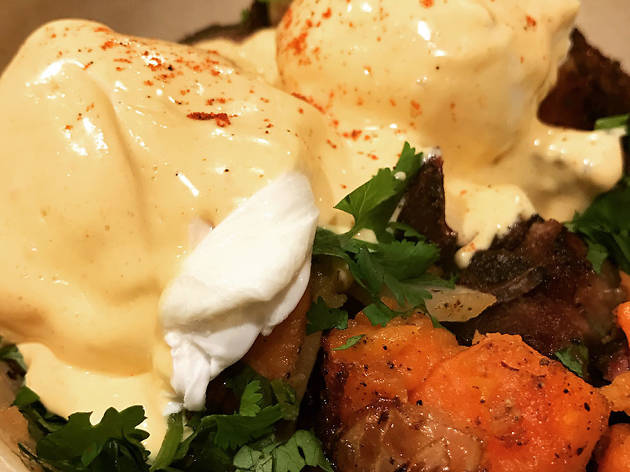 Photograph: Courtesy Terlingua
6. Terlingua in Portland, ME
This elevated BBQ spot serves Portland's best brunch, available only on Sundays and well worth the weeklong wait. The house-smoked meats that Terlingua does so expertly are the star of the midmorning menu, showing up in an umami-bomb of a sweet potato hash laced with tender brisket and in an over-the-top pulled pork eggs Benedict teetering atop flakey green chile-laced biscuits. Brunch cocktails, found in the "Hair of the Dog" section of the menu, extend far beyond boring ol' mimosas in their creativity: try the Blueshine Half & Half, an Arnold Palmer spiked with locally distilled blueberry moonshine.
Brunch at famed chef Gastón Acurio's La Mar is an experience, the kind you carve hours out of your Sunday to linger over and indulge. You'll start with arroz chaufa (Peruvian fried rice) served tableside and move on to myriad food stations serving curiously plated classics like crab causa and pastel de choclo (native corn cake). Then it's onto the entrée, which varies by brunch tier, and dessert. Think you don't have room for a sweet ending? You'll change your mind once you're served an artisanal dollhouse filled with treats. No, it's not the effects of unlimited cocktails you're experiencing. The dessert house is, in fact, spinning.
When a restaurant is dedicated to brunch—when, in fact, it only exists during brunch hours—you know it's going to take the meal seriously. This cheffy-but-playful pop-up only opens on Saturdays and Sundays at Italian cafe La Buca, and its bacon-obsessed pastry chef Brandon Weeks gives the people what they want: indulgent sweet and savory dishes that are perfectly executed but fun at the same time. Here's how it works: walk in (most likely after waiting on a long line, that is), plop down $20 and order your choice of a drink, a savory course and a sweet course. The former category might include caramel hot chocolate with house-made marshmallows; the middle a croissant-donut sandwich stuffed with bacon, fried eggs and sharp cheddar; and the latter a carrot cake waffle piled with cream cheese mousse and black walnut toffee.
At brunch time, it's hard to go wrong in Seattle—the city is obsessed with the midmorning meal and is home to no shortage of spots offering excellent coffee, pancakes and hashes. But we most often find ourselves at this relative newcomer in Ballard, a creative New American spot that makes delicious, original use of locally sourced ingredients. We're partial to the breakfast bowl, a warm pool of rich, cheesy grits topped with crisp-roasted kale and two creamy poached eggs; we also like the pork belly hash, a medley of chopped and charred veggies shot through with tender, unctuous meat and drizzled with a fragrant tarragon salsa verde.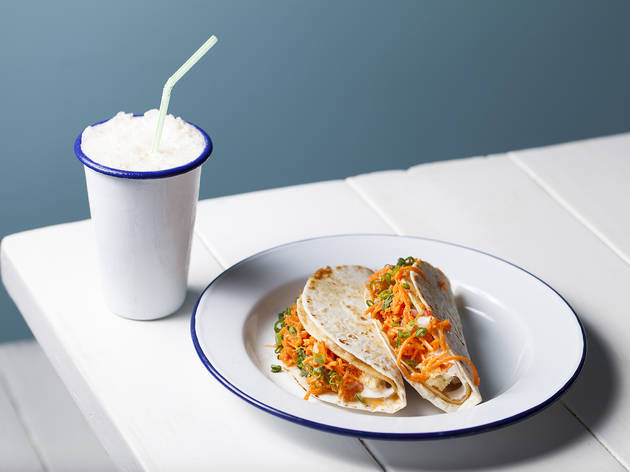 Leave it to LA's most well-known culinary trifecta to finally enter the brunch game. We're talking, of course, about Ludo Lefebvre, Jon Shook and Vinny Dotolo, who have given us Petit Trois, Trois Mec and bona fide cult classics like a perfect omelette, the Animal burger and a fantastic plate of meatballs. At Trois Familia, a French/Mexican cafe specializing in breakfast and lunch, there are already dishes poised to achieve similar acclaim, including a pair of double decker potato tacos, crisp with lime and carrot pico de gallo. End brunch on a sweet note with a thick slab of French toast crowned with a generous scoop of Salt & Straw ice cream.
Show more