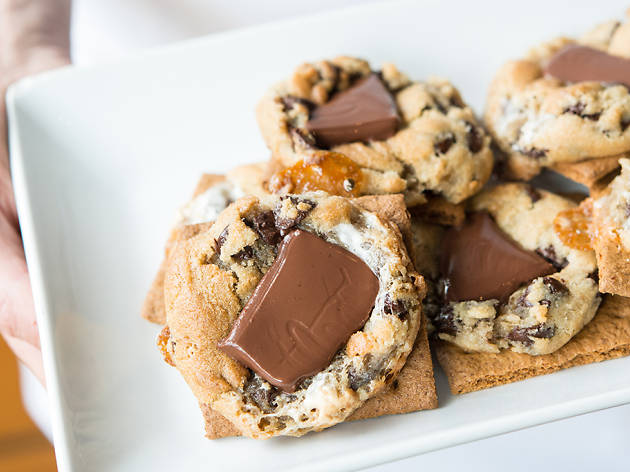 The 15 best cookies in America
Attention sweet tooths: Here are the best cookies in America, from chewy chocolate chip to a homemade Oreo
They may not be the fanciest of sweets, but a good cookie can easily outshine the mash-up dessert du jour. Like other all-American favorites (see: America's best donuts and best pies), the humble cookie has the power to both comfort and delight. Luckily for sweet tooths in search of the country's best cookie, bakeries and coffee shops from coast to coast are answering our sugar-fueled requests for high-quality rounds by elevating the childhood favorite. Grab a big glass of milk—you're going to need it to wash down the best cookies in America.
Best cookies in America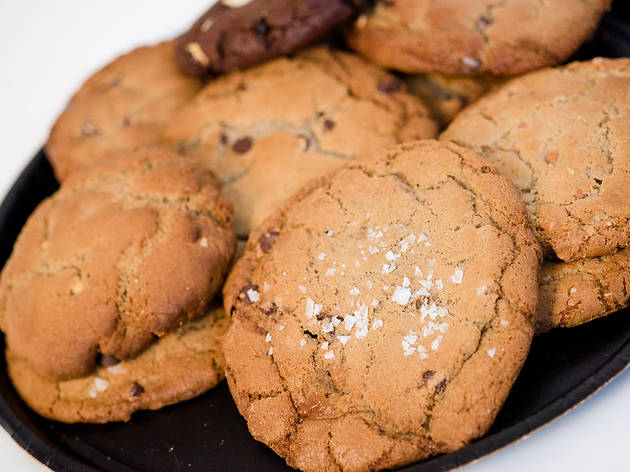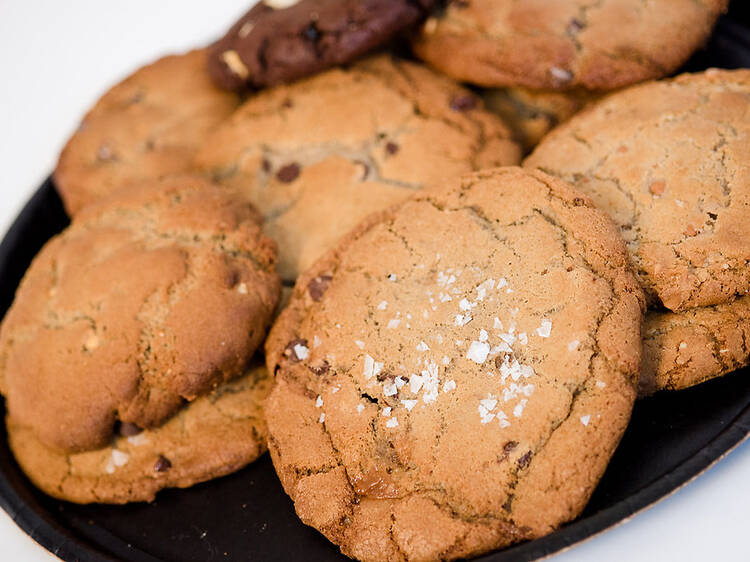 Photograph: Courtesy T-Rex Cookie
1. Sea salt chocolate chip cookie at T-Rex Cookie, Minneapolis, MN
Make no mistake, when we say the cookies crafted by baker Tina Rexing are big, it's not an exaggeration: her oversized chocolate chip cookie—studded with bits of caramel and finished with flaky sea salt—comes in at a whopping eight inches wide. But thanks to an overnight stay in the freezer and the magic of a convection oven, each half pound disc possesses the perfect ratio of crispy to chewy. They may be sized to share, but it's not hard to finish one all by yourself.
At this Upper West Side nook in Manhattan, size matters. Seductively gooey on the inside and golden brown on the outside, this Holy Grail of cookies is the size of your head and big enough to feed your whole crew (or not). Semisweet chocolate morsels and chunks of walnuts mix and mingle, making each buttery bite better than the next. The only thing worse than waiting on the long line out the door is the sinking feeling you'll get when you're left with no more bites.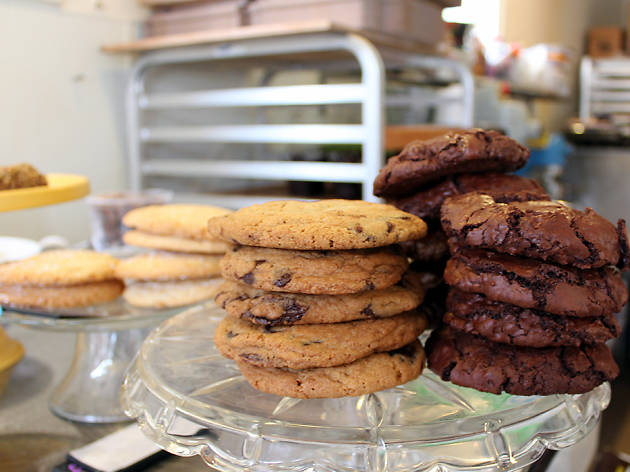 Photograph: Courtesy CC/Flickr/Wally Gobetz
3. Double chocolate cookie at WildFlour Pastry, Charleston, SC
Chocolate lovers, rejoice. The decadent, fudgy creation at James Beard-nominated pastry chef Lauren Mitterer's excellent Charleston bakeshop doesn't skimp on the good stuff. The double chocolate cookie comes with a crackly, almost meringue-like shell that gives in to a creamy center dotted with Callebaut chips, firmly cementing Mitterer's position at the top of Charleston's burgeoning food scene.

Photograph: Courtesy CC/Flickr/Wally Gobetz
Cookies abound at Milk Jar Cookies, where baking from scratch in small batches is the standard. Favorite standbys (read: the chocolate chip variety) get spiced up alongside seasonal flavors like chocolate-covered banana, birthday cookie or peppermint candy cane. The birthday cookie is enticing enough to replace a whole celebratory cake: a simple sugar cookie doused in an explosion of rainbow sprinkles. One bite and it'll turn you into a giddy kid again. Pair your treat with a glass of milk from Broguiere's Dairy or a cup of joe from Handsome Roasters. Cookies are $3 each—lucky for us, they ship 'em, too.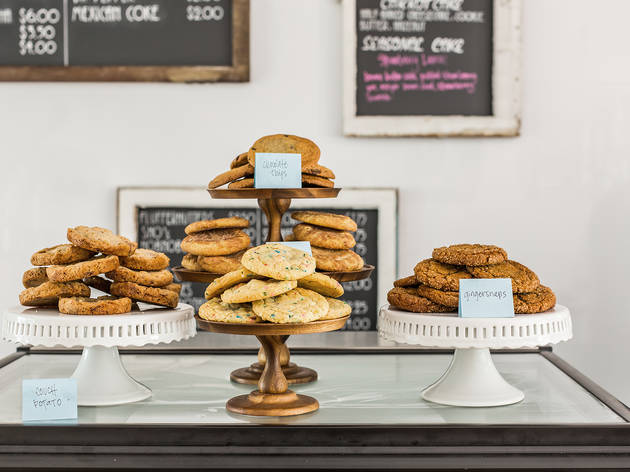 Houston's "Sugar Fairy" (also known as Rebecca Masson) has cast a saccharine spell on the Lone Star city with her homemade fluffernutter cookies. Drawing from the flavors of the dessert-like sandwich, she bookends peanut butter cream and sticky marshmallow Fluff with gloriously rich peanut butter and oatmeal biscuits. They're so popular, Fluff Bake Bar goes through crates of the spreadable confection, which Masson, of course, sources directly from its birthplace of Lynn, Massachusetts.
Photograph: Courtesy Yelp/Melanie P. 
It's hard to make a cookie taste ethereal, but somehow Anthony's Cookies has found the magic formula. San Francisco has been going nuts over this small bakery since it opened in 1997, baking fresh cookies daily in iterations of chocolate chip, toffee chip, candied pecan, double dark chocolate and more, both seasonal and constant. If you're gluten free, they have a couple options for you as well, but the overall winner is Anthony's cookies and cream: standard cookie batter blended with crushed up Oreos. We're kind of in love.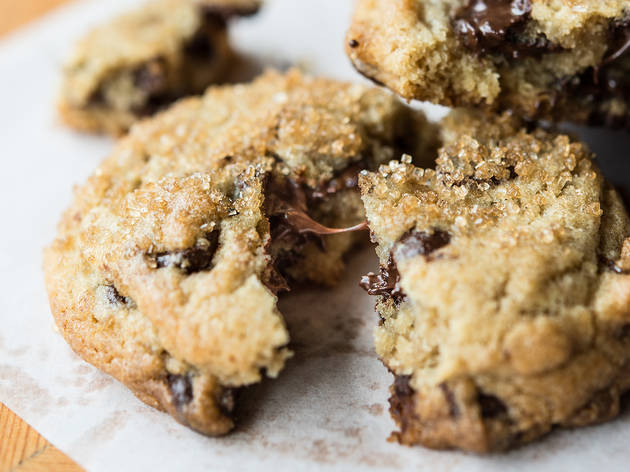 It was the owners of another beloved local institution—Molly Moon's Homemade Ice Cream—who convinced baker Robin Wehl Martin to start slinging cookies full-time. Since opening in 2014, her Capitol Hill shop has built up a massive, sugar-seeking following craving this sweet-spicy chocolate chip cookie, which rounds out a its habanero kick with notes of orange and vanilla. Pro tip: In the summer months, ask for a scoop of Molly Moon's to form one of the best ice cream sandwiches in the Pacific Northwest.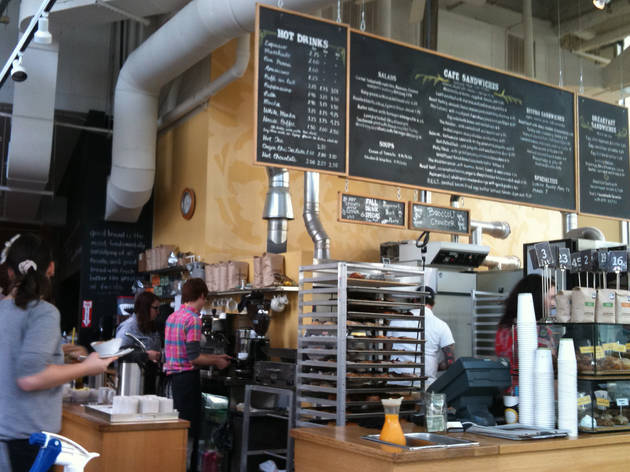 It's hard to go wrong with any of the baked goods at this bustling mini-chain of PDX cafés, but head baker Dan Griffin's cookies bring a much-needed shot of sugary cheer to the infamously rainy town. Opt for the ginger molasses, a soft, pliant number infused with warm holiday spices, or the chocolate crinkle, which is rolled, then baked in powdered sugar to form a crackly, nearly caramelized crust.
As a ramen restaurant, Slurping Turtle is the wildcard entry on this list. And that we're talking about a macaron, well, we expect some outrage from the cookie purist set. But the macarons here are perfect cookies. The shells have a perfect, lightly crisp texture and the flavors are incredibly bright. The raspberry wasabi and chocolate sesame are superb, but if you're only saving room for one piece of air-light deliciousness, try the Kaffir lime.
Pastry chef Karen Hatfield has created a brunch mecca at Sycamore, where crowds flock to the charming eatery for pork belly hash, ricotta and buckwheat blintzes, and pastries galore. The cookies here are worth writing home about, though, particularly the chocolate chip rye version: not too sweet, and with the perfect balance of a chewy interior and crunchy exterior. Three of these guys make for an indulgent brunch, if you're not in an egg mood.
"Make life sweeter, eat dessert first" beckons the chalkboard menu inside Joanne Chang's cozy café—the problem, though, isn't when to start, but what to start with. For the uninitiated, the cookies offer a buttery gateway into the James Beard award-winning chef's repertoire of comforting, yet sophisticated pastries. Take her gourmet Oreos, for example, two intensely rich chocolate wafers sandwiching a changing rotation of luscious cream fillings.
Downtown pastry darling Christina Tosi brings her cultish sweets to the Upper West Side with this fourth location—the largest yet, with 20 seats. Find her signature treats (crack pie, compost cookies, cereal milk shakes), alongside Stumptown coffee. The bakery does its own version of the Momofuku empire's famed pork buns: Here they're made with slow-roasted pork shoulder seasoned with hoisin and sriracha. Vegetarians can opt for buns stuffed with braised shiitakes, caramelized onions and smoked red-chili pepper flakes. Get either with a soft-poached, deep-fried local egg.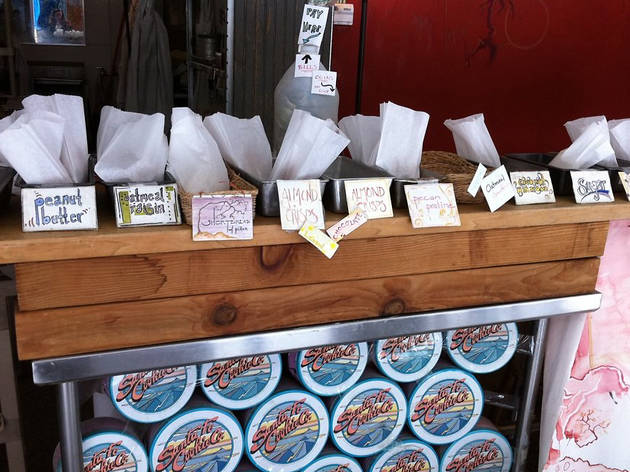 Photograph: Courtesy Yelp/Meredith G.
At a time when foods are literally created with Instagram in mind, Sante Fe Cookie Co.'s superior baked goods still gets attention the old-fashioned way—through word of mouth. Helmed by longtime cookie dealer Debbie Kuehn, the 30-year-old business has stayed reliably delicious and cheap (prices haven't gone up since the bakery debuted in 1985). That means a single dollar still gets cookie seekers three of Kuehn's fresh-from-the-oven confections, including dense and pliant rounds punctuated by chunks of pecans and crunchy pralines.
With its soda-fountain-by-way-of-a-Paris-flea-market vibe, Lovely is a refuge of artlessness in a neighborhood that sometimes feels governed by the tyranny of style. As such, it's fitting that the shop excels at the chocolate chip cookie, an absolutely elemental American sweet that so often gets brushed aside by bakeries chasing the next big trend. Lovely's chocolate chip cookies are smallish and, like a homemade batch, not perfectly round. Their butter-rich, crispy edges give way to a dense, chewy center heady with vanilla's comforting scent.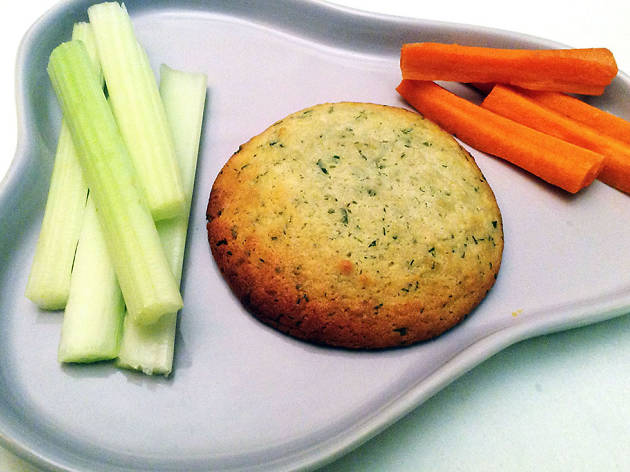 Photograph: Courtesy Rogue Bakery
15. Ranch cookie at Rogue Bakery, Columbus, OH
True to its name, the cookie specialists at Rogue don't play by the rules. Not only do their creations possess tongue-in-cheek names like "I'm Not a Snickerdoodle" and "WTF," but the flavor combinations are just as playful and unconventional. The most surprising is also one of the most popular—a ranch dressing-inspired round that balances the savory punch of garlic and onion with a burst of bright citrus.
See the best cookies in American cities
We rounded up the best cookies in NYC—crunchy or chewy, thick or thin, here's how the cookie crumbles
Best selling Time Out Offers