Heads up! We're working hard to be accurate – but these are unusual times, so please always check before heading out.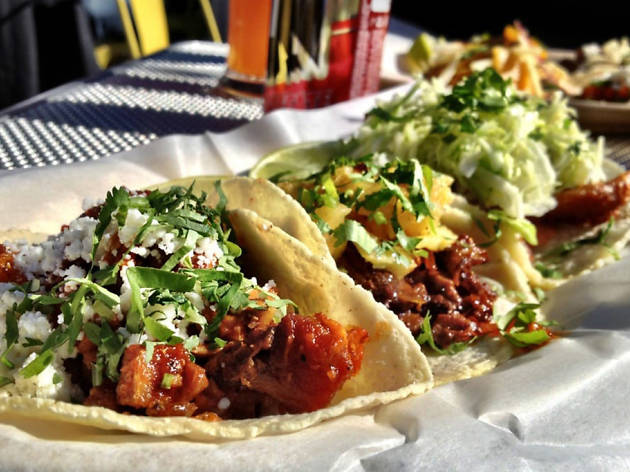 The 15 best tacos in America
Who serves the best tacos in America? Head to these Mexican restaurants to chow down on stuffed tortillas and more.
When it comes to the ideal snack food, there's one clear champion: the taco. We Americans can't get enough of these stuffed tortillas, flocking to the best Mexican restaurants in America—as well as to scrappier bodegas and taco trucks—to feast on the spicy, saucy wonders. After a night of drinking at the best beer gardens in America or the best tiki bars in America, steal away to one of these jamming' spots for the best taco you'll ever eat.
Best tacos in America
At Mexican megachef Enrique Olvera's fashionable Flatiron spot, heritage ducks get the carnitas treatment, braised overnight in their own fat and flavored with orange slices and a hint of Mexican Coke. After a final flash in the broiler, the impossibly tender-but-crispy half bird is presented in a cast iron skillet, to be shredded at the table and folded into the restaurant's warm heirloom-corn tortillas. $59
Photograph: Courtesy Yelp/Liz B.
One of the long-standing heroes of the old school taco trucks (aka loncheros), Mariscos Jalisco has earned a deservedly loyal and devoted following. The signature tacos dorado de camaron live up to the hype with flavorful and fresh shrimp folded into a corn tortilla that is then fried to a golden brown and topped with thick slices of avocado and a vibrant and complex salsa roja. You'll also want to save room for the legendary tostadas like the Poseidon topped with shrimp ceviche, octopus and a fiery red aguachile of shrimp. Follow the eatery on Twitter and don't forget to bring cash.

Photograph: Courtesy CC/Flickr/dabruins07
Guisado means "stew," and that's what this beloved LA mini-chain specializes in: homey, long-cooked meats smothered into impossible tenderness and heaped onto warm homemade corn tortillas. Its Puebla-style chicken mole is delightfully balanced, the sauce blending smooth, nutty cocoa with fiery chile. The finished taco is garnished with a sprinkle of salty queso fresco, a dab of cooling crema and shards of red onion. $2.75
Photograph: Courtesy Yelp/Cathy S.
At this super-authentic Chelsea Market taco counter, small, from-scratch corn tortillas get griddled before they're piled with superbly juicy adobada pork, red-chili-marinated meat that's roasted shawarma-style from a spit and then trimmed and garnished with shreds of pineapple and a squirt of lime. $3.50
This Denver favorite serves bright Mexican fusion loaded with fresh accents such as pumpkin seeds and apple salsa. Its lamb neck tacos feature the tender meat—pulled from the bones after a lengthy braise with onions, tomatoes and chiles—piled into warm tortillas, with fresh white onion, cilantro and warming pasillo-lime chile strewn on top. $3.50
This fun, honky tonk-style taqueria in the Windy City's Wicker Park neighborhood couldn't be more serious about its tacos, and it shows: its al pastor variety is a thing of pure beauty. Marinated pork shoulder is roasted to crackling on a spit, then carved into tortillas and topped with grilled pineapple and onions, plus plenty of fresh cilantro. $3.50
Photograph: Courtesy Yelp/Tony Y.
This Austin-established taco chain is much loved for its stunningly good vegetarian option: nestled inside a fresh tortilla, crunchy-on-the-outside, creamy-on-the-inside battered fried avocado slices share space with refried beans, pico de gallo, lettuce and shredded cheese. A fiery poblano salsa pulls everything together. $3.75
Bracero's "cocina de raiz," or roots cooking, has its origins in chef Javier Plascencia's Baja California upbringing. The restaurant's beef cheek taco is a classic example of the kitchen's elevated take on street food: soft meat heaped into warm tortillas with fresh onion and cilantro. $3.50
In business since 1981, this Dallas staple's most-ordered dish, the brisket tacos, has always remained the same. Two flour tortillas stuffed with melting beef brisket that nods to Texan BBQ, the tacos are smothered in a rich brisket gravy, shredded jack cheese and grilled onions and Poblano peppers. $11.25
This Miami spot prioritizes fresh ingredients, smashing multiple batches of guacamole each day and crafting its tortillas by hand. Among a standout selection of made-to-order tacos, the octopus stands out, featuring charred pulpo, pickled cucumbers and a bright salsa veracruzana studded with olives and capers. $9
Although they couldn't be more unconventional fillings, the sweet potato and quinoa inside this delightful taco bring texture and wholesomeness to the laid-back Nashville favorite's clamored-for vegetarian option. The tasty taco is topped off with roasted tomatillo salsa, shredded red cabbage, sour cream, cilantro and a squeeze of fresh lime. $3
This funky Tex Mex taqueria has been slinging loaded tacos since 2006. The star of the menu is the pollos guisado, tender chicken stewed with garlic, tomato and serrano chiles. For some Houston-specific sabor, opt for a deep-fried, puffy taco shell in place of the usual corn tortilla. $2.79
This homey Phoenix taco shop's speciality is a Baja California-style dogfish shark taco. The flakey fish is battered and deep-fried, then folded inside a corn tortilla along with crisp shredded cabbage and a lashing of tangy crema. $3.99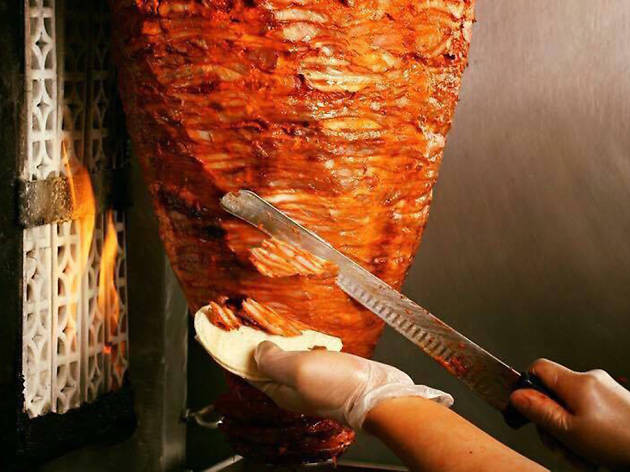 Photograph: Courtesy Los Guachos
14. Al pastor taco at Los Guachos in Columbus, OH
Widely considered to be Columbus' best taco, the al pastor at Los Guachos is a thing of beauty: marinated, juicy spit-roasted pork that's shaved onto a double corn tortilla and topped with a thin slice of roasted pineapple, diced onions and fresh cilantro. $1.50
Seattle might not exactly be known for its Mexican food, but residents craving tacos are never disappointed with a visit to this no-frills Capitol Hill spot. Its excellent tacos run the gamut from carne asada to vegetarian nopales, but the house favorite is definitely the adobada taco, stuffed with al pastor-style pork, pineapple and onion, plus homemade guac and your choice of salsa. $1.90