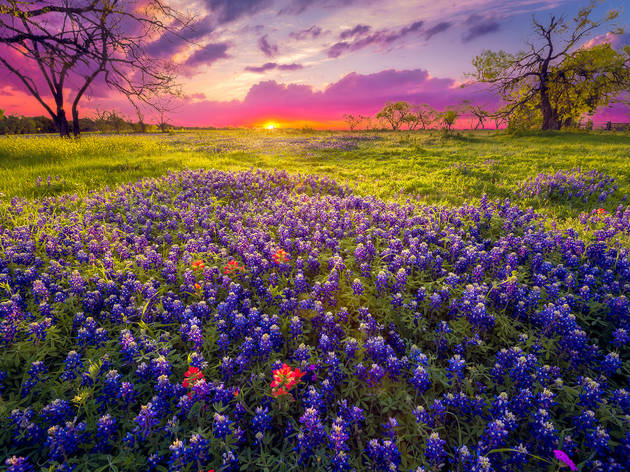 10 stunning places to see wildflowers in the United States
In search of wildflowers near you? These are the best places to see wildflowers in the USA this spring and summer.
One upside to a long and rainy winter? Wildflowers! Every spring across the United States, gray days give way to an abundance of colorful blooms, from Southern California to Virginia. And after a long winter of lockdown, a little fresh air and a scenic hike might be just what you need. So whether you're staying close with your local bloom or you're willing to undertake a cross-country road trip to see a superbloom in an epic location, consider this list of the best places to see wildflowers in the USA your guide—including handy information like when to go and what you'll see once you get there. There are many kinds of destinations and flower varieties when it comes to seeing wildflowers in all thier glory this spring and summer, but wherever you end up remember to be respectful and try not to trample the delicate blooms.
RECOMMENDED: Best hiking trails in the United States
Best places to see wildflowers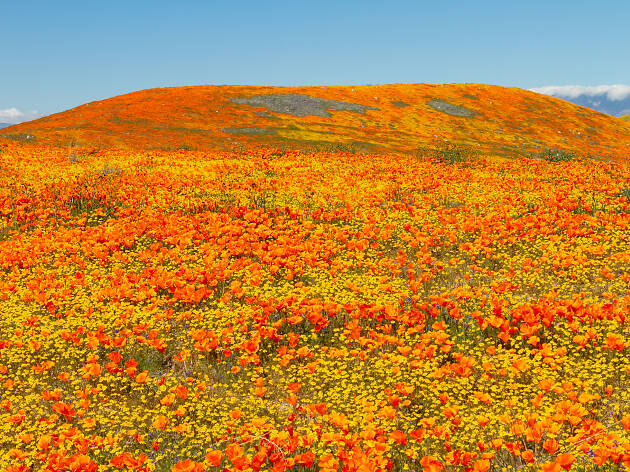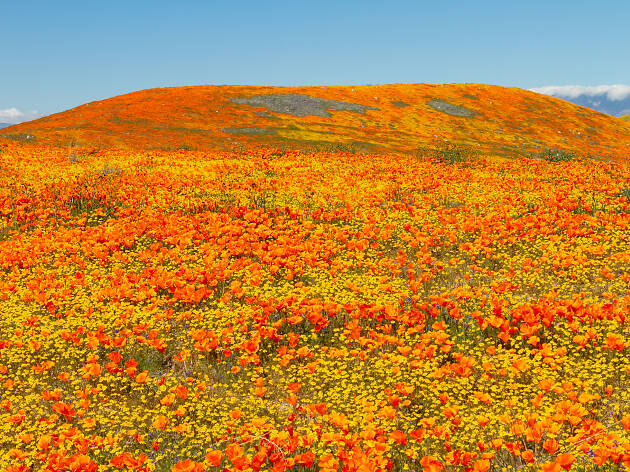 Photograph: Michael Juliano
1. Antelope Valley California Poppy Reserve, CA
When to go: Mid-March to late-April
What you'll see: Poppies are beautiful when they cover the desert hillsides in orange flowers. But poppies are also fickle. If there's too much rain, the Antelope Valley California Poppy Reserve can only expect a moderate poppy season. Too dry? Not a great bloom either. But that doesn't mean you won't see other wildflowers. Peak poppy season is late March to mid April—a short window if you want to catch the blooms at their height.
Discover Southern California: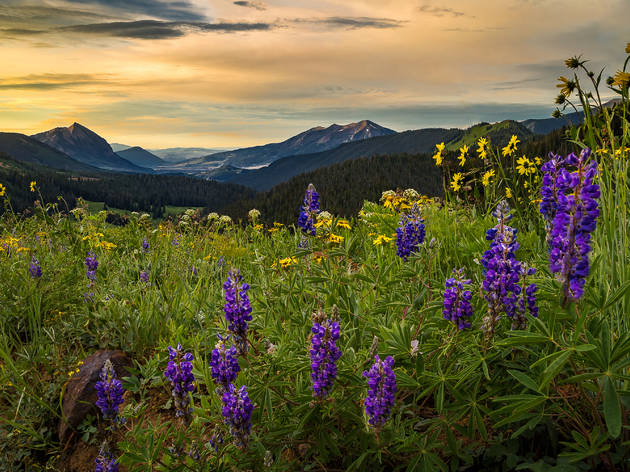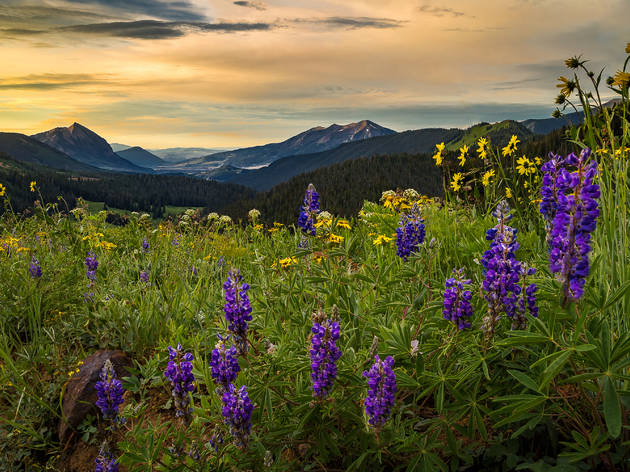 Photograph: Shutterstock
When to go: July
What you'll see: The Wildflower Capital of Colorado lives up to its name with hills full of lilies, primrose, honeysuckle, iris, marigolds, and hundreds of other blooms. Normally the area hold a wildflower festival, but you can still use the festival's trusty little alpine and subalpine field guides to scour the hills for colorful buds yourself. And use the bloom locator for suggestions on peak times and places to catch your favorite flowers.
Discover Colorado: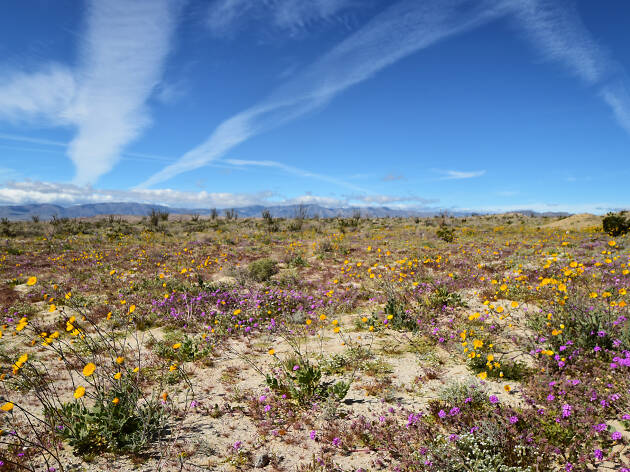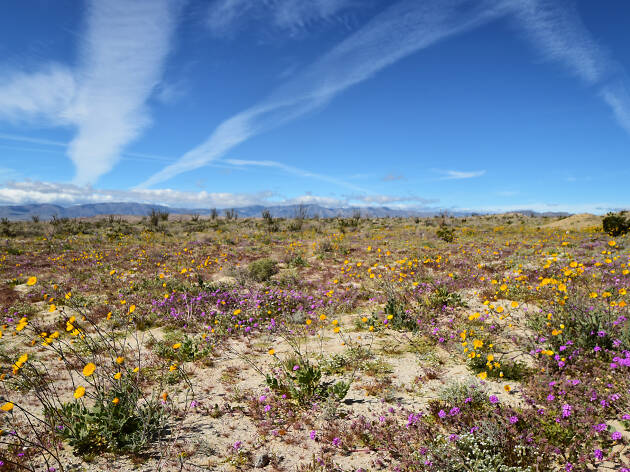 Photograph: Courtesy Pacific Southwest Region USFWS
3. Anza-Borrego Desert State Park, CA
When to go: January–March
What to see: After a particularly wet winter in 2016–2017 brought a superbloom that caused Anza-Borrego Desert to go viral, the state park is still at the top of our list for wildflowers. Though this year's winter was a dry one in California, a visit to this SoCal desert might come with pops of desert gold poppies, phacelia, and a variety of tiny belly flowers. As for where to see them, each canyon—Borrego Palm Canyon, Henderson Canyon Road and Coyote Canyon—offers different varieties.
Discover Southern California: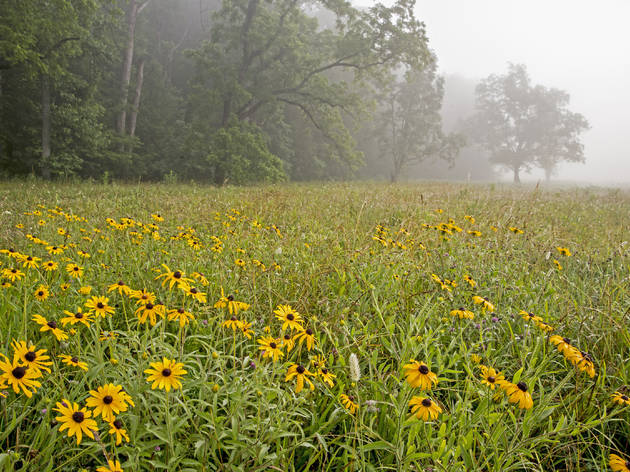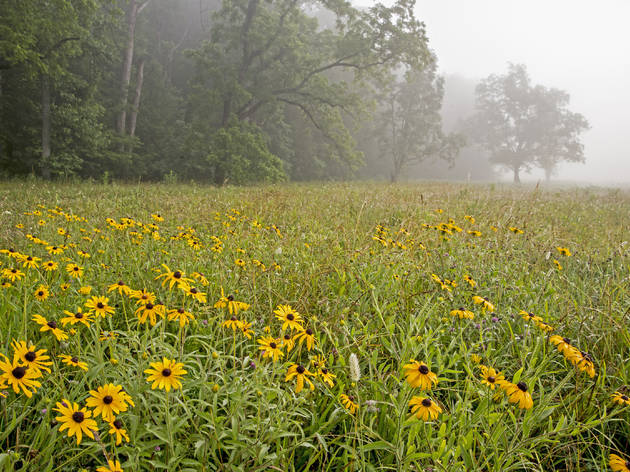 Photograph: Shutterstock
4. Great Smoky Mountain National Park, TN
When to go: Late April
What you'll see: The most visited national park in the country, Great Smoky Mountains is home to 1,778 species of animals (the most of any park!), more than 2,600 different plant species and an incredible 1,500 wildflower varieties! In the spring you can spot trillium, lady slipper orchids, and violets while summer brings black-eyed Susans. The annual Spring Wildflower Pilgrimage usually takes place in April when visitors can enjoy guided walks and photography workshops.
Discover Tennessee:
📍 The best things to do in Tennessee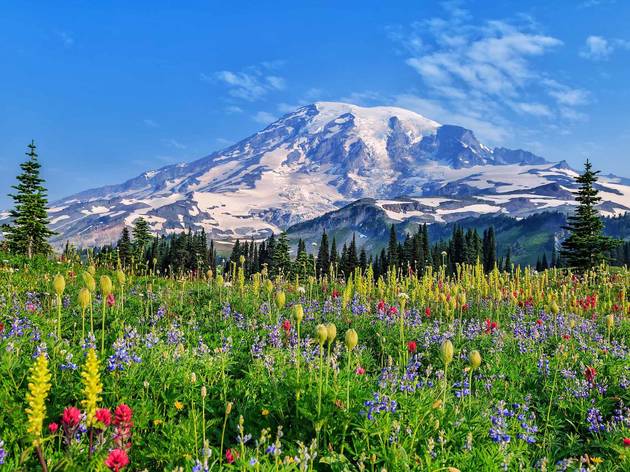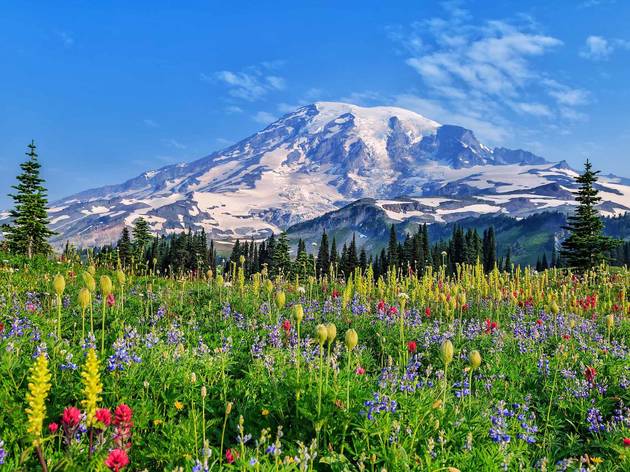 Photograph: Shutterstock
5. Mt. Rainier National Park, WA
When to go: July through August
What you'll see: This 236,381 acre park in Washington state happens to encompass an active volcano, but since it last erupted in the 19th-century, chances are nothing will happen if you go—nothing, that is, except experiencing breathtaking views of Mt Rainier itself, along with glaciers, waterfalls and meadows filled with wildflowers. Head to Paradise Meadow to peek bellflowers, bog orchids, bleeding hearts, and cinquefoils.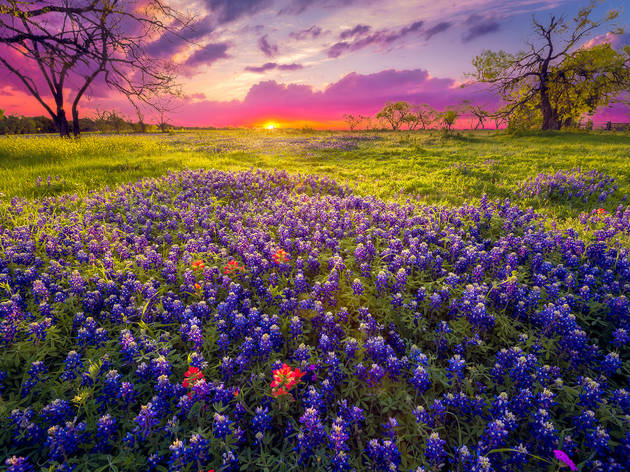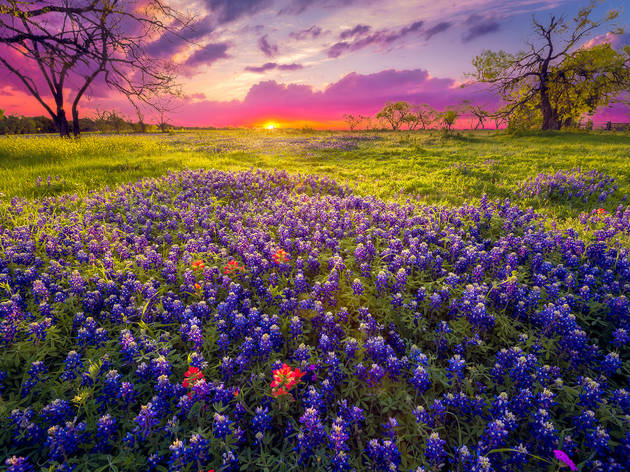 Photograph: Shutterstock
When to go: April
What you'll see: Every spring, Texas turns blue. As in bluebonnets. Across Hill Country you'll see 800,000 acres of highway median blossoms, but for the best wildflower vistas, you'll need to stay in the car. The Bluebonnet Trail, which includes the cities of Brenham and Chappell Hill, runs for 80 miles through fields and fields of bluebonnets, mingling with Texas paintbrushes, winecups, and primrose for a gloriously scenic drive.
Discover Texas:
📍 The best things to do in Texas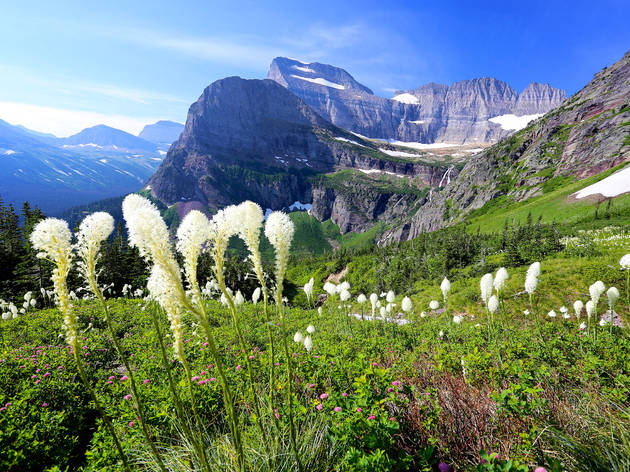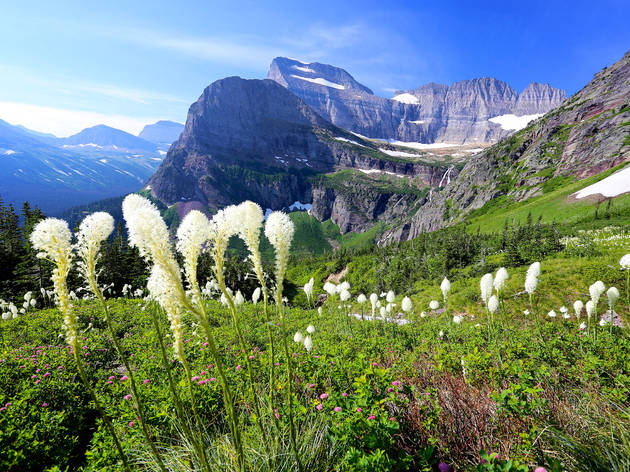 Photograph: Shutterstock
7. Glacier National Park, MT
When to go: June–July
What you'll see: Established in 1910, massive Glacier National Park—it takes up more than one million acres—is older than the national park system itself and boasts one of the world's most beautiful landscapes—and that includes wildflowers. Every summer, more than a thousand species of wildflowers take over the aspen groves, alpine tundras, lowlands and steep mountain slopes that make up this gorgeous park. Keep your eyes peeled for purple asters, Indian pipes, geraniums, buttercups, and much more.
Discover Montana: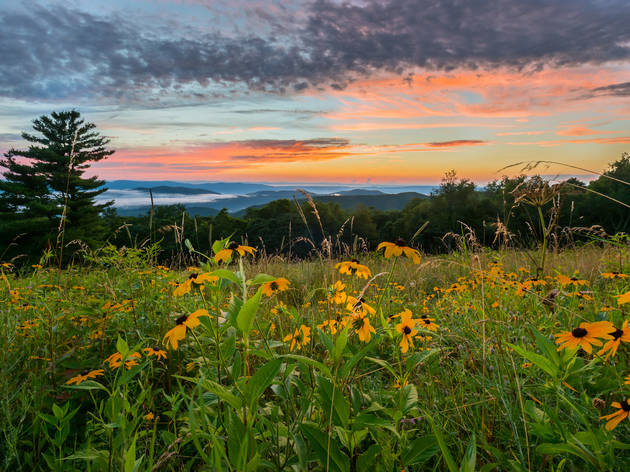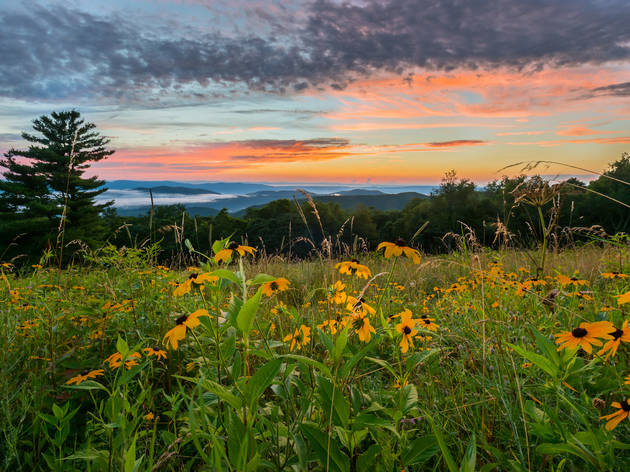 Photograph: Shutterstock
8. Shenandoah National Park, VA
When to go: Late March
What you'll see: If you want rushing waterfalls and scenic backcountry camping along with your wildflowers, then look no further than Shenandoah National Park. A trip along gold-view-guaranteed Skyline Drive makes for the perfect intro to the wildflower scene—a wash of bloodroot, trillium, violets, geraniums, and pink lady slippers—before you set off to explore some of the 500 miles of trails mapping the wilderness.
Discover Virginia: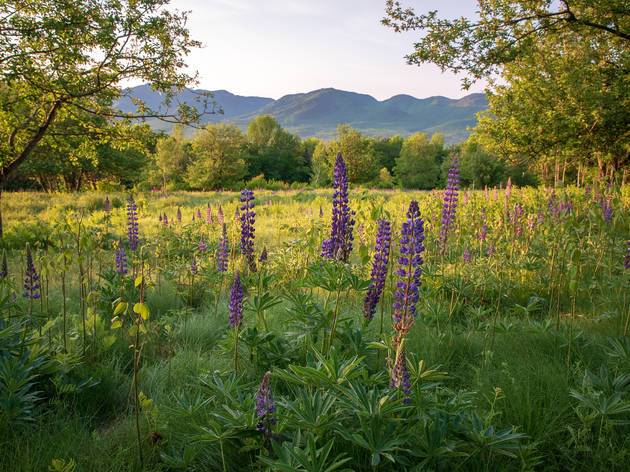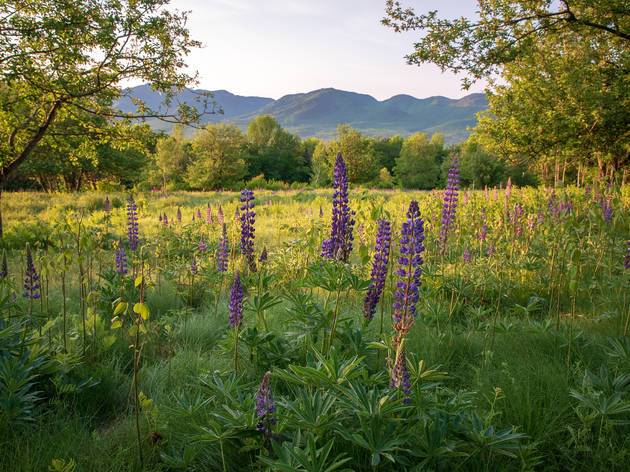 Photograph: Shutterstock
When to go: early June
What you'll see: The small village of Sugar Hill, New Hampshire—tucked away in a quiet corner of the White Mountains—becomes a tourist attraction for one month every year for one very specific reason: lupines. Every June, the town's vast fields, farms and gardens overflow with the large purple and pink flowers. In normal times, the region would also host an annual Sugar Hill Lupine Festival in June, which features lupine walks and an open-air market.
Discover New Hampshire:
10. Fort Pierre National Grassland, SD
When to go: Summer
What you'll see: The lack of roads in Fort Pierre National Grassland make it even better for peeping wildflowers. Lace up your hiking boots and you'll be rewarded with a vast variety of flowers, including purple prairie clover, bluebell, and silver bladderpod. And keep your eyes peeled for other wildlife that call the grasslands home, such as black-tail prairie dogs, badgers, coyotes, rattlesnakes, burrowing owls, raptors, jack rabbits, mule and whitetail deer, and antelope.
More of the great outdoors
Find the greatest open spaces in the county.
These are the most beautiful national forests in the USA.