Where to see Southern California wildflowers
Every spring, a fresh bloom of Southern California wildflowers appears. Here are the best places to see the blossoms.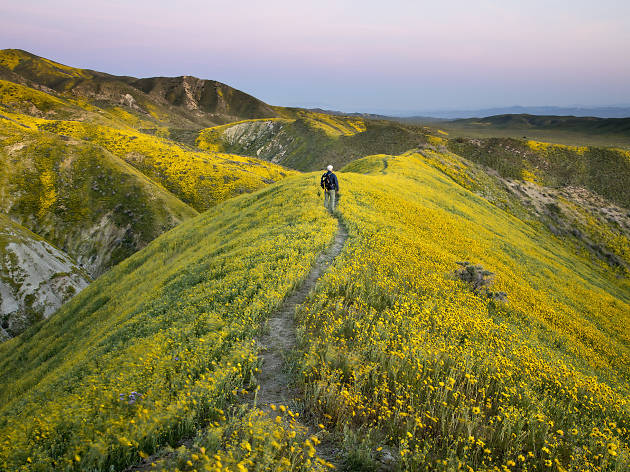 Spring is around the corner, which means Southern California wildflowers are beginning to make their appearance—and at some of these spots, they will continue to do so throughout the year. Whether you're looking to go on one of the best hikes in L.A. to catch the colorful blooms or even take a day trip to see the desert flora, there are many options when it comes to seeing Southern California wildflowers. So take advantage of any rain Los Angeles has seen this year and head to one of these spots.
Where to see Southern California wildflowers
On the Palos Verdes Peninsula, wildflowers bloom year-round thanks to its coastal location, but like most Southern California locations, March and April are peak months. In the summer, you'll see buckwheats with soft white blooms, cactus, native milkweed, cliff aster and California aster. But this spring, you can head to any number of the nature preserves—the Palos Verdes Nature Preserve, Linden H. Chandler Preserve, George F. Canyon and White Point Nature Preserve—to catch blooms. According to Ann Dalkey, the author of Wildflowers of the Palos Verdes Peninsula who volunteers with the Palos Verdes Peninsula Land Conservancy, you'll see fiddlenecks on the east side of the Chandler Preserve, where monarch butterflies hang out, as well as deerweed, poppies and more. Lupines can be seen at White Point Nature Preserve, while hiking the Mariposa, Flying Mane and Basalt trails in Palos Verdes Nature Preserve will lead you to red paintbrush. You'll also find blooms of California bush sunflower, mariposa lilies and wild hyacinth
across the peninsula.

Photograph: Courtesy Native Wildflowers of the Palos Verdes Peninsula
There are about 900 native plants that grow on the Santa Monica Mountains, so you're bound to find wildflowers on any trail in the area. However, if you're looking for a spectacular sight, head to Point Mugu State Park and Rancho Sierra Vista, both of which flank the western end of the range. Try taking the Chumash Trail on the recommendation of Zach Behrens, a spokesperson for the Santa Monica Mountains National Recreation Area. The trail, which starts at PCH and is a steep climb, is where chocolate lily and globe gilia are known to grow along the ridgeline. Then, down in La Jolla Valley you can find California poppies, lupines, popcorn flowers and Mariposa liles. Or start on the northside, he says, at Rancho Sierra Vista in Thousand Oaks where you can walk the rolling hills currently awash in a lush green accentuated by wildflowers under the shadow of Boney Mountain.

Photograph: Courtesy CC/Flickr/mikeccross
Also nestled in the Santa Monica Mountains is Malibu Creek State Park. While there are many reasons already to take a hike in this area—it seeming alien rock formations, the M*A*S*H site—spring and early summer offer more flowery motives. You'll find goldfields, owl's clover and annual coreopsis near the legendary TV site and along the Lost Cabin Trail. But what's more exciting is what could happen along Backbone Trail between Kanan and Latigo Canyon. According to Behrens, that section of the Backbone Trail could become a spectacular site if its hummingbird sage blooms this year. If it does, expect to see that around the end of May or early June. But even if it doesn't the Santa Monica Mountains is full of patches of various blooms, including black sage, purple sage and hummingbird sage. You can also head to Paramount Ranch to see goldfields, and you won't even have to leave your car as they should be visible from the parking lot!
Photograph: Courtesy CC/Flickr/Nick Klein
Poppies are beautiful when they cover the desert hillsides in orange flowers. Poppies are also fickle. If there's too much rain, the Antelope Valley California Poppy Reserve can only expect a moderate poppy season. Too dry? Not a great bloom either. But that doesn't mean you won't see other wildflowers. Peak poppy season is late March to mid April—a short window if you want to catch the blooms at their height!

Photograph: Courtesy CC/Flickr/djfrantic
5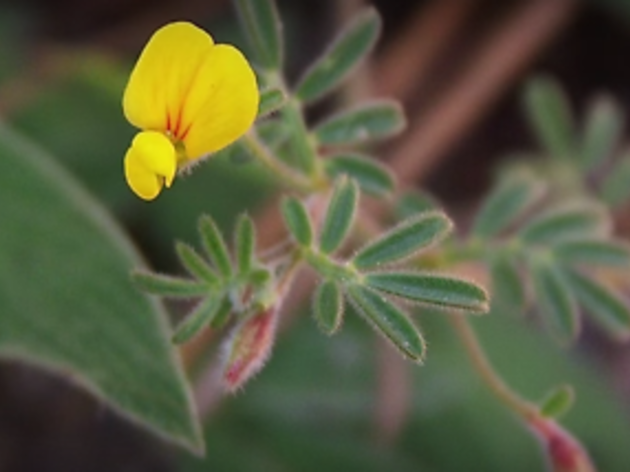 Photograph: Courtesy the Idyllwild Nature Center
Located in the San Jacintos Mountains, wildflowers are such a big deal here they have an entire festival around them. The Idyllwild Wildflower and Art Show typically arrives just in time for the region's peak wildflower season. According to Amanda Allen, the park's interpreter, because the area is at a higher elevation (the nature center is at 5,400 feet), the flowers bloom later in the season. So if you head to area in late May, you'll find a variety of species, including western azaleas, snow plant, rosy "pussytoes," a variety of lupine, both leafy and Alpine asters, evening primrose, meadow monkeyflower and a variety of penstemon. If you travel above 6,000 feet, you'll find even more varieties, but those tend to bloom even later in the season (say, June or even July). If you're looking to take a hike to see the flowers, Allen recommends taking the Summit Trail from the nature center down to the meadow in the County Park, then returning via the Perimeter trail. According to Allen, this route will take you through different micro-climates, which result in different wildflower varieties.

Photograph: Courtesy the Idyllwild Nature Center
This sprawling grassland in southeastern San Luis Obispo County may stretch past what we'd typically consider Southern California, but the three-hour trip is well worth it after a wet winter. Make no mistake: On most days you'll find an arid, dry lake bed at the center of this national monument. But if the conditions are just right, you may spot a couple of weeks where the hillsides turn into rolling carpets of daisies, goldfields and other yellow, orange and purple flora.
Photograph: Courtesy Douglas Croft/Bureau of Land Management
After a wet winter, you may find this iconic desert environment spotted with globemallow, desert sunflower, desert sand-verbena, brown-eyed primrose and more. If you don't want to take the five-hour or so trek out there unknowing of what you may see, we suggest checking out the wildflower report online to be sure it's worth your time, and where to go to find the best flora.

Photograph: Courtesy CC/Flickr/Buzz Andersen
A particularly wet winter in 2016-2017 brought a super bloom to the Anza-Borrego Desert. According the the area's wildflower report at the time, phacelia, desert dandelion, desert chicory, many red pygmy stonecrop as well as filaree, popcorn flower, poppies and fiddlenecks were all in bloom. As for where to see them, each canyon—Borrego Palm Canyon, Henderson Canyon Road and Coyote Canyon—offer different varieties (check the website for variety and trail information).


Photograph: Courtesy CC/Flickr/Jim Mullhaupt
Looking for more wildflowers?
Head out on one of these hikes in L.A. and you're bound to see some wildflowers—and if you not, you'll at least have a view.