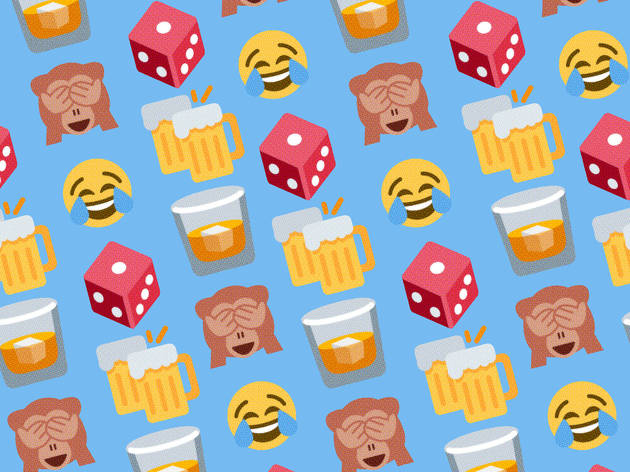 The best online party games to play with friends for an epic night in
Preparing for a big night in? You'll need to play these online party games with friends, including Quiplash, Heads Up and Monopoly.
You don't have to be in the same room with your friends to have an epic night. Instead of going out, these online party games are the best way for friend groups to have a fun night from the comfort of their respective pads. For everyone's convenience, we've curated the best online games to play with friends, everything from OG online-trivia phenom You Don't Know Jack and tried-and-true classics like Scrabble, Monopoly and Risk to character-based bouts and plenty of fun drinking games. Looking for more at-home entertainment? Dig into our lists of the best online jigsaw puzzles and movies on Netflix.
RECOMMENDED: Visit the most haunted places in the U.S. right from your couch
Best online party games
Does anyone else remember huddling around the family computer to play You Don't Know Jack? No? Just us? Huh. Regardless, these days, the pioneering virtual-trivia company Jackbox boasts a bunch of online party games, in which you can use your tablet or smartphone as a controller and play with up to ten peeps at a time on your PC. We suggest nabbing one of Jack's party packs (they sell for between $25 and $30), and each includes five games ranging from doodle and joke contests (like the super-popular Quiplash and Drawful) to hidden-identity whodunits and, yes, trivia.
There are a ton of trivia party games online to keep your pub-quiz crew practising. For the best ones out there, including freebies like Random Trivia Generator and apps like QuizUp, as well as detailed logistics on how to throw a DIY trivia night over Zoom, check out our comprehensive guide.
Time Out's Adam Feldman did a great deep dive into Houseparty that is definitely worth checking out. But here's the skinny for our purposes: The of-the-moment—and free!—video-chatting app also has a handful of games, including Heads Up! (only the #trending deck is free, but you can purchase others), Chips and Guac, and Quick Draw. Download the app on your phone or tablet and start inviting friends to play a round. Read Shaye Weaver's guide to the best games to play on the app if you want an expert opinion.

There are a bunch of online board games out there, ranging from classics like Monopoly and Clue to strategic competitions such as Risk and Catan. Best of all, you don't even need a literal board to play 'em: They're all available digitally and can afford some epic times when played over Google Hangout, Zoom or your video-conference platform of choice. Find our favourite board games to play with friends online in our comprehensive guide.
Back in the day, I knew this game by the very on-the-nose title Movie Actor Movie. Upon further inspection (read: googling), I've come to the conclusion that this name was probably completely made up by me or whoever I was friends with at the time. People seem to call it BOMB. Anyway, it's super fun and here's how it works: One person names a movie, then the next person must name an actor from that movie, then the next person must name a movie with that actor...and so on. Rules: You cannot repeat any movie titles or actors during a specific round. And if you can't name the next person or movie, you get a letter. If you spell out BOMB, you lose. If you're the last person standing, you win.
6. Word online party games
Looking for challenges for word lovers, in which you can play solo seshes (there's nothing wrong with a one-person party) or head-to-head matches or even epic bouts with a bunch of folks? There's Scrabble GO, as well as two sort of Scrabble spinoffs: the group-friendly Words with Friends and, on Facebook, Word Blitz (essentially Boggle with Scrabble-like scoring).
Who could use a drink? If you're hankering for a booze-fueled evening at home, we've got you covered with this rundown of the most fun drinking games to play with your friends online via Google Hangout or Zoom or whatever video-conference platform you kids are using these days. Discover how to play faves (Power Hour), ice-breakers (Never Have I Ever), card games (Kings) and more in our comprehensive guide.
More virtual fun
Check out 31 stunning national parks from the comfort of your home.
Up your cultural game by checking out the works of essential museums.
Best selling Time Out Offers