The 18 best parks in Los Angeles
These parks in Los Angeles offer the perfect place to spend an afternoon, whether you're taking in the views from Griffith Park or lounging on the lawn at Grand Park
By Time Out contributors; edited by Michael Juliano Thu May 1 2014
Grand Park. Photograph: Michael Juliano
Among the lengthy list of picturesque attractions in this city—who can resist the temptation of a hike through Runyon or a trip to the beach?—there is a wealth of beautiful parks in Los Angeles. Whether you're an art aficionado or a devoted dog owner, there's a slice of nature that fits your lifestyle. For those days when you don't feel like climbing up all 282 steps at the Baldwin Hills Scenic Overlook, roll out a blanket or take a stroll through 18 of the best (and free) parks in Los Angeles.
RECOMMENDED: 101 things to do in Los Angeles
For urban wilderness

---
It's easy to forget you're still in the city as you trek through the mix of native chaparral and landscaped paths that covers this rugged park. But take one look out from the iconic Griffith Observatory and you'll find yourself face-to-face with the LA Basin as it stretches out to the ocean. Griffith's myriad attractions and wilderness caters to all LA types: intrepid hikers can explore the Bronson Caves and visit Amir's Garden; easygoing weekenders can relax in the shaded, verdant passage through Fern Dell or the picnic tables at Crystal Springs; kid-toting visitors can board the steamers at Travel Town or explore the archaic cages at the Old Zoo; and pop culture lovers can catch a show at the Greek Theatre or visit Walt's Barn (a transplanted shed where Disney himself would tinker away with model trains).
Griffith may get all of the attention, but Kenneth Hahn is impressive in both size and topography for a park in the middle of the Westside. On top of the usual list of amenities, the Culver City park contains a lotus pond, fishing lake and sand volleyball court. But the urban oasis really establishes itself with over seven miles of walking and hiking trails through the Baldwin Hills, with views of almost every corner of the LA Basin—from the South Bay and the Pacific Ocean to Downtown and the San Gabriel Mountains.
---
For art aficionados

---
After oil heiress and philanthropist Aline Barnsdall bought this cute little hill after the end of World War I, she enlisted Frank Lloyd Wright to build a group of buildings at its summit. Though the complex was never finished, Barnsdall went on to donate the house, guest house and 11 acres of the land to the city on the premise that they be used as a public art park. More than eight decades later, the site still fulfills that role, with exhibitions in a variety of gallery spaces, as well as tours of the historic Hollyhock House (currently closed for restoration). In the summer, the park hosts al fresco cinema nights, wine tastings and cultural events that bring out a nice mix of singles, couples and young families.
Parking lots turned into parks—it's the latest green trend in LA, and who could complain after setting eyes on Santa Monica's Tongva Park? This idyllic and well designed ocean-adjacent oasis harbors a playground, meadows, waterfalls, walking paths and a conch-like wireframe lookout to the Pacific. Artist Iñigo Manglano-Ovalle's kinetic sculpture Weather Field anchors the park as a minimal, serene and instantly memorable landmark. Most that come to Santa Monica will flock to Palisades Park—for good reason, as the ocean views from the palm and eucalyptus-lined paths are breathtaking—but our allegiances lie with this low-key newcomer.
---
For reclaimed green space

---
The slow, lumbering mission to turn Downtown LA into a vibrant cultural hub got a lift when a portion of Grand Park's 12 acres officially opened to the public in July 2012. Dotted with fountains, picnic lawns, bright pink benches and plenty of nooks from which to sit and people-watch, Grand Park is a bright urban oasis that proves the city has a sense of romance. The park plays host to performances, gatherings and other community events.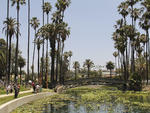 After a two-year makeover, the Eastside's historic Echo Park Lake has finally become a family-friendly destination worthy of its bold backdrop: the Downtown skyline amid the lotus flower blooms and fountains. The lake has been around since 1860—it was once used as a drinking water reservoir, and later as a recreational park with canoes and fishing. Today, you can push your way through the lake in a pedal boat or stroll around the path that hugs its borders. Either way, make sure to stop at the revived boathouse (and its breakfast pit stop Square One at the Boathouse) and the Lady of the Lake statue.
---
---