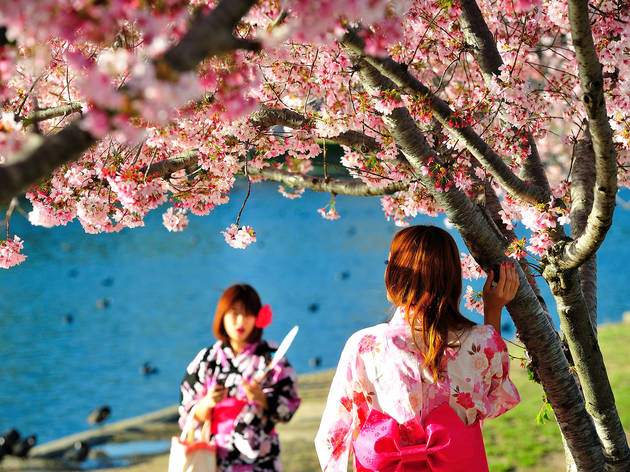 Cherry blossom festivals in Los Angeles—and where to see the flowering trees
Celebrate the arrival of spring with an afternoon at one of these cherry blossom-filled spots around Los Angeles
Before the jacaranda trees bloom and as the California poppies begin to flower, Los Angeles also greets the springtime with cherry blossom festival season.
Between March and April, a handful of Southern California cities salute their Japanese roots as delicate pink flowers begin to dot the trees in parks and along city streets. But with events still pretty much banned, that won't really be happening this year. Oddly enough, some of those cherry blossom festivals don't actually feature any cherry trees.
So if you're after blossoming buds, you'll largely want to head to a botanical garden this year. We've outlined the four best spots to step into spring this year, plus the status of L.A.'s annual cherry blossom festivals.
Peak blooms are pretty short-lived, so we suggest checking each spot on Instagram for up-to-the-minute photos before you trek on over.
Where to see cherry blossoms in L.A.
The La Cañada Flintridge garden is forgoing its guided walks this year, but you'll still find those beautiful pink-flowering trees around the property—particularly at the Japanese garden. Make sure to check the garden's bloom status before you secure your reservation.
It's tough to pick a favorite themed area at the Huntington, but the Japanese garden makes a pretty strong argument for the top spot—especially during cherry blossom season. Look to the rose garden-adjacent entrance as well as the steps near the ceremonical teahouse to see "Pink Cloud" cherry trees and the not-a-cherry-but-still-pinkish Japanese "Momo" peach tree. The path around the Chinese garden is dotted with blossoms, too, as well as look-alikes such as the flowering peach. Check in with the Huntingon's exhaustively detailed bloom map before your visit; reservations become available every other Tuesday.
Set a course for this Palos Verdes landmark to spot some blossoms this spring. While the annual cherry blossom festival and docent-led tours are a no-go this year, you should still be able to easily spot them on your own—specifically by the rose garden and the adjacent amphitheater lawn. Just make sure to have a reservation before you go.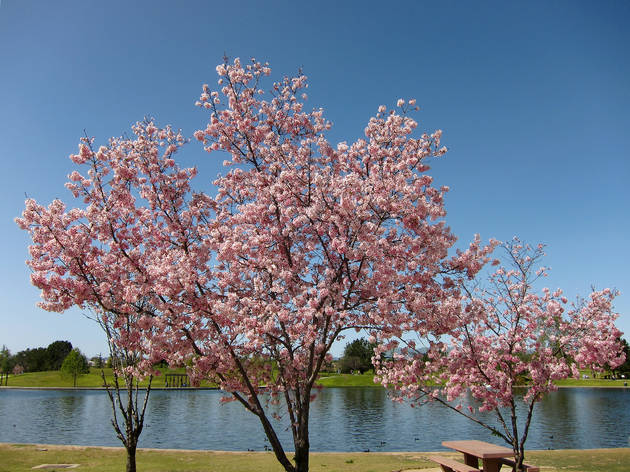 Photograph: Courtesy CC/Flickr/kara brugman
This popular lake and picnic spot in the Valley springs to life each March as cherry blossoms color the path around the lake's perimeter (and just to be clear, since the neighborhood is also called Lake Balboa, you'll find the actual lake just inside of the corner of Victory and Balboa Boulevards, north of the L.A. River).
The lake sits just down the block from another key blossom spot: the Japanese Garden, a recycled oasis that's fed by the water reclamation plant next door. Otherwise known as SuihoEn, the temporarily shuttered venue's website has said its "opening soon" for a couple of months now; whenever it does reopen, you'll likely need to secure a reservation.
What about cherry blossom festivals?
As we hinted above, most bloom-related programming has been called off this year. We typically fill this guide with cherry blossom festivals each year, but none of them will be occurring in 2021—specifically, the fests that take place in Monterey Park, Torrance, West Covina and Huntington Beach. If you're just after flowers, this actually shouldn't be a huge deal: The events mentioned above actually feature relatively few cherry blossoms, and instead focused more on traditional performances and food.
Looking for more beautiful blossoms?
Among L.A.'s many beautiful botanical gardens, none are quite as tranquil as Japanese gardens. From a Little Tokyo rooftop to a Pasadena-area museum, these are the most beautiful Japanese gardens in Los Angeles.
Best selling Time Out Offers