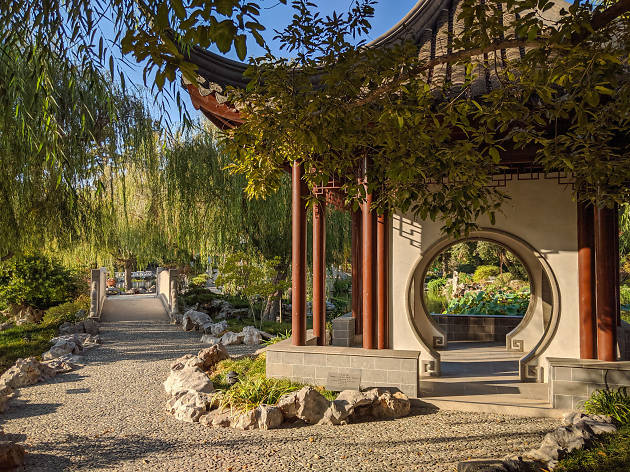 The best botanical gardens and hidden oases in Los Angeles
Stop and smell the flowers at the most beautiful botanical gardens in Los Angeles, from Japanese gardens to hidden oases
Los Angeles—and California as a whole—is a pretty amazing place, botanically speaking. Stick practically any plant in the ground and it'll grow, hence the palm tree-lined streets and the ubiquitous jacaranda tree bloom. Even though some of us can reach out our windows and pluck an avocado from a tree, a trip to one of the region's many botanical gardens (among the best things to do in L.A.) reveals vegetation that simply can't be found on our city streets. We've rounded up some of our favorites—broken up by category, like Japanese gardens or museum grounds—from botanical gardens in the San Gabriel Valley to a hidden oasis in a Hollywood Hills park.
While many major venues—including some of our picks on this botanical garden list—are temporarily closed, there are a few much-needed exceptions that we've noted below.
These are the biggest and best gardens that are still open right now
These gorgeous grounds in Arcadia are still open—though the Arboretum is limiting the number of people allowed to enter each day. You'll need to secure a reservation ($15) ahead of time and have it ready on your phone or a printout (no tickets will be available at the door). Entrance times are available on the hour, with half-hour slots available later in the day; regardless of your time, you're able to stay until closing at 5pm. Just make sure to keep a safe distance from other visitors and to wear a mask or some sort of cloth face covering. (Oh, and look out for peacocks.)
This stunning San Marino estate is once again welcoming visitors to its outdoor gardens as long as you have an advance ticket ($29). Tickets will be released every other Tuesday at noon for the following two weeks, so you don't have to worry about all of the reservations being booked at once.
Almost all garden areas are open, but galleries, indoor spaces and high-touch areas like the children's garden will remain closed (with a planned reopening in the fall). Only 1,500 tickets will be available each day, and you'll need to wear a mask and undergo a temperature screening at the door. And don't worry: The museum's free days haven't gone anywhere.
Looking to admire the flora at this Palos Verdes Peninsula garden? You still can with an advance reservation. Book your ticket ($15) through the garden's website; you'll be able to find time slots starting at 9am and until 4pm. Just a heads up that you'll need a cloth face covering to enter, and some benches and all picnic areas may be closed.
Griffith Park's spacious zoo may not have a separate botanical garden, but you will find over 800 different plant species, from native succulents to prehistoric cycads, labeled and catalogued throughout the continentally-themed habitats. Most outdoor areas are once again open, with timed reservations required. All guests will need to wear face coverings and practice physical distancing, and credit is preferred over cash for food and retail purchases.
We've updated the rest of our original story below with which other gardens have reopened and which ones are still closed.
Japanese & botanical gardens
This nearly two-acre private Japanese garden and traditional teahouse opens its doors to the public on Sundays. First constructed in the late 1930s, the garden features two ponds, four bridges and a cascading waterfall, all centered around a Japanese tea house. The current structure was painstakingly restored after a fire in 1981; the original was created in Japan by landscape designer and craftsman Kinzuchi Fujii.
This appropriately titled Japanese garden sits just across from the Sepulveda Basin on the border of Van Nuys. The stony bridges and footpaths wind along a central pond, flanked by by rockwork, manicured trees and tea houses. Of course, this wouldn't be the Valley without a bit of an industrial edge—the garden is irrigated by the adjacent Donald C. Tillman Water Reclamation Plant. Though still temporarily closed, the garden says it will be opening reservations for weekday visits soon.
This small, tranquil garden is one of Little Tokyo's best-kept secrets as the urban oasis isn't accessible from the street. According to the adjoining community center, gardens carry great importance in Japanese culture—caring for the grounds is a form of art and spending time among the flora encourages harmony with nature—so walk the outer path for a complete view of the garden's foliage, babbling stream and cascading waterfall.
Mansion & institution gardens
Discover more outdoor gems in L.A.
For those days when you don't feel like climbing up all 282 steps at the Baldwin Hills Scenic Overlook, roll out a blanket or take a stroll through 25 of the best (and free) parks in Los Angeles.