The best hikes in L.A. for dramatic city views
With secluded mountain treks and unparalleled people-watching, these are the best hikes in L.A. with a view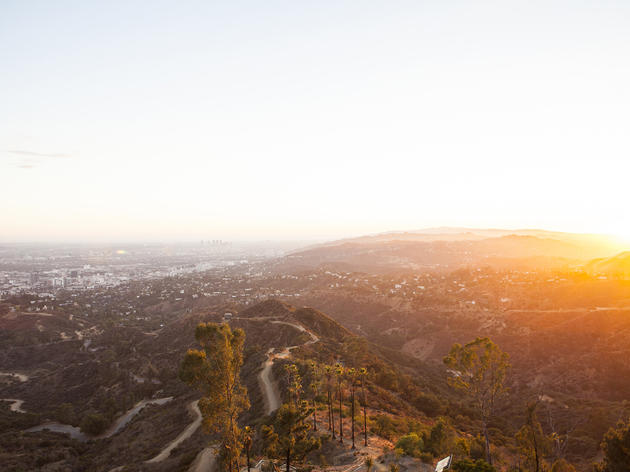 [Editor's note]
Don't visit these trails right now. Yes, we know that's a wild thing to say in a story that's recommending the best hiking trails in L.A. But best often equates to most popular, and crowded trails are the last thing we need right now.
As L.A. tries to keep the coronavirus pandemic in check, some L.A. parks have had to shutter to keep people away. To be clear, L.A.'s "safer at home" order still allows, and even encourages, Angelenos to go out for a walk or a hike. But it also requires that, in doing so, you take measures to practice social distancing (keep at least six feet between you and other people, visit during off-peak times, limit contact with surfaces and other people, wash your hands, avoid touching your face and cover your cough or sneeze with something other than your hand). And at a popular trail like Runyon, that's simply not possible right now.
So consider this list of hikes precisely the places you don't want to go. If you do insist on leaving your home for a trailhead, try thinking of the most unassuming, overlooked hike you can. And if you show up somewhere and there's a frenzy of people, you should probably go somewhere else.
Our original story appears below—we look forward to a time in the near future when we can once again recommend these spots.
--
Los Angeles is blessed with sunny weather nearly year-round and a geographical location that allows you to hit some of the best beaches and mountains in the state in the same day. So yes, there are plenty of things to do outside here, but there's one thing that tops many Angelenos' lists: hiking. So next time you're looking for a beautiful view of the city, don't head to a rooftop bar; instead, lace up your hiking boots and head out onto the trail for these things to do. Whether you're more cityscape gawker or ocean gazer, we've got the trek for you in this list of the best hikes in L.A.—with views.
For great hiking tour offers of Los Angeles, click here.
6 best hikes in L.A. with stunning views
At the top of Mount Hollywood (the hill behind the Griffith Observatory, not to be confused with the Hollywood Sign-adorned Mount Lee), you'll get a bird's-eye crash course on L.A. geography. Its 360-degree views offer a glimpse of everything from the Verdugo Mountains to the Pacific Ocean (on a rare, smog-free day, at least).

To get to the Mount Hollywood summit, Griffith's highest peak, pick up the trail at the north side of the Observatory parking lot. Starting off amid scrubby evergreens, the path quickly emerges into the hills, winding higher and deeper, with the Hollywood Sign appearing to the left about 15 minutes in. After about a solid 40 minutes of walking, you'll reach the top: a big, dusty clearing with picnic tables. It's an ideal vantage point for checking out sweeping views of the Los Angeles basin, the edge of the San Fernando Valley, the hazy hills to the west, the skyline of Downtown Los Angeles with the Observatory in the foreground, and the money shot: a close-up of the Hollywood Sign at eye level.

Address: 2800 E Observatory Ave
Hours: 5am–10:30pm. Hiking trails close at sunset.
Parking: Snag a spot in the lot next to the Griffith Observatory. If that lot is too hectic, look for street parking along Observatory Avenue. Both cost $8–$10 per hour. Alternatively, a DASH bus runs up Vermont Avenue daily from 10am–10pm for only 50 cents (35 cents with a TAP card).
Pets? Dogs allowed on leashes.
Length: ~3 miles
Time: 90 mins
Attractions, Parks and gardens
An exerciser's paradise in the Hollywood Hills, Runyon's the spot for views of the toned bodies and even tonier homes endemic to this part of L.A. The packed dirt path leads hikers, runners, yoga enthusiasts and roving weightlifters on a loop around the canyon, guaranteeing countless moments to pause and utter "This is so L.A."—particularly during the after-work rush hour, when people-watching reaches its frenzied peak.

You can catch the loop from either the east (Fuller Avenue) or west (North Vista Street) side of the canyon. Either way, it's a mostly gradual ascent, except for a treacherously steep and narrow section near the top of the eastern canyon wall. At the top, the trail plateaus along a ridge, giving views of the architectural hodgepodge of the Hollywood Hills—solar panels, pools and decks on stilts—downtown Hollywood and the Capitol Records building, the manicured tidiness of WeHo's grid and the tangle of high-rises along Miracle Mile. You can also cheat a bit (ok, a lot) and take a shorter hike from Mulholland Drive.

Address: 2001 N Fuller Ave
Hours: Dawn to dusk
Parking: Street parking. Franklin Avenue is a good place to find a two-hour spot. You can enter the park on North Fuller Avenue or North Vista Street. Watch out for permit-parking only blocks in this neighborhood.
Pets? Dogs are welcome (encouraged, really), with much of the trail allowing off-leash roaming.
Length: ~1.5 miles with possibilities to extend
Time: 30–60 mins
Where mountains collide with ocean, it's hard to go wrong in the search for perfect views. What makes Malibu's Corral Canyon stand out is its raw nature—coastal sage scrub and willows clinging to parched hills (lush with wildflowers after a wet winter), plus the occasional bunny or lizard—experienced over a 2.4-mile, fairly gentle and shockingly deserted (on a weekday afternoon) hike.

As the trail begins, the noise of PCH and the sea breeze follow you up. But things quiet down—and heat up—quickly on this shadeless trail. Hang a left at the first fork—this way you can face the ocean during your descent. Cutting through wild fennel and rust-colored grasses, the packed dirt path leads you on switchbacks along the east side and top of Corral Canyon. The descent toward the ocean has sweeping views of Santa Monica beaches all the way to Point Dume that are more than easy on the eyes.

Address: 25623 Pacific Coast Hwy, Malibu
Hours: Dawn to dusk
Parking: Plenty on PCH by Malibu Seafood; or pay $8 (cash or check) in the lot at the trailhead, just east of the restaurant.
Pets? Dogs allowed on leashes.
Length: ~2.5 miles
Time: 60–90 mins
An oil-rig studded hill on the edge of Culver City's industrial zone is an odd place for a state park. But that's all part of this urban overlook's understated charm. A destination for exercisers south of the 10 freeway, the park's main draw is the steps: more than 260 stone slabs that deliver hikers—breathless, aching—to the top in under 20 minutes.

If it's your first time, don't look back until you reach the top. That way you'll maximize the surprise of this north-gazing view of L.A.'s east-to-west spine—far less photographed than the standard postcard pic snapped from the south-facing Hollywood Hills, but just as worthy. Peer east toward Downtown's skyline and the sprawl of South L.A. To the north and west, Century City high-rises and Westwood's Mormon temple cut imposing figures, with the Santa Monica Mountains serving as a smoky backdrop. At happy hour, a no-frills workout scene flourishes, with people streaming into the park up until the moment it closes at sunset (and after). The hill's central location and low-key crowd make you feel like you're above the city, and within it, all at the same time.

Address: 6300 Hetzler Rd, Culver City
Hours: 8am to dusk. The visitor center is open occasionally, usually Thursday to Saturday mornings.
Parking: Look for parking on Jefferson Boulevard or drive to the top and pay $2 per hour or $6 per day.
Pets? No dogs allowed (sorry!).
Length: Less than 1 mile, but very steep
Time: 30 mins
Due to the Trail and Stormwater Improvement Project, from May 1, 2018–April 1, 2020, sections of the trails and stairs will be closed for construction and restoration work.
"A quiet refuge from people and wild life forever," declares a sign at the entrance to the Sam Merrill Trail. While you'll only linger here for a few hours, forever wouldn't be too long. This hike feels more like a weekend destination than an after-work jaunt, unless you live in the neighborhood. And based on the hydration packs and hiking poles you'll see, it's a bit more serious hiking, than say, at Griffith, but that doesn't mean it's too challenging for a novice.

The hike begins by scaling the wall of a canyon and emerging onto the face of the mountain about 15 minutes later. The views of Downtown L.A., Pasadena and the San Gabriel Valley are stellar even at low levels. But once you get to the top, there's the added bonus of a fascinating L.A. history: In 1894, ambitious industrialists linked this mountaintop to nearby Pasadena with a train and then established an alpine resort, unofficially dubbed the White City, complete with a 70-room mansion. Two fires burned everything to the ground within a decade of its opening. All that's left now are ruined foundations and train tracks for hikers to explore and picnic on. It's a poetic view of the charred remains of a long-lost dream.

Address: E Loma Alta Dr at Lake Ave, Altadena
Hours: Part of the Angeles National Forest, the trail doesn't officially close and is popular with night hikers.
Parking: Look for free street parking by the entrance.
Pets? Dogs allowed on leashes.
Length: 5 miles
Time: 2.5–3.5 hrs
6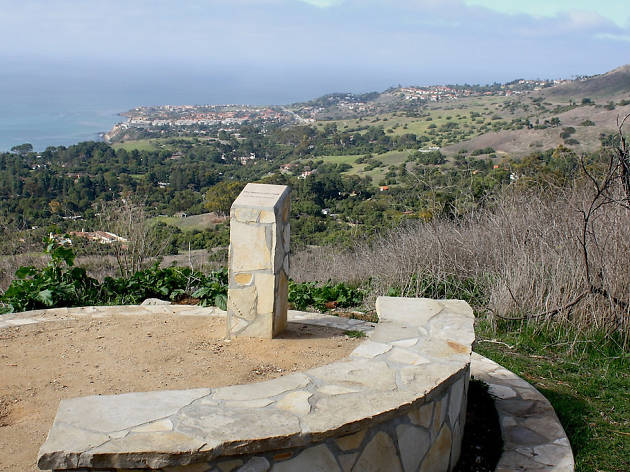 Photograph: Courtesy CC/Flickr/William Procopio
Portuguese Bend Reserve (Rancho Palos Verdes)
Portuguese Bend Reserve is a maze of trails across a 399-acre park, and almost all the options allow for a beautiful, sweeping view of the Pacific Ocean with Catalina Island in the distance. The best part? Since it's all the way out on the edge of the Palos Verdes Peninsula, none of these trails are ever very crowded and they are part of a Nature Preserve with plenty of wildflowers and wildlife to see. So if you're over the scene at Runyon Canyon, you may want to head south.

To start, from the street head into the park down Burma Road, where you will follow it past Dr. Ibrahim El-Hefni Vista Point. Turn left on Eagle's Nest Trail, which you will follow for about nearly two miles until you meet back up with Burma Road. You can either head back up here or continue onto the lower loop by taking a right down Toyon Trail. Keep left until you reach the end of Toyon Trail, when you will take a right on Peppertree Trail. Continue on this trail until you quite literally hit a fence, and then head left up Klondike Canyon Trail. You'll hit a fork in the trail and can take either trail but keep left for the easiest one. Head left up Barn Owl Trail until you hit Burma Road, where you will turn left. This will lead you to the closing of the lower loop. Once you meet back up with Toyon Trail, rather than going back where you came from, head right on Ishibashi Trail which will once again lead you to Burma Road, where you'll turn right and follow it back up to the trail head. Phew. Got lost? No worries, any of these trails will lead you back to where you started.

Address: Crenshaw Blvd and Burrell Ln, Rancho Palos Verdes
Hours: Dawn to dusk.
Parking: Look for free street parking by the entrance .
Pets? Dogs and horses allowed.
Length: 5.15 miles (a shorter, 3-mile hike is possibile by ommitting lower loop).
Time: 2.5–3.5 hrs
Looking for more hikes in L.A.?
Here are the hiking trails in L.A. that'll keep you cool by journey's end with some of the area's most impressive waterfalls.
See the best hiking trails in America
Hit one of these epic hiking trails to experience some of America's most iconic and dramatic landscapes at ground level