Heads up! We're working hard to be accurate – but these are unusual times, so please always check before heading out.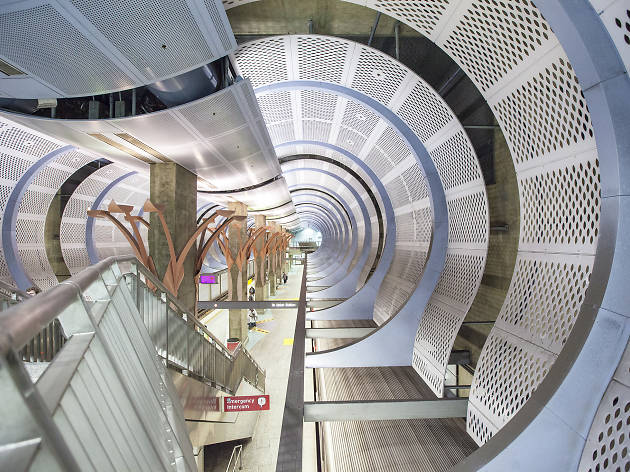 A beginner's guide to Metro
Everything you need to know about TAP cards, subway lines, buses and more
Some Angelenos don't realize that there's a subway rumbling underneath their feet—or maybe they just choose to ignore it. The truth is, you can navigate large parts of Los Angeles without ever stepping foot in a car thanks to Metro.
People like to complain about L.A.'s supposedly paltry public transit offerings almost as much as they fume about traffic. Los Angeles Metro isn't perfect: Light rail service can be slow, most bus routes sit in the same rush hour traffic as cars and many of us are still miles from the nearest subway station. But L.A.'s transit system should be a point of pride: Some of the B Line stations are practically underground art galleries—so much so that Metro conducts year-round tours of the stops.
Whether you're visiting for the first time or fed up with your daily commute, use our beginner's guide to the Los Angeles Metro to start your car-free adventure around the city.
Riding (and paying for) Metro
The first thing you'll need before boarding a train or a bus is a TAP card. Available at all Metro Rail stations and select retailers with a $2 surcharge, these reusable cards can be filled with pre-set dollar amounts or day passes. A single ride, regardless of the destination, costs $1.75 and includes free transfers for up to two hours. Day passes start at $7 but are only worthwhile if you'll be taking four trips more than two hours apart. Very few bus stops have TAP vending machines, but you can buy a new card with a day pass on board (buses also accept exact change). Make sure to hold onto your card as it's accepted on all 26 county transit agencies (and has a 10-year lifespan). You can also order or refill a card on the TAP website.

When you're entering a train station or a bus, it's as simple as holding your TAP card against the marked terminals. Some light rail stations don't have turnstiles, but still make sure to tap—otherwise you could face up to a $250 fine.

Most lines operate from before 5am to midnight or later on weekdays, with service until 2am on weekends. Trains run as often as every five minutes during peak times, though you could be stuck waiting for 20 minutes during late nights. Use Metro's Nextrip service to take out some of the arrival time guesswork.
Metro Rail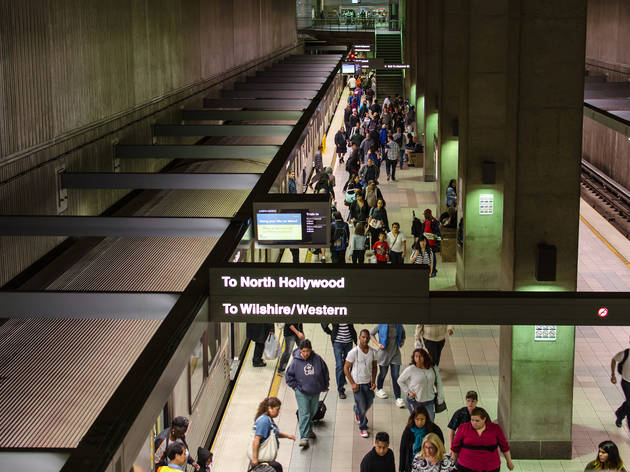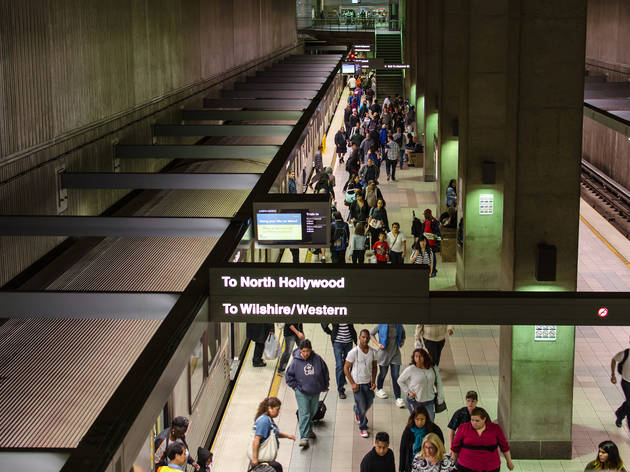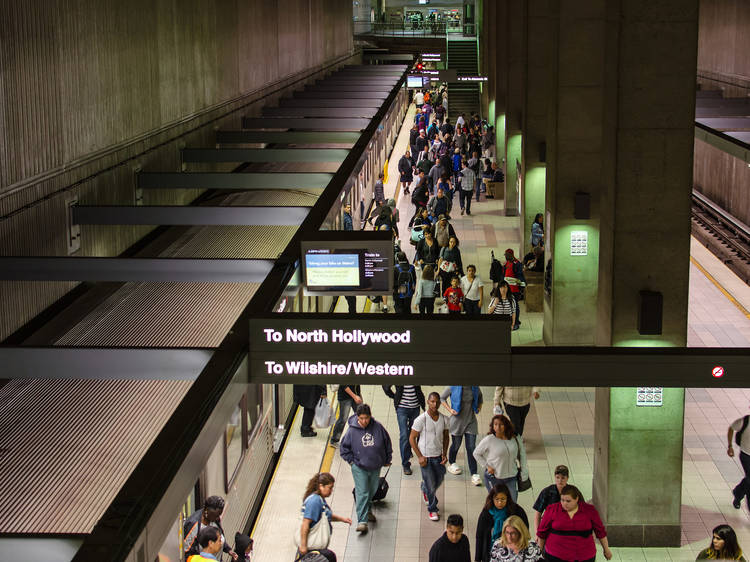 Photograph: Courtesy Steve Hymon/Metro
There are only two subway lines in L.A., one of which shares most of its stops with the other. Underground heavy rail is admittedly not our strong point—blame it on fault lines and politics.
Though the original lines were named after colors (with the exception of the Expo Line), Metro has started to rename each line after letters instead.
B Line (Red)
Metro's original subway line starts at Union Station, with additional stops near Downtown landmarks like Grand Park, the Music Center and Grand Central Market. It continues toward Hollywood, where it makes a stop by the Pantages Theater, the Walk of Fame and Hollywood & Highland (where you can catch a shuttle to the Hollywood Bowl), before stopping across the street from Universal Studios and in North Hollywood by the NoHo Arts District.
D Line (Purple)
This stub of a subway line shares the B Line track until Wilshire/Vermont, where it forks and ends with two stops in Koreatown. Within the next decade, service will expand west to reach LACMA (by 2023), Beverly Hills (2025) and UCLA (2026/2027).
In addition, the Regional Connector Project—slated for completion in Downtown L.A. 2022—will more seemlessly link up the two subway lines with the light rails lines below.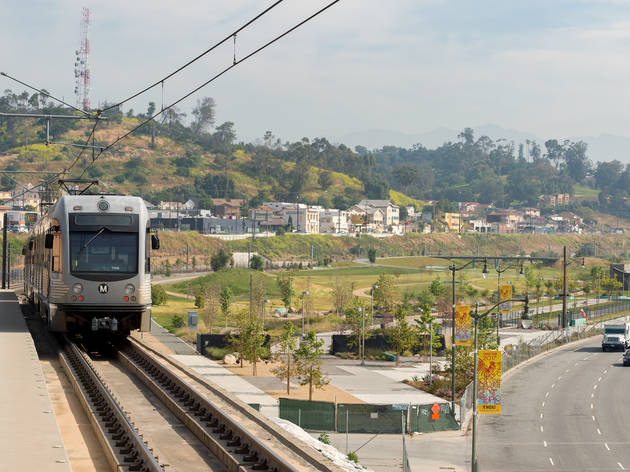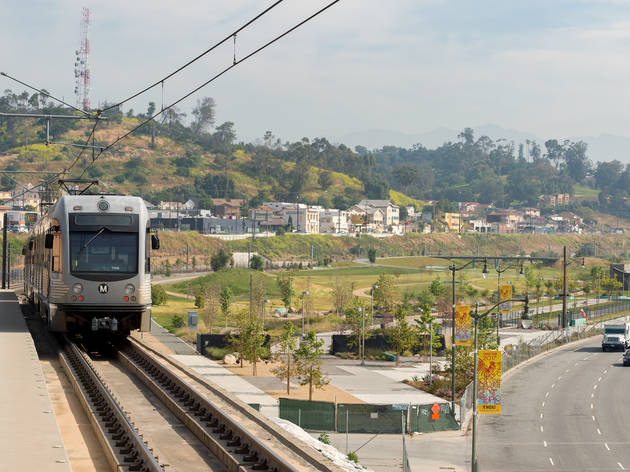 Photograph: Courtesy Steve Hymon/Metro
These (mostly) above ground lines sometimes have dedicated rights-of-way or signal priority but often share the road with cars. They're not as fast as underground subway lines, especially as they travel through residential neighborhoods. That said, they're still an efficient, sometimes scenic car-free option.
A Line (Blue)
The first line built, this runs from Downtown through South L.A. (including a stop near Watts Towers) before looping around Long Beach. It has two other unfortunate distinctions: crime and car-on-train wrecks. A series of rolling station closures in 2019 worked to address these issues—fingers crossed it actually helps.
C Line (Green)
This line runs in the middle of the 105 freeway from Norwalk to the inland South Bay, including a stop that's sort of close to LAX—you'll have to transfer to a shuttle bus to get to the airport.
L Line (Gold)
This light rail line departs East Los Angeles for Union Station, with notable stops at Mariachi Plaza and adjacent to Little Tokyo and the Arts District, before continuing north through Chinatown, Highland Park, South Pasadena and Pasadena, where the line has six stations. From there, it ventures deeper into the San Gabriel Valley, with stops between Arcadia and Azusa. Grab a window seat for fantastic views of the San Gabriel Mountains.
E Line (Expo)
One of Metro's newest light rail lines runs from Downtown L.A. to Santa Monica, with notable stops at the Staples Center (a stop it shares with the Blue Line), USC, Exposition Park, downtown Culver City and downtown Santa Monica, where it notably arrives only blocks from the beach. The mostly at-grade line is a little slow getting out of DTLA, as it rarely has signal priority, but it's at least a headache-free alternative to driving.
Crenshaw Line (opening 2020)
This light rail link between the E Line's Expo/Crenshaw stop and the C Line's Aviation/LAX station will introduce service through Inglewood and Leimert Park. Most notably, the line will include a connection to the LAX Automated People Mover, which is slated to provide access to the airport by 2023.
Buses and more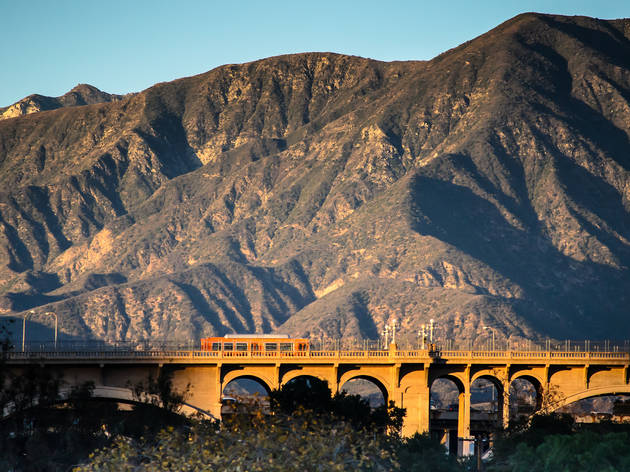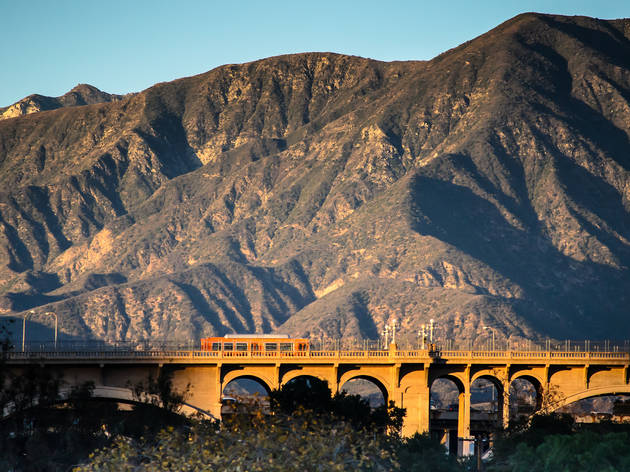 Photograph: Courtesy Steve Hymon/Metro
There are two Metro Liner routes. These extra-long buses have dedicated lanes on the freeways and surface streets. Think of them like rail cars, just smaller and with less frequent service.
G Line (Orange)
This Valley-serving route runs from the North Hollywood B Line station to Chatsworth.
J Line (Silver)
You'll find these buses sharing the toll lanes on the 10 freeway starting in El Monte, with stops at Union Station and Downtown L.A., before turning south along the 110 freeway, with stops at USC and South L.A. before ending in the industrial Harbor Gateway.

In addition, Metro has a far-reaching bus system that is broken up into two main types: Local and Rapid. The orange local buses cover much of Los Angeles and its satellite cities. The red Rapid lines have fewer stops and more frequent service.
Of special note: the Dodger Stadium Express. This free service to Dodger Stadium leaves from Union Station on game days and whizzes by the traffic back-up on Sunset Boulevard—the return ride isn't quite so traffic-free.
Many other city-specific bus lines run in addition to Metro, among them Santa Monica's Big Blue Bus, LADOT's Dash network and the San Gabriel Valley's Foothill Transit. The good news? Your TAP card will work on those systems along with dozens of others.

For longer distances, there's also the Metrolink commuter rail system. Most lines originate at Union Station and cover destinations as far out as San Bernardino, Lancaster, Orange County, East Ventura and Oceanside. Metrolink doesn't accept TAP cards, but they do sell TAP-enabled and digital tickets for Metro transfers (in fact, you can transfer to the Metro for free with your activated Metrolink ticket). Metrolink service can be frighteningly infrequent, so if you don't have time to reach a ticket machine before your train departs you can buy a digital ticket through Metrolink's app.
I have some questions…
Why does our public transit system suck?
Well, you know, that's just like, your opinion, man. A ride on the B Line between Hollywood and Downtown is almost always more efficient than driving on the 101. And it's cheaper than transit systems in any other metropolitan area of our size.
Metro doesn't go anywhere, though.
Most of L.A.'s major city centers—Downtown, Hollywood, Koreatown, Culver City, Long Beach, Pasadena and Santa Monica—are linked up by Metro service. We'll admit, though, that Metro has a bit of a last mile problem; the stops are never quite where you wish they were, which for many riders means a hefty walk, connecting to a bus or using a ride-hailing app. The rollout of bike and scooter rental apps has helped alleviate the issue as well.
But nobody rides it!
It's the third-largest public transit system in the country by ridership. The four light rail lines are the largest by ridership in the country. The buses rank second in the country by ridership and size of fleet. People ride it.
I saw Collateral (decade-old spoilers)—there's no way those trains are safe.
As you would on public transit in any major city, keep your wits about you—that includes not waving your phone around if you're sitting or standing by the doors.
Didn't L.A. used to have an amazing transit system and then the evil automobile companies screwed it over?
The Pacific Electric Red Car system stretched all over Southern California until it was torn up by the evil auto companies—according to the plot of Who Framed Roger Rabbit? The reality is more nuanced than that. Yes, the street car lines were bought out and eventually decommissioned, but they were also already in decline as L.A. spiraled into an automobile-driven sprawl. 99% Invisible has a great primer on the whole conspiracy.