Rising New York City bands you need to know
From brainy MCs to guitar-wielding indie-rockers, here are the best bands and artists making noise right now
By Andrew Frisicano, Tim Lowery, Liz Pelly and Jeremy Winograd Wed Mar 5 2014
Photograph: Melissa Sinclair; Speakers and amps courtesy Studio Instrument Rentals
DIIV
Former Beach Fossils guitarist Zachary Cole Smith (and current live-in boyfriend of Sky Ferreira) started DIIV as a solo recording project in 2011, while living in a janky nonresidential artist's studio in Bushwick. "It didn't have a bathroom or a kitchen," he laughs. Now a full five-piece, the band has played behind its acclaimed shoegaze-indebted debut LP, 2012's Oshin, hitting sweaty holes-in-the-wall and…the Weezer Cruise. Its "thematically way darker" untitled sophomore LP comes out later this year.
How did the Weezer Cruise go?
Oh man, it was wild. Probably whatever you expect it to be like is probably what it was like.
Where did DIIV play its first-ever show?
Monster Island Basement [in Williamsburg]. Actually, my goal in starting the band was to play there. It was run by Todd Patrick, the same guy who did 285 Kent and Market Hotel. It was this small, probably 100-person-or-less room. We were supposed to open there, but then we brought a lot of people. So they're like, "Oh, you're not on first, sorry, you're actually on last." So they made all the people we brought stick around and watch all these other bands. There was this one band that was a duo of somebody playing a snare drum and somebody playing a Dobro. Such bad bands. So many terrible bands. And all our friends and family had to sit and watch all of them, and we didn't end up going on until, like, four in the morning.
And then you started playing all the time after that?
Yeah, we played our second show the next day at Shea Stadium, and then we played our third show the day after that at our friend's basement pool party. And then basically from then on we played four or five shows a week for about six months. That was the idea, just to get our name out there by paying our dues and saying yes to every single show there was. Or if I saw a show coming up, I would just e-mail the person and say, "Hey, we want to play this show." It was before we had a booking agent and stuff. And then after that, people just started knowing that we were the band that wanted to play every single show. So we ended up opening basically every show that happened in New York City the summer of 2012. [Laughs]
When is the new record dropping?
The idea is, you make an album and you wait four months or whatever for the press thing. But basically, I feel like 2013 was a big change in all that. People proved you don't really need a lead-up to a record. So my feeling is that when the record comes out, it's kind of gonna be a surprise. The first record [Oshin] was almost a lark. I made it with no concept of what life it would have of its own. It's like giving birth to a child or something, and then you just set it free in the world and it has this whole life of its own. You have no idea where it's gonna go, what it's gonna do. You don't know if that song is gonna end up being the theme song for the biggest television show in history, or if it's gonna be a cult-classic record that only really heady record people listen to, or if it'll just be nothing and nobody cares about it.
How is the album shaping up?
The first record was kind of wide-eyed and naive and a little bit heartbroken. The vocals were more of a texture. The vocal line was not any more important than the bassline or the drum part. But the second record is way more lyric-based, it's way more vocal-based. A lot of stuff has happened in my life in between making that first record and making this record, good and bad. Having been all over the world or getting in and out of personal or romantic relationships or having battles with drugs and battles with the law and going to jail, going to rehab—that's all part of it. And I've been getting a lot of wisdom from meeting different people in different places, and being part of Alcoholics Anonymous and Narcotics Anonymous and all this stuff has been really inspiring.
Interviewed by Jeremy Winograd
Listen to Oshin
Watch the music video for "Doused"
---
Read more music features
These New Yorkers, who both recently launched new solo ventures, get together for a chat on their home turf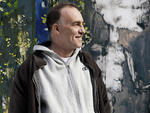 The Lounge Lizard, Jim Jarmusch star and all-around NYC alt legend gets a tribute worthy of his multimedia brilliance
Get ready for a busy season this fall, with shows from arena heavy-hitters to indie gems
See more in Music