Oktoberfest in NYC
Make plans for Oktoberfest 2014 in NYC, with our guide to the best parties, beer gardens and the tastiest German quaffs to fill your stein
By Ashley Cox, Christina Izzo, Rheanna Bellomo, compiled by Evelyn Derico Tue Oct 7 2014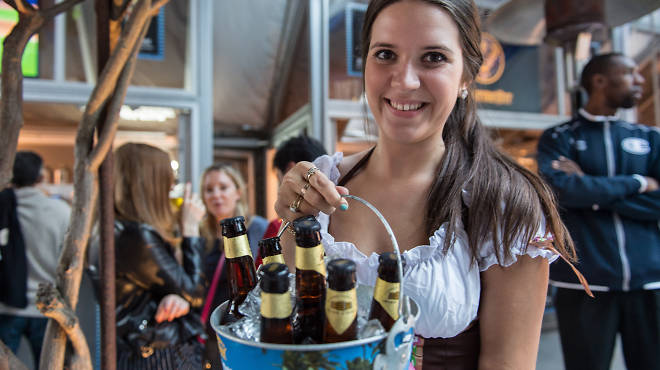 Oktoberfest in New York Photograph: Filip Wolak
One of the top things to do in New York this fall includes two weeks of drinking some of the best beer in NYC during Oktoberfest. Take in the beautiful fall foliage while drinking at one of the best beer gardens and beer halls in New York City. Oktoberfest New Yorkers, take advantage of this glorious holiday to sample fine Bavarian beer and food. Prost!
When is Oktoberfest?
The official dates for this Bavarian festival are Saturday, September 20, 2014, through Sunday, October 5, 2014.
Oktoberfest 2014 events
---
Oktoberfest 2014 features
American and German breweries revive long-hidden styles like Gose, Rauchbier and more.
Gotham's beer garden and beer hall scene has taken off, and we have the list of which bars are worth the trek.
---
---
You might also like
---
Users say
More popular Food & Drink features
Get the lowdown on the best beer bars to open within the past year, tastings and other boozy happenings
Kiss Swiss Miss goodbye—NYC's best hot chocolates are being remade with ice cream, fiery chilies and, yes, even booze
Browse through our full list or choose your next brunch spot by category