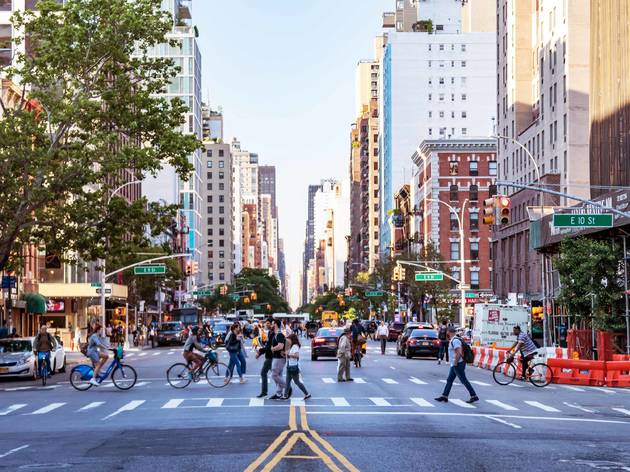 NYC events in September 2020
The best NYC events in September range from last-minute summer excursions to San Gennaro celebrations and more
The best NYC events in September include everything from last-minute things to do in summer to early fall celebrations including incredible art and cultural events. Utilize our events calendar for September to help you schedule all the happenings you don't want to miss like the Brooklyn Book Festival, the Bronx Night Market and new exhibits at newly reopened museums.
Sure, summer is nearly over, but the perfect isn't going anywhere anytime soon. So make sure to enjoy all of the wonderful things to do outside in New York before the cold front sweeps in!
RECOMMENDED: Full NYC events calendar for 2020
Featured NYC events in September 2020
Although the Feast of San Gennaro is a celebration of faith (folks tip their hats to the Patron Saint of Naples, Italy) the festive atmosphere, delicious food and colorful processions are what it's known for.
The Feast of San Gennaro 2020 is canceled, but Gelso & Grand is throwing a San Gennaro-inspired feast in Little Italy this year. The pop-up roster is stacked with some of NYC's favorite Italian restaurants, including Don Angie's lasagna, Di Fara's pizza slices, Regina Grocery's arancini, Belle's Cafe's rainbow cookies and Morgenstern's spumoni ice cream.
One of the top things to do in New York this fall includes two weeks of drinking some of the best beer in NYC during Oktoberfest. Take in the beautiful fall foliage while drinking at one of the best beer gardens and German eateries in New York City. Oktoberfest New Yorkers, take advantage of this glorious holiday to sample fine Bavarian beer and food. Prost!
Shop limited edition pottery works made by GHP staff and faculty during the pandemic. All proceeds go to keep GHP running and to support its community of ceramic artists.
Greenwich House Pottery is a nonprofit ceramics center that has been supporting artists and promoting the field of ceramics for over 110 years. Starting with clay modeling classes in the earliest days of Greenwich House as part of its Handicraft School, the Pottery flourished with the help of the community and philanthropic support from patrons like Gertrude Vanderbilt Whitney.
The sale is on until September 25, daily from 9am to 5pm.
Have the past few months left you starved for human connection and craving a little intimate personal attention? If so, Theatre for One: Here We Are may be just the thing. In this weekly performance event each Thursday evening, actors and spectators are paired up for brief, free, one-on-one virtual encounters: solo shows for solo audiences. Originally scheduled to run through September 24, the production has now been extended through the end of October.
Theatre for One was created in 2010 by Christine Jones—best known as the Tony-winning scenic designer of shows including American Idiot and Harry Potter and the Cursed Child—and returned in multiple locations in 2015. In honor of the centennial of women's suffrage in the United States, all eight of the world-premiere playlets in this virtual edition of the series have been written, directed, and designed by BIPOC women—including two-time Pulitzer winner Lynn Nottage—and all are performed by BIPOC artists. (A full lineup is below.)
Performances of Theatre For One: Here We Are are on Thursdays at 6pm through 7:30pm EDT. To sign up for a slot, you must register in advance; reservations open on Monday mornings. Here are some quick tips to get the most out of the experience.
---
The AKC Museum of the dog is back open with a new exhibition that looks back on the different breeds of dogs that have lived at the White House. It will explore the history of presidential pets, highlight specific dogs that were owned by U.S. presidents, and
examine the influence these breeds had on the dog world as well as the American public at
large. Visitors will learn about George Washington's foxhounds, Bo and Sunny, the Portuguese Water Dogs owned by the Obamas and more through artwork from the MoD collection, historic documents from the AKC archives, and photo reproductions. Some breeds highlighted in the upcoming exhibition will include Airedale Terriers, Beagles, Cocker Spaniels, Collies, English Springer Spaniels, Foxhounds, Golden Retrievers, Newfoundlands, Portuguese Water Dogs, Scottish Terriers and Welsh Terriers.
Japanese multimedia artist Shohei Fujimoto's Intangible Forms is a kinetic audio-visual laser performance that uses math to give light shape. Across 30 minutes, the show uses kinetic laser modules set to a "hazy" soundscape inspired by the quiet Shinto Shrine in the mountains in Japan, "where every sound and feeling around you can be amplified, triggering a deeper sense of humanity in ourselves," according to the organizers at the space.
There are also four other works throughout the space that work on their own and that "imitate life phenomena around us."
Intangible Forms sounds like it'll be a feast for the eyes and a respite for the weary, quarantine-plagued soul.
The show will be on through October 18.
Photoville is back! And your Insta is about to get meta. NYC hosts a bounty of beautiful photography exhibitions, but only Photoville can claim to be as pretty as the photographs it showcases. While it's usually held in Brooklyn Bridge Park, the massive celebration of pictures will take place in Astoria Park, Chelsea Park, Jackie Robinson Park, St. Nicholas Park, Soundview Park, Travers Park, Van Cortlandt Park, and the South Beach Promenade this year. It features more than 600 artists, 75 exhibitions, talks, screenings, seminars and hands-on photography workshops for budding shutterbugs. Find out more about what to expect here.
This open-air, food-centric market features Bronx-based vendors serving up tamales, soul food, latkes, ice cream, pastries, elotes and vegan creations, plus libations from the Bronx Brewery and others. In addition to all of the delicious provisions, the market offers nifty wares from local artisans and live music performances from Bronx musicians. Come appreciate all that NYC's northernmost borough has to offer. Check its website for a list of new health protocols it is taking this year.
This world may have changed drastically since last fall, but great cinema is here to stay.
One of New York's premiere annual film events, the New York Film Festival, has announced the lineup for this September's event. And although the festival is set to look a lot different than in previous incarnations, the films scheduled to be shown are as exciting as ever.
This year's lineup of films, which will be shown mainly virtually and in outdoor screenings, includes new works by Steve McQueen, Chloe Zhao and Azazel Jacobs. As previously announced, the 58th edition of the festival will open with McQueen's Lovers Rock, a 1980-set film taking place over the course of one night at a house party. (That film is part of the director's ambitious new Small Axe anthology. Two other films in that anthology, Mangrove and Red, White and Blue, will also be screening at the festival.)
The centerpiece of the festival will be Chloé Zhao's Nomadland, an adaptation of Jessica Bruder's acclaimed 2017 book documenting the lives of itinerant older Americans. (Did we mention Frances McDormand stars in that one?) The closing night selection is Azazel Jacob's eccentric new film French Exit, starring Michelle Pfeiffer as a once wealthy New York widow starting her life over in Paris. That one seems like a pretty easy sell, but we will await our critic's response.
For the full list of the film's featured in this year's Main Slate, visit the New York Film Festival's official site. Highlights include Frederick Wiseman's City Hall; Jia Zhangke's Swimming Out Till the Sea Turns Blue; Christian Petzold's Blue; Hong Sangsoo's The Woman Who Ran; and Garrett Bradley's Time.
Photograph: Courtesy Waterline Square
10. Take in an evening of music at Waterline Square
Head outdoors for this new music series featuring free public performances by a collection of world-class musicians, kicking off with The Paul Jones Jazz Trio (award-winning saxophonist and composer Paul Jones, Grammy-nominated organist Pat Bianchi and drummer Chris Smith).
These events will run every other Wednesday through the end of October.
September 16 - The Paul Jones Jazz Trio at 6:30pm
September 30th - An Evening of Solo Bach at 6pm

with award-winning musicians Anthony Bracewell (violin) and Luke Krafka (cello).
Show more