NYC events in October 2016
Plan your month with the best NYC events in October 2016 including amazing Halloween activities, festivals and more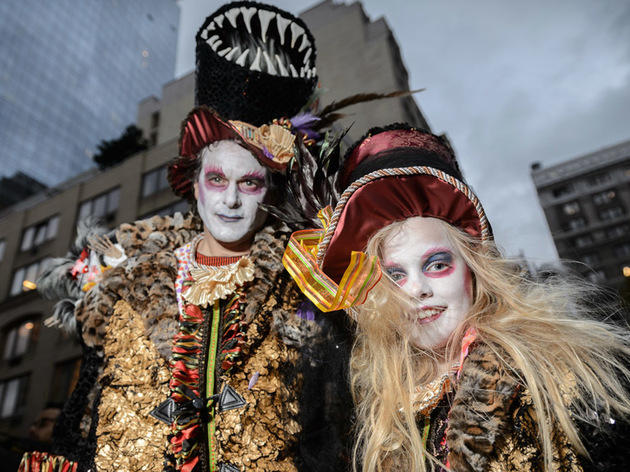 Let's be honest: There are lots of cool NYC events in October 2016—we love Open House New York and New York Comic Con—but there will be all sorts of spectacular Halloween festivities at the end of the month, too. Use our events calendar to find the best Halloween events, along with our favorite theater debuts, fall concerts and street fairs.
RECOMMENDED: Full NYC events calendar for 2016
Featured events in October 2016
Music events in October 2016
Thanks to the ascent of ladies such as Ingrid Michaelson, Sara Bareilles and Christina Perri, the female quirk-pop field is a lot more crowded now than it was when Regina Spektor broke through with "Fidelity," her oft-licensed semihit, in 2006. Yet one needn't proceed too deeply into Spektor's latest to remember what an idiosyncratic talent she remains: On Remember Us to Life (released on September 30), the NYC songstress returns to form.
Read more
Five-time Grammy-nominee Sia brings all her electro-pop dramatics to the Barclay Center with her "Nostalgic for the Present Tour." At 40 years old, Sia might seem like an unusual artist to dominate the charts, but her powerhouse vocals and aesthetic are not to be missed. Critically acclaimed R&B artist Miguel and electronic duo AlunaGeorge join as the special guests.
Read more
Based in the Silver Lake nabe of L.A., indie-folk outfit Local Natives upgrade their traditional fare—subtle observational lyricism and three-part melodic hooks that beg you shout-along—with touches of airy synth-pop instrumentation on the band's latest, Sunlit Youth.
Read more
Power 105.1 hosts its annual expectedly huge hip-hop-tacular party at Barclays this year. The early aughts make a strong showing in this year's lineup with both sensual R&B crooner Usher and spitfire MC Fat Joe, the artist responsible for 2004's worst dance move, "Lean Back." On the contemporary side, you'll find self-described "trap-soul" artist Bryson Tiller, XXL Freshman-tapped hitmaker Desiigner and fast-rising Brooklyn native Young M.A., who perked the ears of reigning rap empress Nicki Minaj with her recent breakout single "OOOUUU."
Read more
Quicksilver-tongued rapper Cakes Da Killa delivers slippery wordplay while art-pop star Ssion pumps out glitzy synth-beats at this night guaranteed to have you working up a sweat.
Read more
While most Canadian hip-hop artists enjoying stateside success these days ascribe to the "OVO sound," rapper-singer Tory Lanez plays in his own "swavey" lane. Since we last talked to the artist, he's been on a meteoric rise, releasing a collaborative EP, Cruel Intentions, with Shlomo's WeDidIt collective, and a debut studio album, I Told You. He takes the stage with thrillingly inventive New York rapper A$AP Rocky, whose sophomore album At.Long.Last.A$AP topped our best albums of 2015.
Read more
"If they try to slow me down, I'll tell them all to go to hell," Brian King screams on "The House That Heaven Built," the most blaring single from Japandroids' 2012 album, Celebration Rock. The band's been silent the past few years since that record, but recently returned this year for a slew of shows that promise all the same cathartic audience sing-alongs of yore. Fingers crossed that we'll be hearing news about a follow-up record sometime later this year.
Read more
The Lot Radio has been hosting live DJ sets and talk shows from a reclaimed shipping container in Greenpoint since February. The online station—which has gained tremendous support both locally and abroad—now serves top-notch coffee and sandwiches, in addition to organizing charity concerts at the church across the street. This Friday, kick off your Halloween weekend with live ambient techno performances from Hans Berg, 2MR's Mike Simonetti and Cristiano. There will be a full, affordable bar, and donations will go towards renovating the church's pipe organ.
Read more
Local faves A Place to Bury Strangers (a band which can't be mentioned without its infamous moniker, "New York's loudest") plays the type of aggro electro-goth rock that we immediately associate with those black-clad misfits in '80s teen movies (and perfect for a Halloween gig). On its latest, Transfixiation, the band takes a predictably dense and distorted approach, but with intensified rhythmic backing.
Read more
See more NYC concerts in October
Looking to get the most out of fall?
Find the best things to do in the fall in NYC, including the biggest seasonal events, autumn-only activities and more
Read more
Sponsored listing
Kat & Theo
This Flatiron gem offers seasonal, New American fare from executive chef David Fisher, who's put in time in such Michelin-starred restaurants as Jean-Georges, Aquavit and Aldea. From an open kitchen overlooking the 70-seat dining room—a moody, brick-walled stretch divided into a front bar area fitted with leather booths and metal trellis archways, and a back dining room warmed with a stone fireplace—Fisher deploys starters like tomato-braised octopus with cannellini beans ($18), and delicata squash agnolotti with lemony shrimp and firey chiles ($14). Robust mains include a juicy hanger steak accompanied by earthy rutabagas ($28), and a slow cooked leg of duck glazed accented with sweet plums ($29). 
Venue says: "Kat & Theo offers Happy Hour Mon - Fri from 5pm-6:30pm, enjoy a Classic Cocktail $10, select Wines & Prosecco $8, and select Beers $7"