101 things to do in New York City in the fall 2013
Clear your schedule: Our fall calendar of things to do in New York—festivals, parades, shows, new activities and more—will fill your planner through November.
By Time Out editors, edited by Jonathan Shannon Thu Sep 5 2013
Photograph: Grace Chu
1. Dance at Verboten's new club, one of the best things to do in New York in the fall
1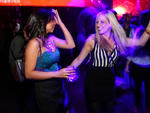 Nightlife: Verboten
With the party-tossing Verboten gang's eponymous venue on North 11th Street slated to open soon, it's official: Williamsburg has become New York's new clubland paradise. With the Fixed, Trouble & Bass and Bespoke posses already signed on as residents, and boldfaced-name DJs Guy Gerber, Carl Craig and Davide Squillace on board as partners—and barring an unexpected switch in music policy to meathead-friendly EDM—this should be the best addition to the late-night landscape since, well, Output.
60 North 11th St between Kent and Wythe Aves, Williamsburg, Brooklyn
Opens early fall
Many events are described as "colorful," but this one really is. White-clad runners get pelted with vivid paint (made from food-dyed corn starch) as they traverse a 3.2 mile course in Brooklyn's Floyd Bennett Field. Billing itself as the "happiest 5k on the planet," the Color Run isn't a competitive race. Participants kick off in 15 minute intervals between 9am and 10:15am, and can take their own sweet time to cross the finish line. With more than 170 events across the country and around the world in 2013, the Color Run benefits the Global Poverty Project, among other charities.
Price band: 3/4
Critics choice
The street-food Oscars return for the ninth year, with the city's best mobile chefs rolling into Sunset Park for the culinary showdown. After munching on empanadas from Nuchas, Mamak's rendang stew and Liddabit Sweets' beer-pretzel caramels, cast your vote for the People's Choice Awards, while a celebrity panel—including Top Chef Masters' Francis Lam, prime-meat purveyor Pat LaFrieda and Brooklyn Brewery's Garrett Oliver—will make their choices. Along with stock categories including Best Market (nominees include Brooklyn Cured and Bon Chovie), Rookie (Toum, Sweet Chili) and Dessert (OddFellows Ice Cream Co., Itizy), this year's competition will honor 54 food trucks, which served more than 350,000 hot meals in the aftermath of Hurricane Sandy. Test your luck during a raffle for prizes like dinner at Roberta's, cashmere from White + Warren and a personalized street-food tour. A portion of ticket proceeds will benefit the Street Vendor Project at the Urban Justice Center, a nonprofit that advocates for vendors' rights.
Break out your loosest-fitting pants, because the porkcentric bacchanal is back, this time in Red Hook. Twenty-five chefs—including Danny Mena (Hecho en Dumbo), Evan Hanczor (Parish Hall) and Bill Fletcher (Fletcher's Brooklyn Barbecue)—will break down 80 locally sourced hogs for unlimited plates. Drinkers can find Sixpoint Brewery beers—including an event-exclusive Signal smoked ale—along with Hudson Valley hard ciders and Finger Lakes wines. Watch a cooking demonstration with Bacon Nation author Peter Kaminsky, and enjoy live sets by djembe-driven folk outfit SisterMonk and eight-piece bluegrass band NYCity Slickers. Ticket proceeds benefit Added Value, a Red Hook nonprofit teaching teens about urban agriculture.
Price band: 2/4
Critics choice
The New York Times culture reporter Dave Itzkoff grills The Office and Extras creator on his latest offering, Derek, which premieres stateside on Sept 12 on Netflix. Tickets may be available at the venue one hour before the sold-out event; if you don't like those odds, watch the interview via live webcast at nytimes.com/artsbeat.
Celebrate the martyred third-century bishop and patron saint of Naples at this 11-day festival that fills the streets of Little Italy every year. Watch the professionals in action at the cannoli-eating competition and you won't feel so bad about indulging in calorific treats from the food vendors; return daily for live musical performances. Mulberry St between Canal and Houston Sts; Grand St between Baxter and Mott Sts; Hester St between Baxter and Mott Sts.
The Museum at FIT explores LGBT contributions to sartorial history, including statement-making ensembles from the 18th century through today. Pieces on display include a 1950 cocktail dress by Christian Dior and a dapper neo-Edwardian three-piece suit originally worn by dandy and old-school party boy Bunny Roger.
This gratis night combines two of New Yorkers' favorite things—literature and booze—into one 29-event multivenue fest in lower Manhattan. This season's incarnation kicks off with a special edition of NPR quiz show Ask Me Another, featuring dirty trivia and host Ophira Eisenberg reading from her new memoir, Screw Everyone: Sleeping My Way to Monogamy (Professor Thom's; 6pm). Other highlights include "Ghost Stories with Lapham's Quarterly" (Merchant's House Museum; 6pm), a discussion of oceangoing lit labeled "Whales, Wenches & Winches" (Preserve24, 175–177 E Houston St between Allen and Essex Sts; 8:15pm)and lots more. Visit litcrawl.org/nyc for a complete schedule.
Fans of the contemporary designer's ability to blur the line between dressy and casual won't be disappointed by this set of budget-friendly clothing ($20–$300) and accessories ($20–$60) for both sexes. The 100-piece assortment features a dark, neutral palette punctuated by muted florals, faux-leather accents and nontraditional camo prints. Standouts include women's long-sleeved, floral-print blouses ($30) and mini satchels ($35) that resemble Lim's best-selling Pashli bags. Visit target.com.
Target, locations throughout the city
Available Sep 15
---
Events calendar for New York City
Take a break from Christmas shopping and check out...

The maxim "a little goes a long way" is not one Dy...

This annual holiday bazaar, run by the people behi...
373

more events »
Time Out videos
---
---