Contemporary Ghanaian art - a guided tour from Frances Ademola
Owner of the Loom gallery - and doyenne of Accra's art scene for decades - offers her pick of leading Ghanaian artists to watch out for...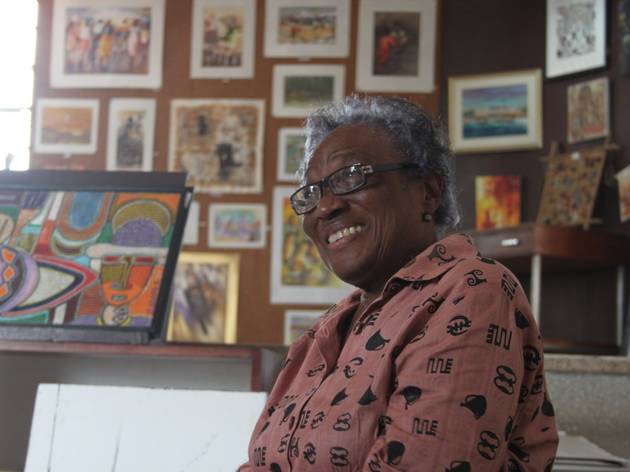 Since achieving independence in 1957, Ghana's artists have been steadily embracing a freedom of self-expression that is transporting them out of the controlled and literal, and into a playful and exciting meld of semi-abstract and impressionism. Traditional Ghanaian scenes remain popular subject matter, but today's artist can be found confidently experimenting with colour and form, and the market is awash with bold and emotive pieces.

No one has had a better view of this post-independence transformation than Loom gallery's Frances Ademola - an ardent champion of Ghanaian artists for over 40 years. When Time Out Accra popped in to browse the stacks of paintings filling Loom's walls and giant folders, we took the opportunity to get Ademola's pick of 21st century Ghana's brightest artistic talents.

An artist she first encountered when he was just 12 is Samuel Agbenyegah (also known as Samkobee), whose semi-abstract figures demonstrate a bewitching understanding of colour blending and form. 'He came to me when he was 12 with two wonderful paintings,' explains Ademola. 'I said "who did these?" He said "me". I didn't believe him and told him to go and do another one. He came back with four more.'
Bowled over by this young talent, Ademola had one big piece of advice for him. 'I told him "do not go to art school, whatever you do! It will take away your natural flair." He is now 30-something, and such a natural artist.'

One of the most established Ghanaian artists found exhibiting both in Loom and across the world is Gabriel Eklou, renowned for his tapered, graceful figures and scenes created in a soothing palate of muted, earthy tones. He trained as an accountant before becoming a professional artist in 1996.

Another distinguished name on the Ghanaian art scene is Seth Clottey, a boundary-pushing artist who evokes atmospheric snapshots of daily life. Since studying at the Ghanatta College of Art in Accra, Clottey has made his name producing a wide collection of urban scenes and beachscapes. His eldest son, Serge Clottey, has also established himself in the art world, drawing on both Ghanaian and Brazilian culture after a sojourn there.

An increasingly popular name on the Ghanaian art scene is the highly contemporary Gordon Amponsah. His bold pieces, that he typically refers to as designs rather than art, are characterised by strong black lines, bright colours and filled boxes. 'This is a real step away from the traditional,' says Ademola. 'But he is still only in his twenties - he is still young enough to go for it and be crazy!'


More information on the Loom gallery
Loom's Frances Ademola has a popular gallery that exhibits paintings and sculptures by a good selection of Ghana's foremost artists, with a smattering of expressive Nigerian pieces. The modest space has been here since 1969, and is bursting at the seams with the work of nearly 100 artists. If Ademola is around, she's delightful company, chatting exuberantly about artists such as Seth and Serge Clottey and Gabriel Eklou, and happily offering her great knowledge of the Ghanaian art scene, past and present. Loom is regarded as one of Ghana's premier galleries.
More to explore