Film
Read film reviews, check showtimes, and find cinema events near you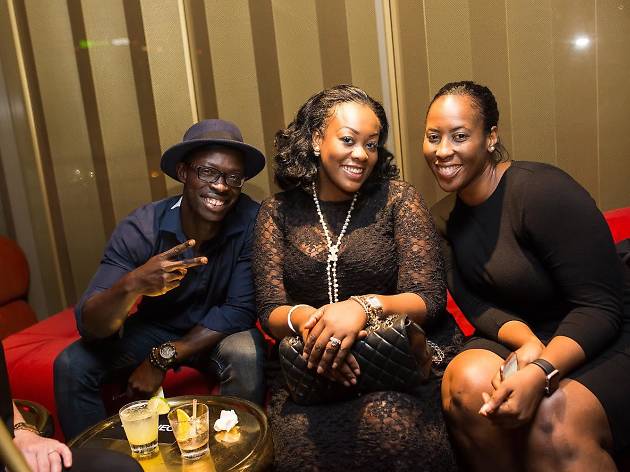 Time Out & F Project launch Brand Ghana video series
With our creative partners, F Project we are proud to launch this forward-thinking video platform. The aim of the project is to highlight successful lifestyle brands in Ghana in short 1-3 minute videos. In the videos, entrepreneurs and staff talk about the challenges and triumphs they have faced by starting their businesses in Ghana. The videos provide a platform for awareness of brands looking to hit the mainstream market as well as promote and champion brands who are making an impact. Look out for the first episode this month...   Get in touch with us if you've got a story to tell about your brand!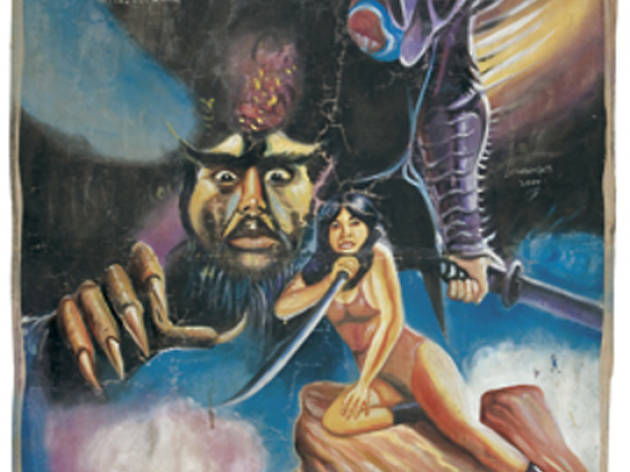 Hollywood in glorious Ghanavision
Semi-naked women are essential, preferably holding a knife dripping with blood. As some kind of ninja, evil zombie and a decapitated head are preferable. A humanoid tortoise vomiting money is optional, although certainly desierable. With Ghanaian movie posters, gore, blood, nudity, violence and general nastiness are the currency of commerce. In the 1980s, travelling cinema was the way that most Ghanaian's consumed movies – and still is in some areas. Touring rural Ghana with a TV, VHS tape and player, the moving cinema would roll up in town, set up a tent and litter the area with movie posters – fabulous, fantastical movie posters to advertise the show. Whether it was the latest Hollywood blockbuster, Hong Kong action flick or the latest from an African filmmaker, the artist would hand paint a poster on flour sacks, with an enticing image, often without having seen the film at all. It was the portrayals of monsters, superheroes, half naked women that attracted German gallery and art book publishers, Bongoût, to release two books, Ghana Movie Posters, and this year, Ghanavision, a second volume which collates dozens of unique hand-painted movie posters from their private collection. Cristina Ayala of Bongoût told Time Out , 'The art works are particularly charming. They can be quite naive but they possess such a bewitching quality. 'We learned it is not unusual that the self-taught artists often only saw a few photo stills. These wild translations of film to canvas, with s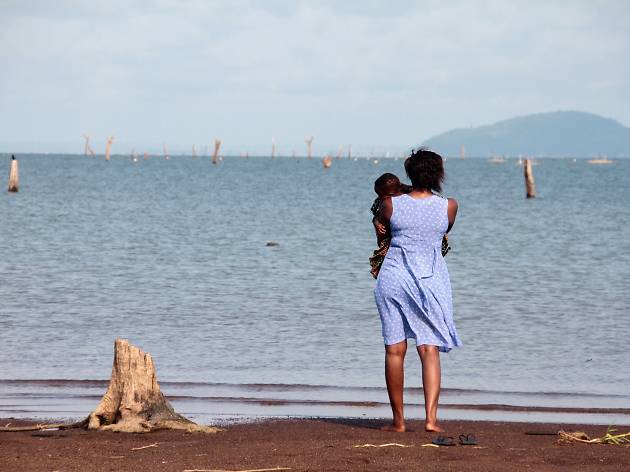 Interview: Filmmaker Priscilla Anany
The film deals with a heartbreaking subject matter. What was it that brought you to this subject? A very good friend of mine has a child who has Down Syndrome and she wrote a short prose that expressed her personal rationale to why she had such a child. I read the prose and I was inspired to tell a bigger story about women who have kids with special-needs. My goal was to let mothers all over the world know that it wasn't their fault their babies were sometimes born with health issues or with deformities. There's no such thing as a perfect child or human, all children are a great gift, and they should be loved and accepted no matter how they come. I especially wanted to reach mothers  in developing worlds who face far more challenges amidst blame and criticism for having "imperfect" babies and then not having adequate health care that caters to children with special needs. How did you go about casting the people in the film – what were you looking for in the protagonists? Some are well-known actors, but others perhaps not? What about Jessica? We held a casting session and we had a lot of well-known Ghanaian actresses, but none seemed to be the perfect fit for the protagonist especially. I was quite worried. I needed a beautiful, simple and natural looking woman and of course a very good performer who could carry the weight of the character's journey. When I saw a photo of Rukiyat Masud, I knew right away she was the one. She wasn't famous and nobody knew her, but her audit
Ghana's football players on film
When your debut film gets nominated for three awards at the Palermo Film Festival, you can be more than a little proud. When you end up leaving the ceremony having been presented with two of them, however - one for best screenplay, the other for best foreign film - it's a sign you've created something a bit special. For director Baff Akoto, London-born but Ghanaian by origin, the recognition was reward for a project that began in 2007 and focuses squarely on an obsession both personal and universal: football. The resulting film, Football Fables - which has since made it into three more major festivals around the world - gives fresh perspective on the unquenchable enthusiasm for the sport in Ghana. By tracking the fortunes of upcoming local players, the documentary sets out to examine what it takes for youngsters to achieve the transition from the dusty pitches of West Africa to the fat salaries and gleaming stadia of Europe. Understandably, with the money and machinations involved in modern-day football, it's not an easy leap to make. For every Michael Essien, there are untold hundreds of talented youngsters destined, through bad odds, bad handling and plain bad luck, never to make the grade. "The film was very much a passion project," says Akoto, who explains how time in Accra as a young man changed his notion on what it meant to encounter a genuine fervour for football. "I grew up in West London until I was 14 then went to finish secondary school in Ghana. Just before I a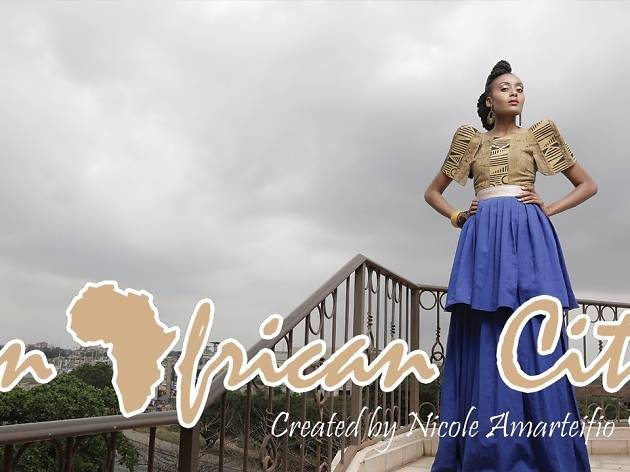 Exclusive: Q&A with An African City creator Nicole Amarteifio
An African City was a huge TV sensation in Accra and among the Ghanaian diaspora. Time Out Accra caught up with the director Nicole Amarteifio for an exclusive online interview. Here's what she had to say 1. When writing the early scripts who was your intended audience? Young Africans whom believe that poverty, famine and civil war are not the only stories to be told about the continent. I also wanted to encourage young Africans abroad to return home – that's the Marcus Garvey in me. 2. Were episode ideas taken from your own real life experiences? Yes, many scenes are a reflection of what has either happened to me or to women or returnees that I know. For me, as soon as the character Nana Yaa (played by actress MaameYaa Boafo) arrives at the airport and heads to immigration, that scene pretty much sums up my life and my journey of self-identity. When she proudly displays her Ghanaian passport to the immigration officer and he exclaims in disbelief, "you're Ghanaian? You don't look or sound Ghanaian?" Yep, that's my life. But, the thing is - what is a Ghanaian supposed to look or sound like? Why are so many people always so ready to define others? 3. How many hits did the most popular episode get? Our first episode has the most hits, but it is normal for the first episode of any web series to have the most hits. But I believe episode 7 on "condom etiquette" has a lot of hits comparable to other episodes. And, I completely understand that! This was an important episode
Where to see films in Accra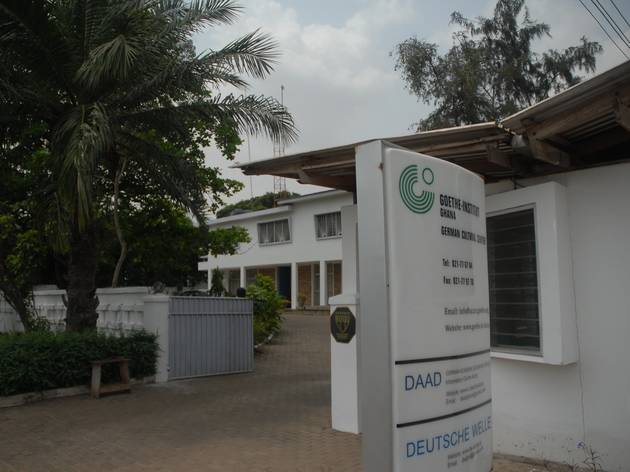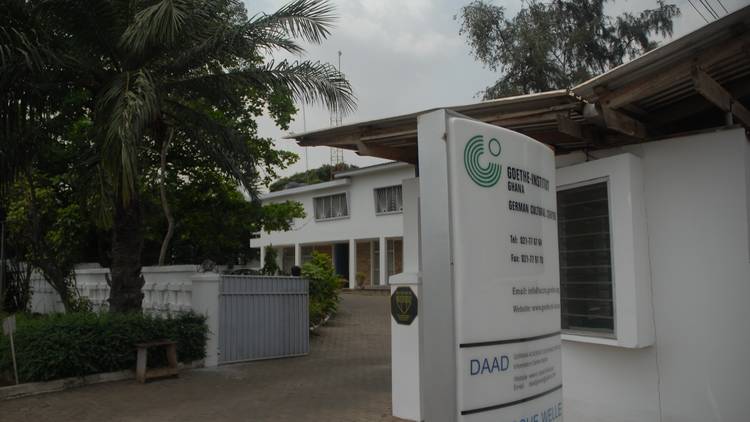 Goethe-Institut
The Goethe-Institut is the German cultural centre and celebrates 50 years of being in Ghana. It has an impressive array of events and art exhibitions. Links between German art and that of Ghana are given precedence, whether through sound installations, mixed media pieces, performance art, photography or painting. It also occasionally lends its venue to the National Film and Television Institute next door. Be sure to check the website or pick up a programme of events when you are in town.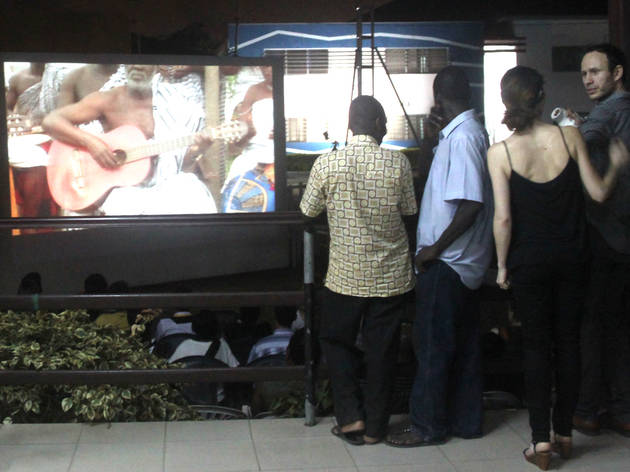 Alliance Française d'Accra
The Accra-based arm of the French cultural centre offers a large range of artistic activities every week. It particularly excels in live music events, but there are also regular art displays and talks from international artists. The obvious focus is on French and Ghanaian artists (often working together), which forms an artistic bridge between both cultures in terms of language, education and artistic programming. Recent shows have included the film screening and photography exhibition from Sublime World Productions' project Sounds from Ghana, and artistic exhibition Les Jardins de la Francophonie featuring five francophone West African artists: Samuel Tete-kathan, Kassy, Edem Gota, Yao Sewonou and Salifou Oura. There is always something interesting on; be sure to look at the website before any visit to Accra.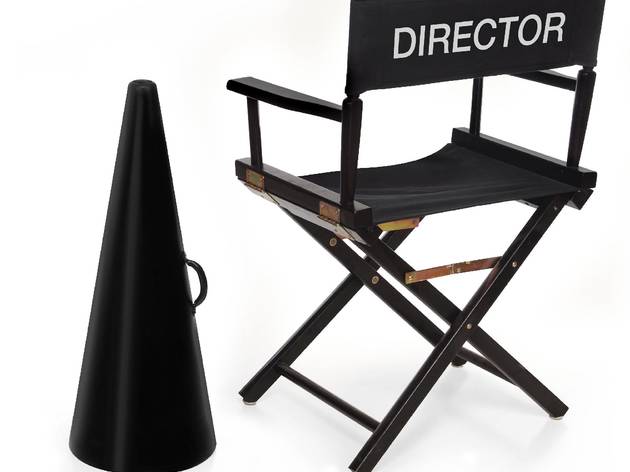 National Film and Television Institute
The National Film and Television Institute (NAFTI) was set up in 1978 by the government as a Higher Education Institute and runs courses in film and television production. It also has workshops for the general public on composition, writing, art direction, cinematography and sound for the general public. Screenings mostly take place with seasonal festivals and visiting filmmakers. NAFTI hosts its own biennial film and television festival called ANIWA in which documentary features and animation films are shown.