Shopping & Lifestyle
Your comprehensive guide to the best Accra shops, style and fashion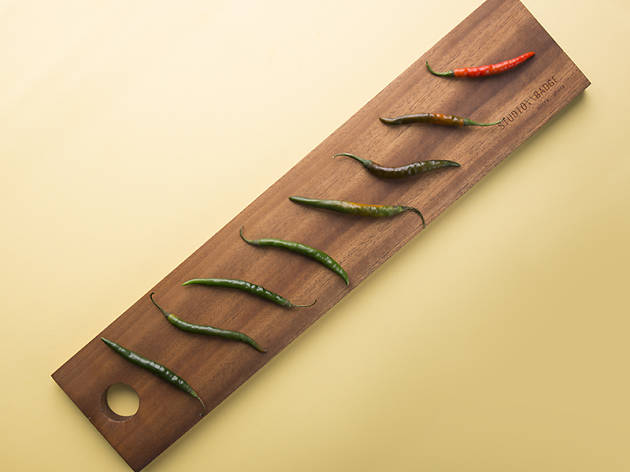 Studio Badge
Beautiful 'Made in Ghana' products make us so happy, and Studio Badge has us smiling from ear to ear. Studio Badge is a Ghana-based home-decor design company, designing sleek wooden platters, concrete platters, bowls and vases, all from locally sourced products. The main products are handcrafted from the finest Ghanaian timber, walnut, teak and nim to a high standard. Furthermore, the concrete based products reflect a 'love affair with concrete' which will make you see this otherwise boring material in a completely different light. Their aesthetic is minimalist yet bold, clean yet unrefined, and this, as well as the skill and beauty of Ghanaian craft, reflects in all their work. There is a purity to the minimal designs, which makes Studio Badge stand out as a unique homeware designer in Accra. All platters and vases can also be engraved with a name, date, or whatever you wish, to make your item more personalised. With a great, modern website, and an extremely helpful, friendly owner, StudioBadge is the ideal place for your next beautifully crafted gift.  *By appointment only until new shop is renovated.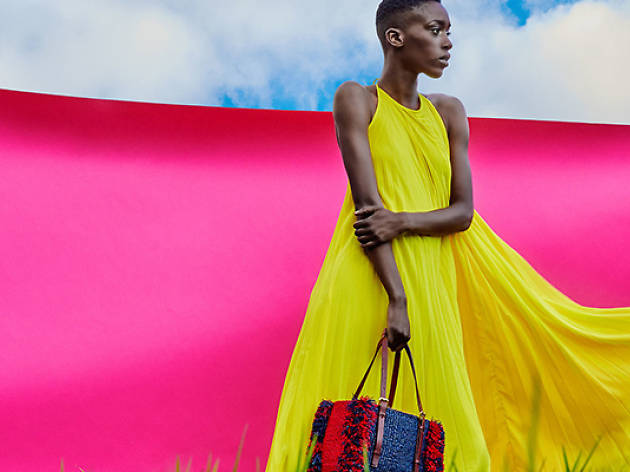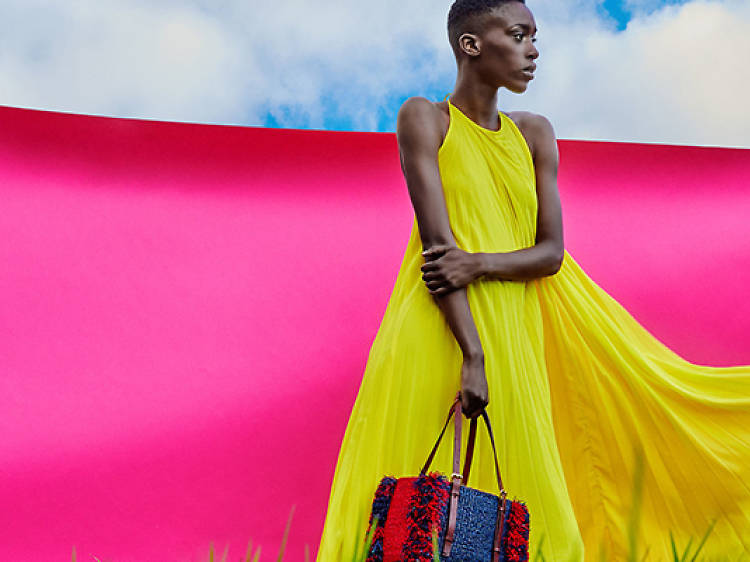 AAKS release new collection
AAKS has just launched their Spring Summer 2017/18 collection and has, as usual, not failed to impress. The new collection is bolder, brighter and even more exciting than their previous collections, and it seems designer Akosua Afriyie-Kumi has outdone her own standard of style with these cohesive yet fun designs. This season's bags have brighter colours, more tassels (yes please) and new, innovative shapes. The collection runs with variations of warm tones of red, orange and navy, with bright pieces for those bold enough to go all out, but warmer, more subtle bags for everyday use. We particularly fell in love with the large carry on doctors bag, which is not only a new shape for AAKS, but has pom-poms, leather and a pop of bright red too – what more could you want? To accompany their existing confidence in weaving, this collection boasts AAKS's new confidence in the use of leather straps and handles running over the cross body bags - which elevates the pieces to a new level of class and luxury. The campaign, as usual, is beautifully photographed and makes it near to impossible to choose just one piece to buy. Head to Elle Lokko in Osu to pick up one of these beautifully handcrafted pieces.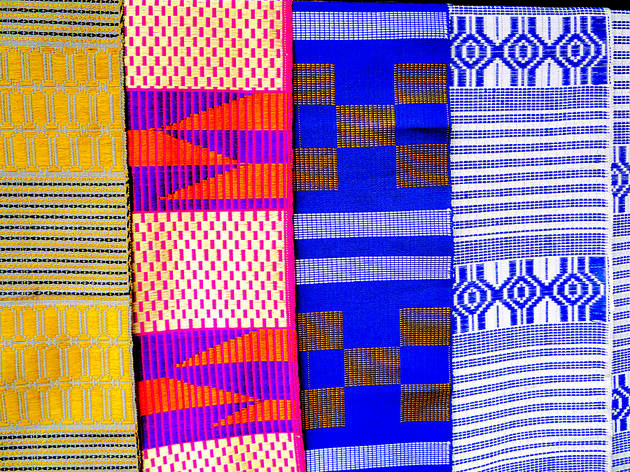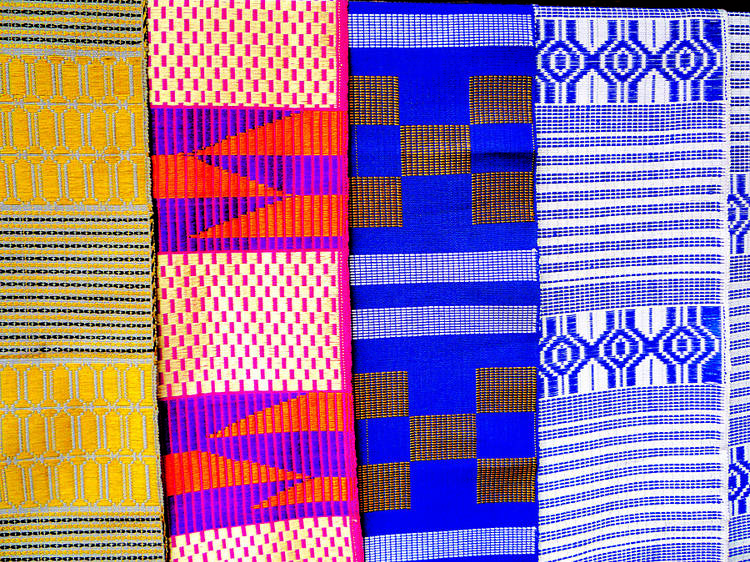 A buyer's guide to Kente cloth
Vivid colour and complex patterns are an essential part of the landscape in Accra and this is reflected in the textiles worn by Ghanaian women. In the typically bold palette, jewel tones, fragmented floral patterns, illusory monochromes and practically every other conceivable combination of colour and texture are realised. Wildly patterned wax-printed batik cloth is extremely egalitarian in Accra. Street vendors and socialites both wear it. A clear difference in quality may be evident but to the spectator the net effect is of cultural unification. Reinterpreting wax-printed fabrics has become extremely popular, and the results are a gorgeous synthesis of traditional and modern fashion.One of the most recognisable symbols of Ghana, kente, an Asante ceremonial cloth, represents numerous aspects of Ghanaian ethical, philosophical, social and religious heritage through variations in colour and pattern. Initially, kente was strictly owned by Asante royalty who kept it for social and spiritual assemblies. Hand-woven silk or cotton yarns are spun into four-inch wide lengths to weave kente. These pieces are arranged and hand sewn together to create a large panel. Although machine made kente is now widely available, it is still reserved for formal occasions. The dramatic colour and texture in kente is echoed in wax-printed fabric. It's an attractive surrogate of kente and it too has cultural resonance and legacies.Ghana inherited the wax printing technique from Indonesian batik import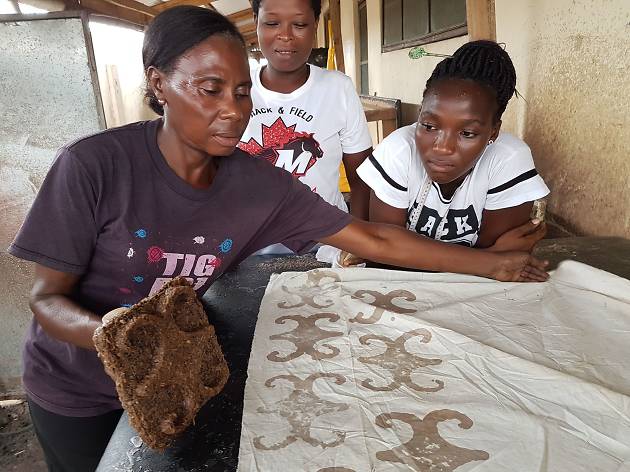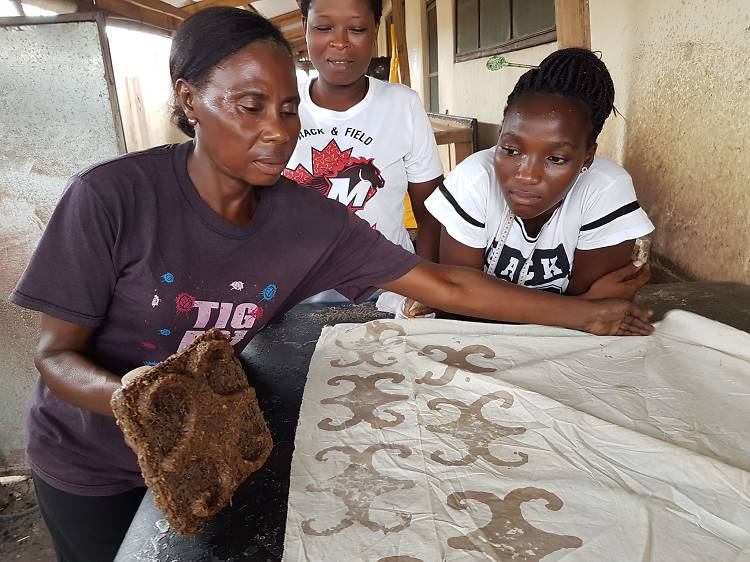 Global Mamas Cape Coast
Since 2003, the Global Mamas store has helped a large network of women in Ghana to improve their standard of living with dignity by promoting their craftwork. In addition to the Osu store in Accra, you can now sign up for a cultural workshop such as cooking, drumming or batiking at their Cape Coast location. By doing a cultural course, you will gain insight into these unique skills while at the same time creating your own item. Current workshops: Batik Workshop (every day, duration 2 – hours depending on number of participants):1 person 93.00 GHC  Cooking Workshop (every day, duration at least 3 hours)1 person 75.00 GHC Drumming and Dancing Workshop (any day except Wednesdays, duration about 3 hours)1 person 75.00 GHC Head Wrapping Workshop (every day, duration about an hour)1 person 75.00 GHC Discounts apply for group bookings.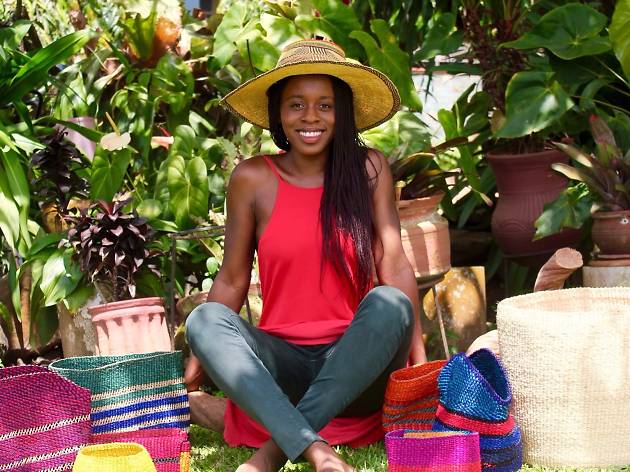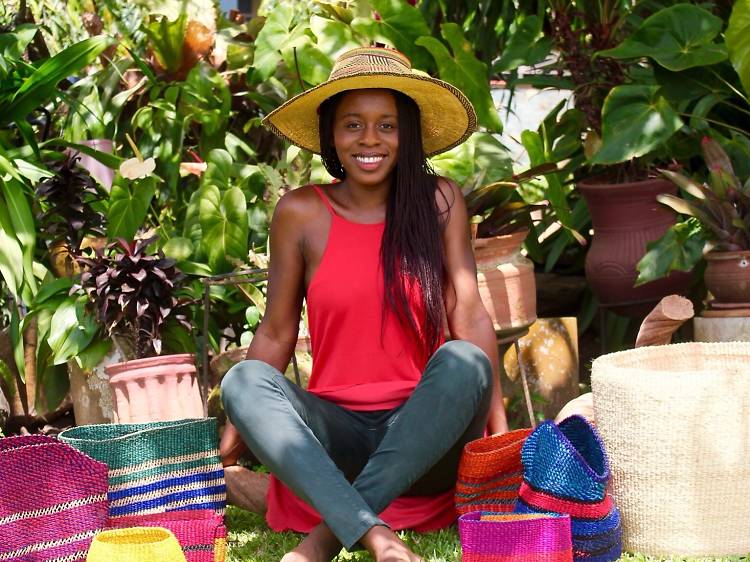 Time Out meets: Akosua Afriyie-Kumi
When did you first have the idea to use these Ghanaian weaving techniques in high end fashion?  I grew up around basket bags as a child in Ghana, I used to give them as gifts and also use them for storage. I remember having a lot of 'I wish it was more like this, I wish it was more like that' moments… I wanted it softer, almost foldable and also more colourful with blends of colours which were tasteful and modern with a beautiful finish and detail. Building on this idea I started researching into bag designs and fibres and found a lot of attractive benefits which were in line with my vision and ethos I had for my dream brand. I established A A K S after seeing a gap in the market for beautifully handcrafted bags. I knew I wanted to go out on my own and pull together all my passion and talents to create something unique that would be fulfilling both personally and professionally so I embarked on my journey to Ghana to make this happen. What impressed you so much with the skill of the weaving?  I was very impressed by their hands skills and the combinations of colours and also the unconscious ethical processes they used in creating baskets. Taking on this idea I begun to explore further into weaving, fibres and what the possibilities could be.  Were they already blending raffia and leather? No, weavers weave with only straw and I introduce a new fibre which is raffia in the community.  What were the challenges for producing the bags in the way that you wanted?   It was
The best souvenir and craft shops in Accra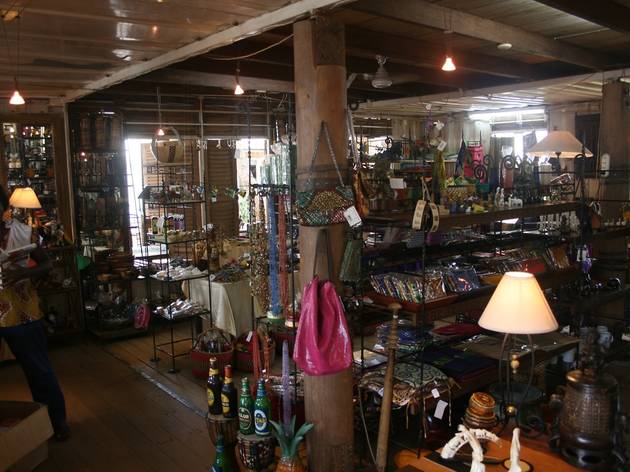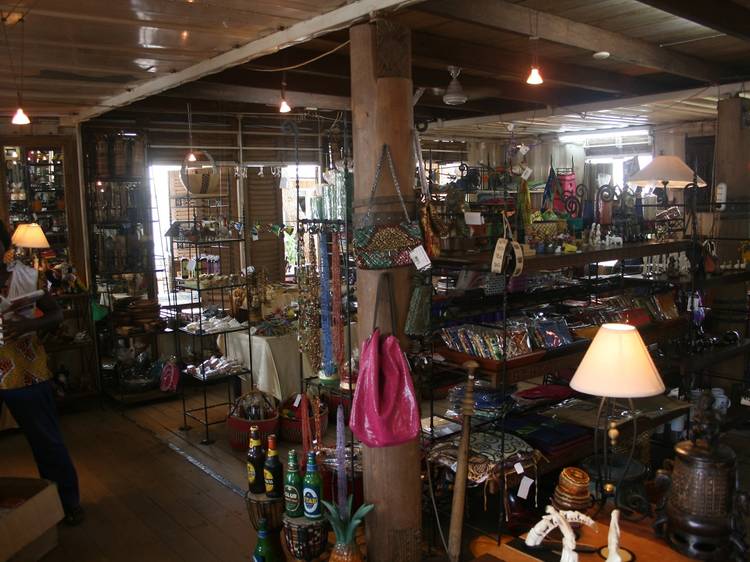 Wild Gecko Handicrafts
This multi-faceted workshop-cum- art-shop emporium is foremost a workshop employing artisans for the production of characteristically Ghanaian emblematic Adinkra collectables, beautifully finished wooden furniture, ceramics, bespoke textiles and jewellery wrought of silver and bull horn. It is brimming with handmade art objects, collectables, homewares, furniture, hand bags, musical instruments, soaps, Ghanaian children's books, bangles and other design products. Although Wild Gecko sources from across Africa, many of the items are local, and often from humanitarian projects in Ghana.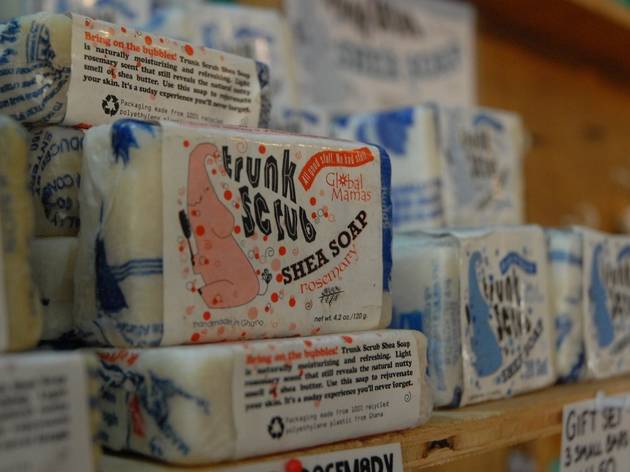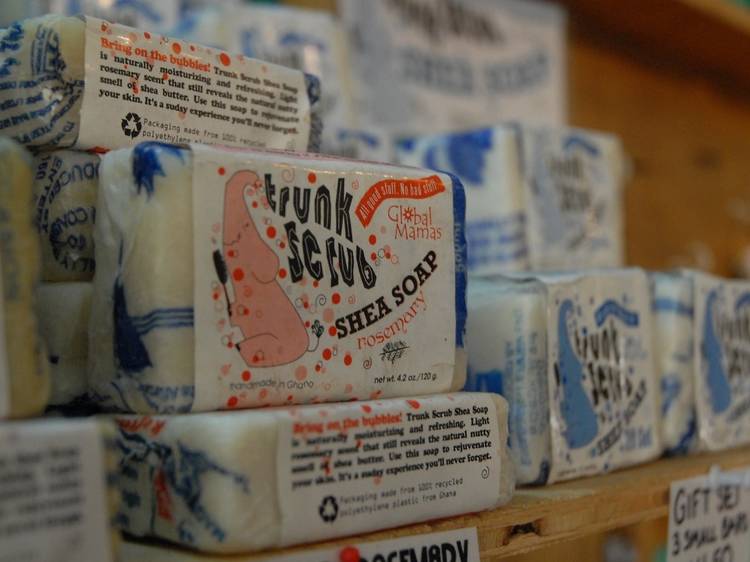 Global Mamas
This wonderful store is run by the NGO, Women in Progress (see www. womeninprogress.org for more details). Everthing here is fairly traded and made in Ghana, mostly by women. Anything the creative women in co-operatives around Ghana can come up with is brought here. There are tote bags made from old flour sacks, home decoration items, even body butter and soaps made from shea. There are clothes for men, women and children of all ages. Most garments are colourful batik designs, tie-dye and prints.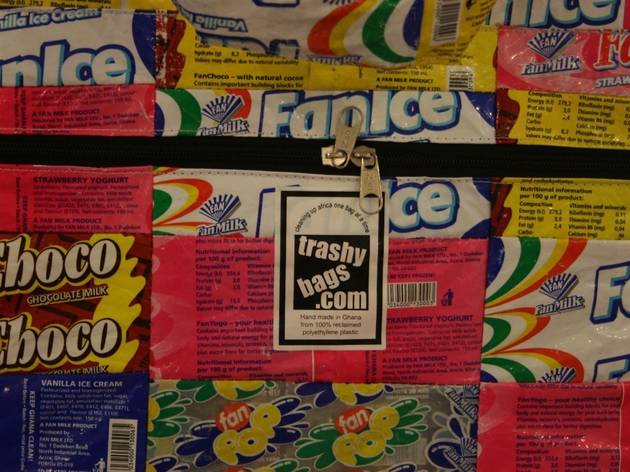 Trashy Bags
An Osu store is an extremely welcome addition to the remarkable success story that is Trashy Bags. The initiative was set up in 2008 as a means of recycling and reusing the endless plastic water and yoghurt wrappers deposited on the streets of Accra – more than 20 million plastic sachets have since been collected. The refuse is washed and treated before being stitched together to form bags and accessories. The project employs a full-time staff of around 60, as well as paying a legion of litter-pickers for their efforts. Given the nature of high-sugar food packaging, the products themselves tend to be extremely colourful – the range includes everything from shoulder bags and backpacks to rain macs and briefcases. They also use large old canvas banners to produce bags reminiscent of the recycled Freitag products.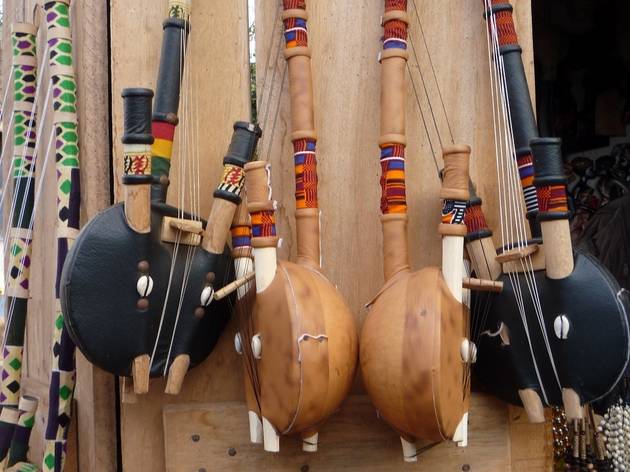 Arts Centre
This is a popular location for tourists wanting a one-stop-shop for arts and crafts. The stalls are crammed full with textiles, carvings, bags, music instruments, clothing and jewellery. The stalls continue through the main hangar, and into an outdoor market that holds the more interesting treasures such as metal ornaments, drums, wood furnishing, antiques and leather goods. There is less hassle at the back of the market. All prices are negotiable.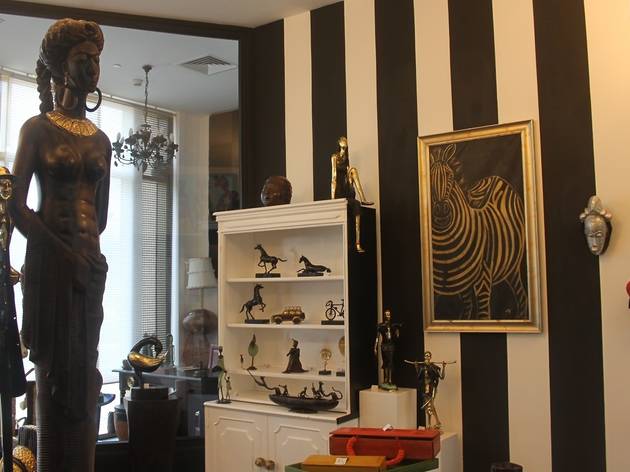 Joe's Perspective Art Boutique
This luxury art boutique set up by Kukua Ampah has recently opened a branch at the new Mövenpick Ambassador Hotel. Many of the elegant and creative pieces here are bespoke, adapted by Kukua herself, who incorporates the rich cultural influences of West Africa into modern works of art. A key range comprises her elegant metal flowing sculptures, partly polished, partly left to gather the natural colours of metal. Beautiful. A great place for a classy souvenir.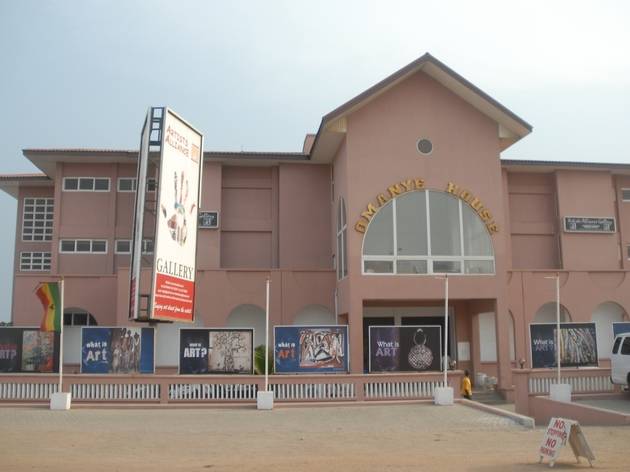 Artists Alliance Gallery
This three-storey gallery is home to a large array of Ghanaian artists and sculptors such as Augustine Gokah, Betty Acquah, Nii T Mills, Ebenezer Borlabie, Kofi Setorji and Gabriel Eklou. Ablade Glover (see interveiw on page 4), one of Ghana's most respected artists, conceived the Artists Alliance Gallery in the 1960s. He saw the need for a showcase for fine arts in Ghana to act as a driving force to gain recognition around the world. There are not only contemporary arts, but also collectors' pieces: beautiful, fragile Asafo flags with appliquéd and embroidered symbols, and ancient strip-woven kente cloths. It sells art directly from the artist.
The best shopping in Accra