Bars
All the best Accra bars, including bar reviews and editors' picks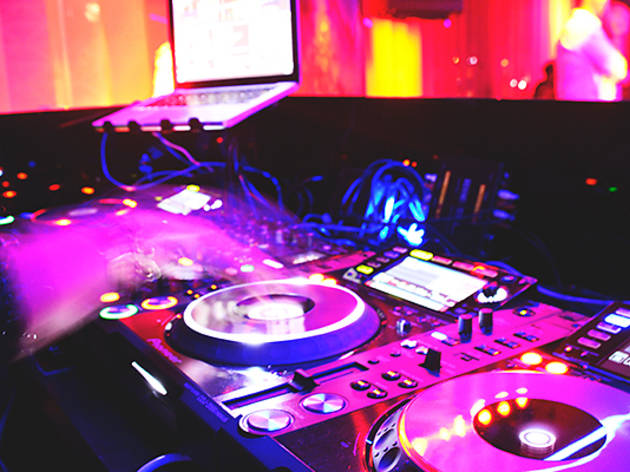 Inside Carbon Night Club
Hopes were high on Wednesday night for the opening of Carbon Night Club, perched in the penthouse of Icon house, high above the bustle of Airport City and Liberation Road. Billing itself as a luxury experience with 'unexpected quirks and surprises', Carbon is attempting to carve a unique space for itself and reach new heights in the luxury Accra nightlife scene. Stepping off the second-floor elevator above the already popular Urban Grill, on first glance, there is perhaps not much to distinguish it from the already seen club stylings of Accra – to the right is a dark room lined with a bar with blue and red neon strip lights outlining the room. Pumping music and ottomans dot the area and throughout the A/C is cranked up high. This section houses the generous dance floor and a VIP area, where bottles of champagne are shuttled across by a train of flamboyant waitresses. The space is distinguished from other spots by the bank of windows looking out from its elevated position that takes in a city view of Liberation Road and Silver Star Tower. But step back out, past the elevators, this time to the left, and things, quite literally, came alive. Under an over-wrapping square trellis that encompasses the entire room like a box, the mood on the other side is that of a partially covered outdoor drinks bar, its walls lined with planters stacked to the ceiling, partially open to the sky, giving a laid back, urban garden atmosphere. Together, the two quite opposing halves give Car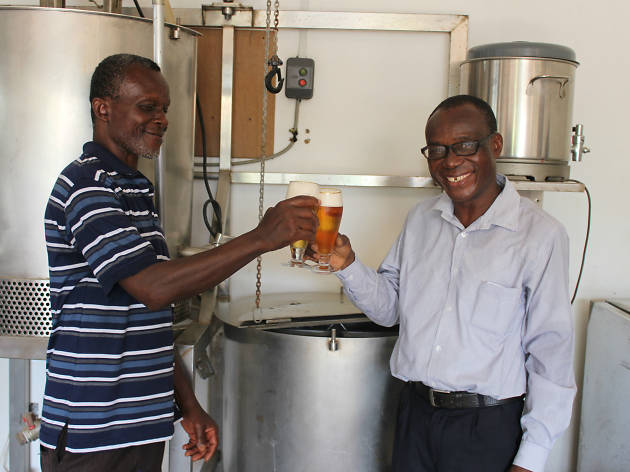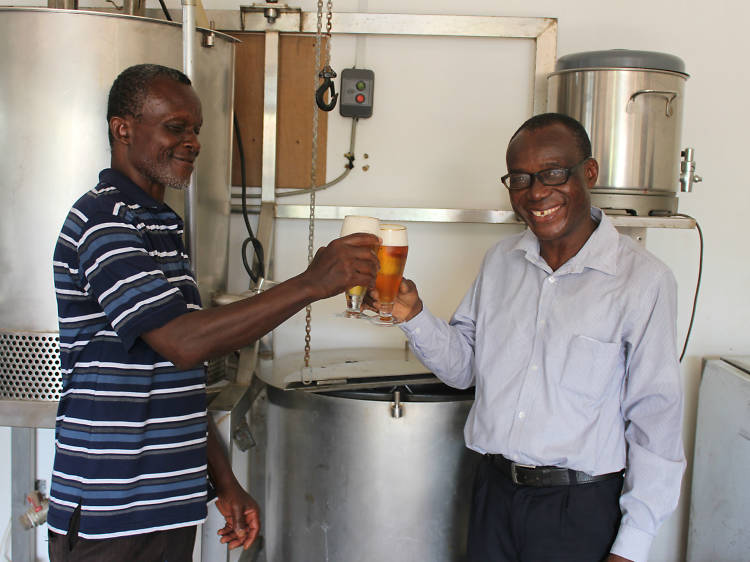 Ghana's first microbrewery
It's a bizarre moment. The temperature is hitting 37C at 11am in an old garage north of Accra. In my hand is a seriously impressive glass of Hefeweizen, the Bavarian wheat beer. It's full of chewy banana flavours, yet crisp and light. The equipment around me is old. A mash tun and pump bought second-hand from Italy 15 years ago. The fermenter has been fashioned by welders from a photograph, under the direction of Clement Djameh, owner of Inland Microbrewery. Clement is a Ghanaian from the Volta Region who through bitter determination fought to study in Germany at Weihenstephan, TU Munich where the oldest, and most respected, brewery in the world is located. The Hefeweizen in my hand, with a rich, creamy head, was first born in the valleys of Bavaria but has been recreated in the humid hills north of Accra. But there's something even more remarkable: it's made entirely from sorghum, a native grain that completely replaces barley in all the brewery's Pilsners and Hefeweizens. Clement, in fact, was instrumental in also helping several much larger Ghanaian breweries to replace the expensive malted barley with sorghum, an abundant crop and one that offers a steady, and much needed, supply chain to rural farmers across Accra. Clement is also experimenting with the abundant sweet potato as an adjunct to limit the need of barley or even malted sorghum. Brewmaster Clement started his microbrewery 15 years ago when he left the employment of a large commercial brewery, but the big guy
The best bars in Accra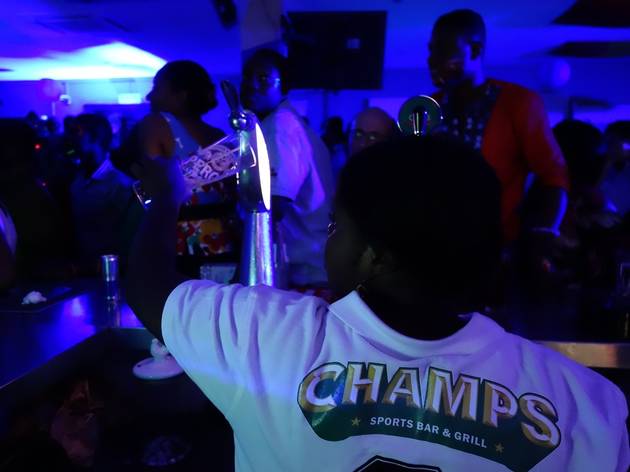 Champs Sports Bar & Grill
Champs is back! After a brief flirt with being called The Lexington, the bar has become Champs again. It now offers an international menu, wide coverage of all major sporting events on eight large screens TV and four project screens and a wide selection of regular events organised entertainment events, a quiz night every Thursday, regular live music,  Thursday Quiz Night, Accra DJs such as DJ Black, DJ KillerFingers, DJ Big L and DJ Vision and a Friday karaoke competition. The Stellar Group that runs it hopes to return the bar to the good old days of Champs.  Champs. Champs Sports Bar & Grill can also be found in Takoradi at Stellar Lodge and will soon open in Lagos on Victoria Island.There's also a Champs Sports Bar & Grill in Takoradi at Stellar Lodge and there will be a new Champs opening in Lagos this month. A full review will be uploaded in mid-May.The Accra Champs is located in the Paloma Hotel Complex on the Ring Road.  FB: Champs Sports Bar & GrillTwitter:@ChampsGHAccra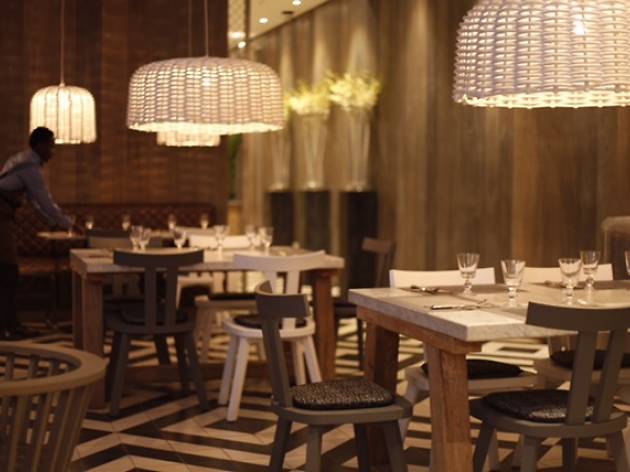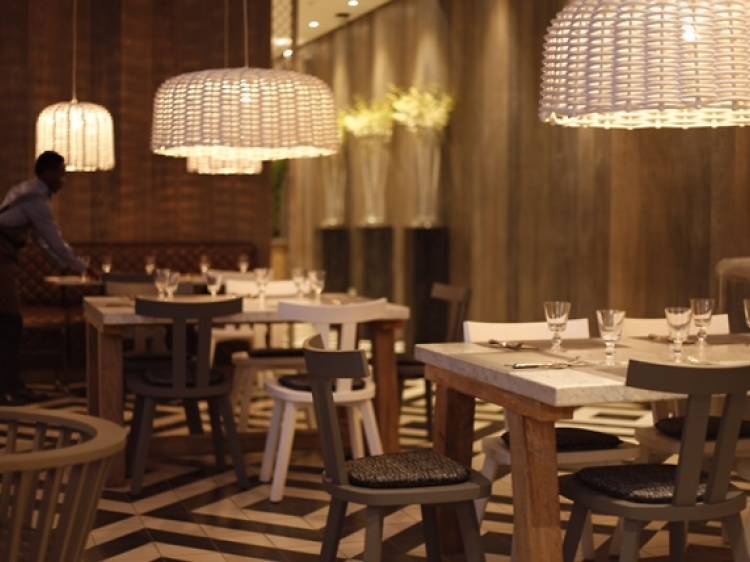 Coco Lounge
From the leather bar seating to the tilework in the private dining room, the attention to detail in Coco Lounge is quite amazing. Local artist Nana Anoff has installed pieces alongside thoroughly modern and brave design touches, as you'd expect coming from the same stable as design store La Maison next door, which also curated the restaurant's interior. The pizza oven is dressed up as an old Italian truck and a sight to behold. Incredible space for sure, so what about the food? The tight menu of mains includes sandwiches, burgers and fish and chips. Plus there's a wide range of salad dishes, rice bowls and that wood-fired pizza. Oh, and don't forget the home-made ice cream and cakes. The focus on detail continues through to the food – renowned New York chef Andrew DiCataldo has designed the menu as well as that of the flagship Urban Grill. Our burger was on a brioche (thank heavens), and the quinoa salad was loaded with dried fruit and nuts – an inviting sight. The dickie-bowed wait staff were attentive and kind. The cocktail list is also impressive. Meko Martini anyone? It's Ketel One Vodka with Ghanaian chili. Pow!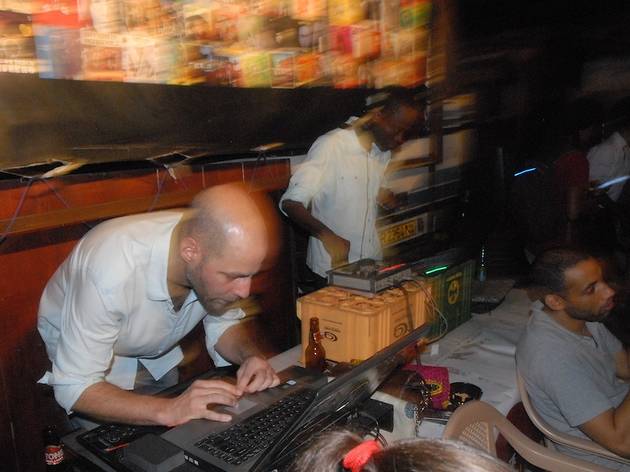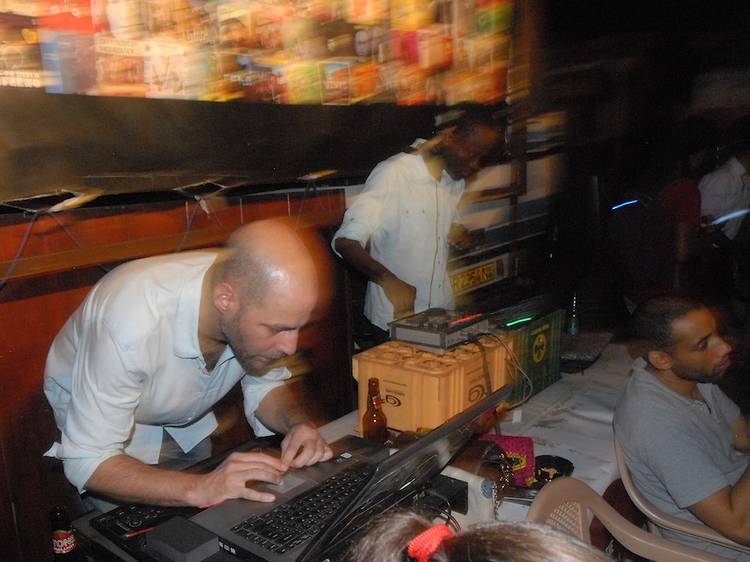 Republic Bar & Grill
We'll still keep recommending this bar as it remains one of the most happening bars in Accra right now, thanks to its relaxed, music-forward approach to the good things in life: alcohol, fried food and really great music. It's a tiny space that tumbles out onto the street when things really kick off late on a Friday or Saturday. Album covers and black-and-white photos of music stars adorn the walls as Ghana's best music blasts out (often jaw-dropping highlife music acts live on the terrace; check out the Facebook page and Twitter account for details – highlife legend Ebo Taylor has even played here). Even the cocktails use great ingredients not found anywhere else: the Republica is a caipirihna made from traditional palm wine. On a sunny day (and yes, it's always sunny), try one of their 'Wild Beers': the Beer Sap has bissap concentrate added to it. Fittingly, the food is good beer fodder too – the cassava chips are a fabulous drinking accompaniment, while the Fire Go Burn You pepper soup and Ye Ye Goat curry are superb value for something this tasty.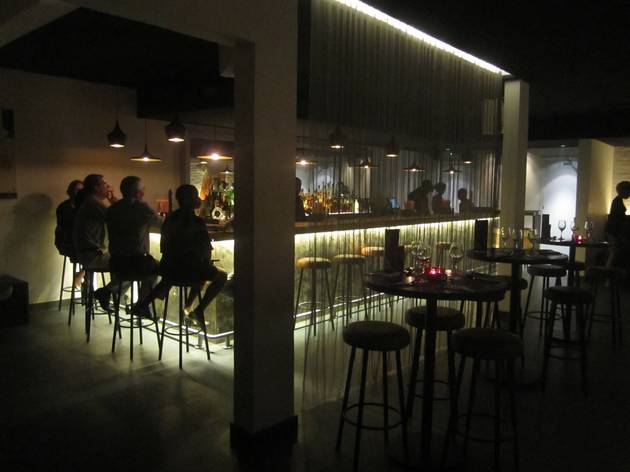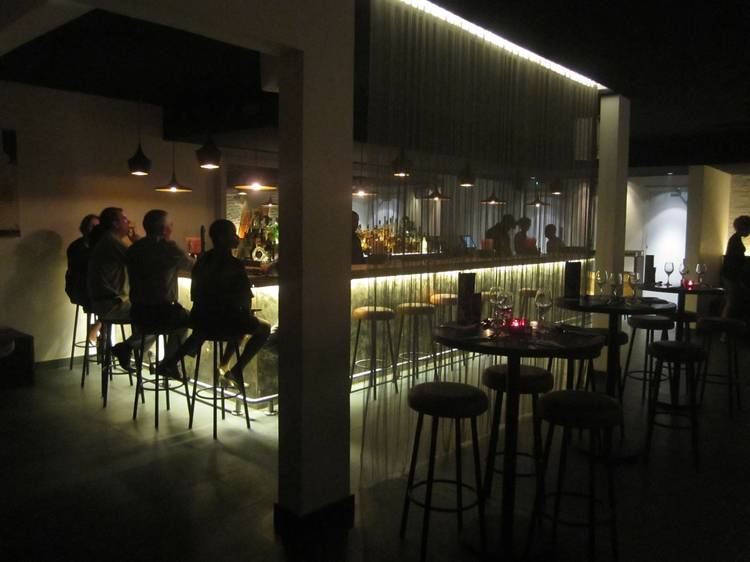 Firefly Lounge Bar
Firefly is a confident nightspot – the industrial chic of its whitewashed brickwork, dim lighting and edgy beats attracts a preened international clientele. A back-lit bar glows with premium blends, and cocktail aficionados, spirit lovers and wine drinkers alike pull up stools to confer with chatty staff sporting black shirts, braces and the odd jauntily angled hat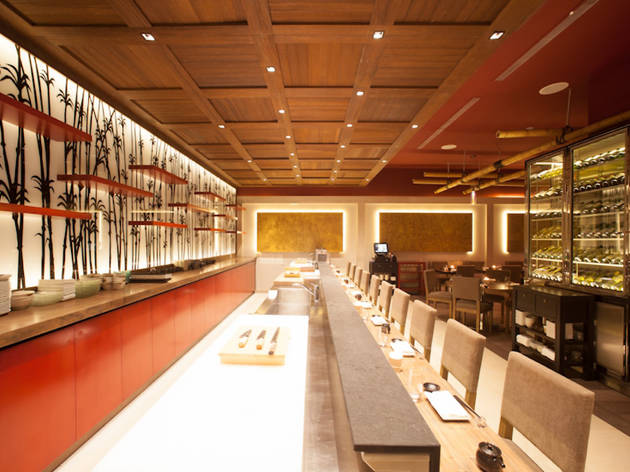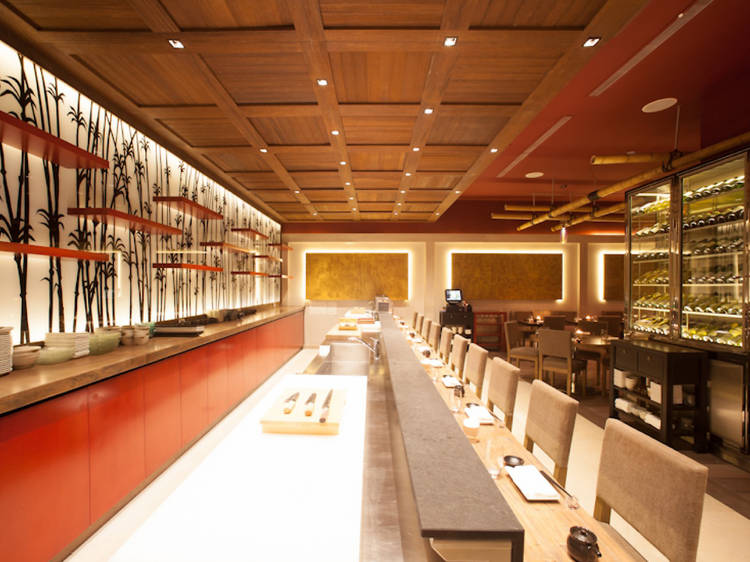 Santoku Restaurant & Bar
Despite some stiff competition, not least of all from the same group in the form of Urban Grill, Santoku remains Ghana's best restaurant, if not West Africa's (wealthy people from Lagos have been known to fly over for dinner). It's a world-class experience with the best staff and a blend of well-executed and inventive Japanese dishes that go well beyond the sushi and sashimi dishes (although these are fabulous). It was originally set up by a Nobu London executive chef and it's stayed along these lines. Highlights include slow-cooked beef fillet with spicy den miso and ponzu and smoked whisky-marinated beef Kushiyaki with Jaku sauce and black garlic. Wow. It's not cheap, but the lunchtime set meals offer a pretty good deal. Santoku also serves some of the best cocktails in town, including 'saketinis', best enjoyed on their new, supercool terrace. There's a private dining room that seats up to 20 people.
Read more Accra bar reviews
Accra's best bars by type