Paa Joe & the Lion film launches
As the film Paa Joe & the Lion about fantasy coffins launches on the world stage, Ben Lerwill talks to Benjamin Midgley about his new film on the designer death-casket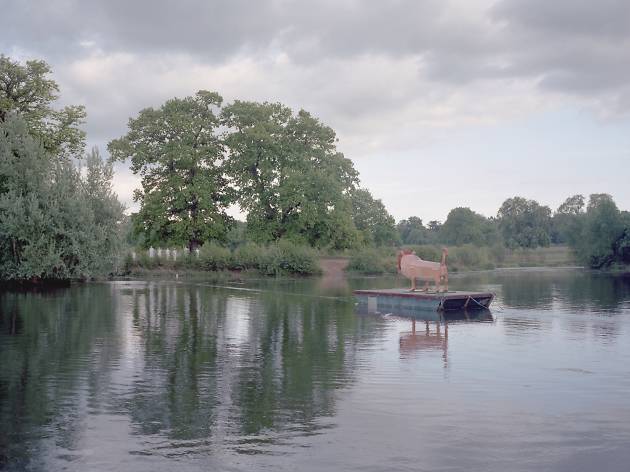 These days, the world knows where to come for a designer death-casket. Fantasy coffins have become one of Ghana's most talked-about exports, featuring in international exhibitions, being written about in glossy magazines and being cooed over by the culturally curious. But the riotously colourful creations, which can take the form of anything from Nike trainers to mobile phones, represent far more than just whimsical woodwork, with each piece taking up to six weeks to make and requiring expert craftsmanship.
Overseas interest in the coffins has resulted in increased exposure for Accra's leading coffin sculptors, in particular 66-year-old Paa Joe, who together with son Jacob was invited over to the UK in mid-2013 to take up a month-long artists' residency at a stately home open to the public in Nottinghamshire. Working together, father and son used the time to carve and construct a full-size example of their trademark lion coffin.
But there was more to the project than simple creativity. The man behind their trip to England was British filmmaker Benjamin Midgley, who became aware that Paa Joe had been forced out of his Accra workshop to a roadside shack 90 minutes out of the city, due to a lack of funds. "To me he seemed like a fallen giant," Benjamin tells Time Out. "Here was this pioneer, someone who had been making fantasy coffins for 50 years, who had been visited by US presidents, but who had fallen on hard times. He gets minimal passing trade in his current location. I visited Ghana in 2011 and we came up with the idea of organising a residency in the UK for Paa Joe as a way of raising awareness."
It was only Joe's second trip outside of Ghana, and his son Jacob's first. Benjamin documented their stay and will release a feature-length documentary film, Paa Joe & The Lion, in 2016. "Joe's art is unusual in that the majority ends up under the ground, so he wants something to be remembered by," Benjamin continues. "But above all, he wants to leave a legacy for his family. The ideal situation is that the final scene of the documentary will be Joe's move back to his workshop in Accra."
Unsurprisingly, this is a sentiment echoed by 25-year-old Jacob, who breaks off from creating a guitar-shaped coffin ("it's for a collector in California") to share his thoughts with Time Out. "The dream is that we'll be able to move back home to Accra and earn a better living," he says. "The key agenda for coming to England was to find sponsors and people who might donate. Now, we're just hoping." A story with a happy culmination in sight? It's reassuring to think so.