Top 5 Ghanaian dishes to try
Visiting Accra? Don't miss out on these local delicacies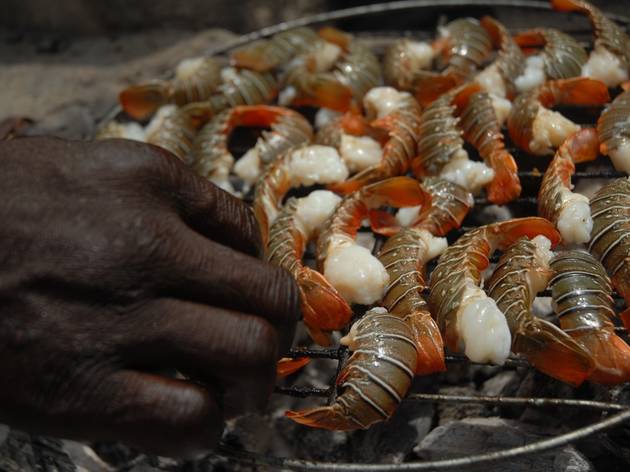 1/5
Predictably, seafood in Accra is fabulous. Langoustines, mackerel and barracuda (really) on the menus are likely to have been pulled from the Gulf of Guinea throughout the previous night, and bought from the chaotic fish markets. One restaurant with a weighty reputation is Captain Hook's. It is expensive, high-quality and constantly full, as the very many SUVs with diplomatic plates outside testify. And if you want to see where your food comes from, don't miss the blindingly colourful fishing town of Elmina along the coast.
2/5
The nuts ground in this dish are peanuts (if you want to do it at home – that's a lot of peanut butter), but that's not the overwhelming flavour. This is a delicious blend of ginger, garlic, tomato, hot pepper, chicken, or guinea fowl in this picture. It comes in a huge bowl, like this one pictured at Country Kitchen, with fufu, a sticky, starchy ball made from pounded cassava, yam or plantain. Take a small bit in your hand and dip in. Try this at Buka or Country Kitchen.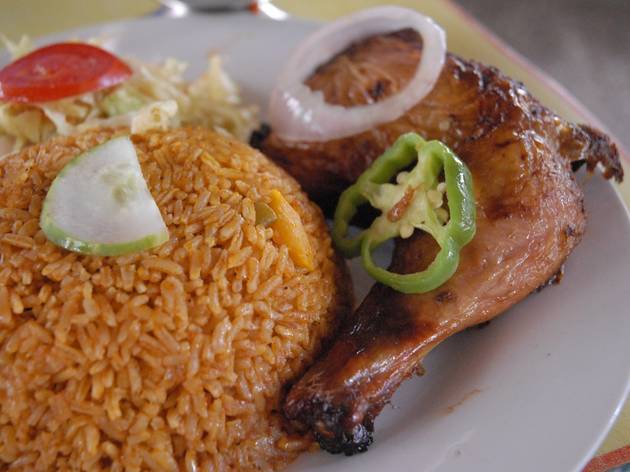 3/5
One food author described jollof rice as 'the little black dress of Ghanaian cuisine'. Few doubt it's the most popular dish. It's so ubiquitous that it's served in fried chicken joints instead of chips. The rice is cooked in a spicy sauce (rather like a paella), and it's the sauce's ingredients that give it a lip-tanging flavour. It's usually served with grilled chicken and a token bit of salad. Try it at Buka or Country Kitchen.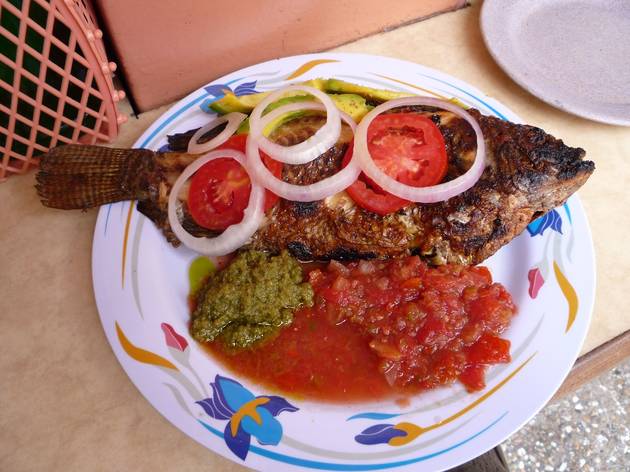 4/5
The core of a traditional Ghanaian dish is something starchy, usually cornmeal-based, with a soup or sauce, often highly spiced. It is frequently served alongside boiled rice, fried plantain or yam. One of the most common dishes is tilapia, a tasty grilled fish, with banku. Banku is cooked fermented corn or cassava dough. The gooey mixture is then used to scoop up the fish and spicy sauce by hand. It's sticky and delicious. For us, Asanka is the best place to eat it.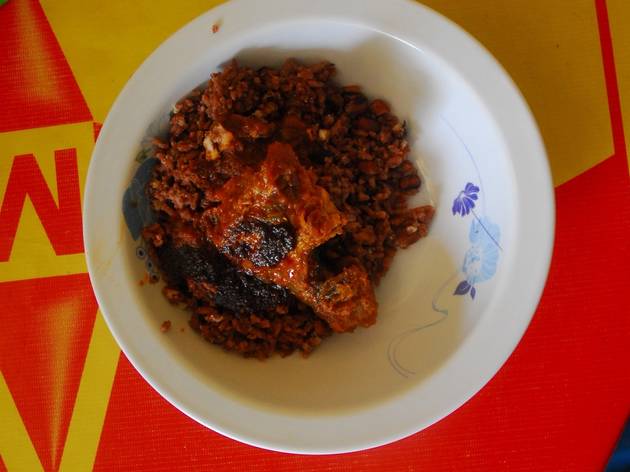 5/5
Another popular lunchtime dish is waakye, a mélange of dark black-eyed beans and rice, with meat and some fish, often eel. Stringy noodles, hard-boiled eggs, various vegetables and hunks of steamed meat tumble in the waakye like an ungainly salad. The hub of the waakye assemblage is shitor, a peppery condiment made of chilli, dried shrimp and ginger. It is best sampled at long-established street stalls such as Katawodieso and Auntie Muni's.