From highlife to hiplife - a guide to Ghanaian music
Accra is one of Africa's leading musical cities - and the spiritual home of a style that's been taking over the world in recent years: African highlife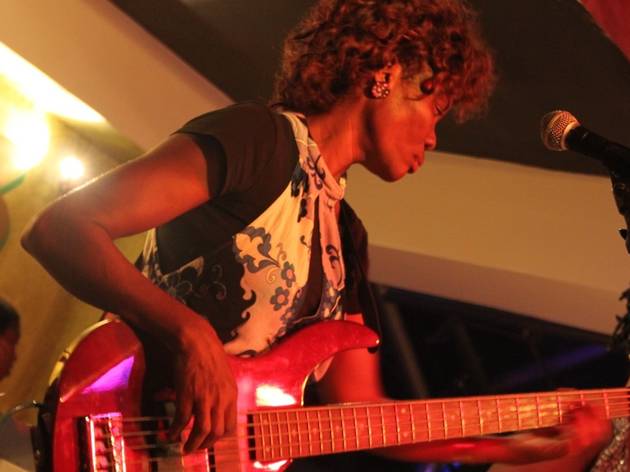 Step into many of the nightclubs in Ghana's cities and more often than not you'll be confronted with the throbbing beats and visceral energy of hiplife. A blend of hip hop, dancehall and reggae, hiplife has become a favourite of DJs and clubbers alike. But this wasn't always the case. Ghana's musical map was once dominated by highlife - a genre so diverse it managed to not just survive western influence, but incorporate the disparate styles imported to the country over centuries to produce an effervescent sound which reflects the vibrancy of Ghana itself. Although still popular in Ghana, it's also a genre which is being championed by music lovers far from the former Gold Coast, predominantly the boss of UK based record label, Soundway - Miles Cleret.
'Highlife is a real mirror of the 20th century in terms of music. There are a lot of different modern music forms that came out of this era, and highlife is one of them. It's a real mish-mash of everything,' said Miles, who has managed to capture a snapshot of the scene on Soundway's recent release, Ghana Special: Modern Highlife, Afro-Sounds and Ghanaian Blues 1968-81.
'The roots of highlife are a collage of music, from traditional African music to colonial marching band music, to hymn singing and church music. And as the century went on it absorbed different influences from around the world. So it's got a bit of jazz, a bit of swing, it's got a bit of blues, it's got a bit of Latin music. Then as things go on in the 1960s and 1970s you start hearing a bit of soul and a bit of funk slipping into certain highlife records.
'It continually keeps changing up to the 1980s when you hear even a bit of disco, and into the 1990s when you hear the hip hop influence.
'Highlife is a continually changing and evolving music. You get so many different combinations that make up this umbrella term 'highlife'. It is by no means a static thing and it can continually surprise you.'
HIGHLIFE'S ROOTS
Highlife has its origins in the 1800s, where Ghana's traditional palm wine music fused with the colonial sounds bought over from the Netherlands, United Kingdom and Portugal. British military brass bands, sailor's sea shanties, religious hymns, local palm wine guitar music and Trinidadian calypso all got assimilated into the highlife scene and from there it began to evolve, hungrily feeding on overseas sounds right up until the 1980s when hiplife became the dominant species.
'The era covered by this album was a really fertile period in Ghana's musical history. It was a time when bands were given the freedom to experiment and make really interesting and quite out there, ahead of their time records that have stood the test of time, and still sound really fresh 30 to 40 years later. But also it was a time when there were some really big bands which were incredibly popular all over the country and were selling thousands of records,' said Miles.
MAKING THE COMPLIATION
Ten years in the making, Ghana Special is full of tracks which didn't fit the afro-beat mould of Soundway's previous two Ghana inspired releases, Ghana Soundz volumes one and two, but were nevertheless hoarded by Miles on his numerous trips to Accra and Kumasi. Despite highlife's popularity, collating the records for the 'Ghana Special' compilation was no easy task. Many of the more obscure tracks with a limited press were hard to find, plus many of the shops and outlets that thrived along with the scene have shut. But with the help of people in the scene - including the head of Kumasi based label, Ambassador Records, whose artists provide some of the tracks for the album - and some serious digging in Kumasi's central market, Miles managed to put together a collection of tracks which enlighten listeners on the evolution of highlife.
THE FUTURE OF HIGHLIFE
Hiplife may be the dominant musical force in Ghana right now, but highlife lives on. Not only through the efforts of Miles and his insatiable appetite for unearthing the forgotten gems of the scene, but also through the people who were involved and the new breed of musicians who have one eye on the past and are adding to the nature of highlife's ever evolving nature. At places such as Chez Afrique and even La Palm Royal Hotel, highlife can regularly be heard.
'Alliance Francaise is a really good place in Accra. They have bands not only from Ghana but outside of Ghana passing through,' said Miles.
'I think there is a real band of musicians, especially in Accra, who are really desperate to try and do something new and interesting on a live tip. But I think things are changing and there is more of a highlife influence. You get people sampling old highlife tracks and redoing old highlife tracks in a slightly new style, but I think hiplife...well, most of the highlife musicians I've spoken to, wouldn't regard hiplife as anything to do with highlife really. But you know, a lot of them are grumpy old men.'
Where to hear the best highlife in Accra