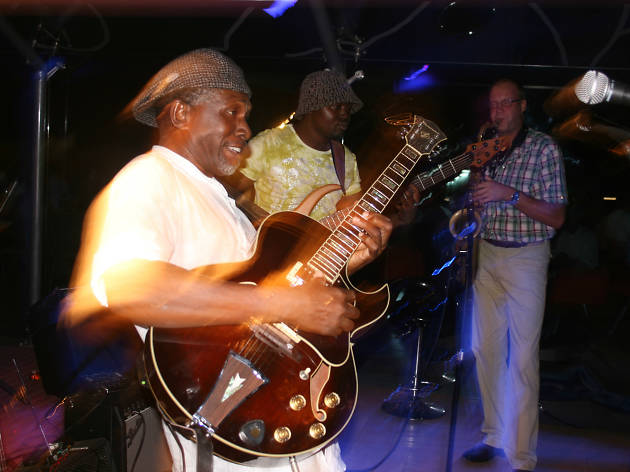 Ghana's musical timeline
From traditional drum music to the latest hip-hop, Ghana's musical heritage is among the world's most important
Described as one of the most important world music musical genres of the 20th century, highlife is the soundtrack to Ghana. From its roots in traditional music, through melding of jazz and swing, and later into the era of Afro-beat and then hip hop, the thread of highlife remains as strong as ever.
Traditional Music
Gaa & Ewe drum traditions
Polyrhythmic ensembles of drums, gongs, bells and rattles dominated the southern and coastal music among the Ewe people for social dancing. Several types of drums are used to create different sounds.
On the playlist: Atsiagbekor by Ewe drum orchestra. On Roots of Black Music in Africa (1972) & Obo Addy Kolo Mashi from Okropong 1989.
Akan Adowa & Kete
This percussion-based music is from the Akan-speaking people, and often associated with funerals. Common instruments include gourds with beads around them, drums, as well as handclaps. Often played by women.
On the playlist: Akonodey by the Akan Adowa musicans. On Roots of Black Music in Africa (1972).
Northern roots
In Northern Ghana, a common instrument is the gyil or balafon, like a xylophone. The music is traditionally played by pairs of men at funerals.
On the playlist: Harvest Songs by Three Lunsi drummers in Accra. On Music of the Dagomba from Ghana (1978).
Seperewa
This is a traditional Akan instrument that is said to 'speak'. It is a harp-lute and relates to the West African griot tradition of entertaining kings.
On the playlist: Adowa (Otanfo) by Seprewa Kasa. On Seprewa Kasa (2008).
Height of Highlife: 1920s-1960s
Highlife became Ghana's own music and provided the soundtrack to Independence
Dance highlife
British military brass bands and US swing and jazz bands become popular when servicemen during World War II. It was played at upscale parties (hence 'highlife'). A distinctive sound began to emerge with large multi-instrumental bands playing stomping rhythms backed up with a vibrant horn section and the clean electric guitar sound that characterises much of West Africa's music.
On the playlist: Odo Anigyina, Mee Bei Obada and Nkebo Baaya by ET Mensah & The Tempos. Wompe Masem by The African Brothers; Yahia Mu by The Uhuru Dance Band. On Ghana Special (2012); Muntie by Ramblers International.
Guitar highlife
Away from the plush hotels and bars, another guitar-based highlife was emerging in the poorer areas of Accra. Proponents such as EK Nyame, who sang in Twi, provided the soundtrack for independence. Ebo Taylor is still going strong.
On the playlist: Asin Asin by Kumasi Trio on Living is Hard (www.honestjohns.com); Akwankwaa by EK Nyame and Heaven by Ebo Taylor both on Ghana Soundz (Soundway Records).
The birth of modern highlife and Afro-pop: 1970s
Pop, soul and funk music led to a deeply funky version during the 1970s, and alongside artists from Nigeria became part of the Afro-beat generation. World-music breakthrough act Osibisa were the country's biggest stars. Meanwhile, Gyedu-Blay Ambolley was beginning to rap.
On the playlist: Kye Kye Pe Aware by Sweet Talks and Mother Africa by Marijata on Ghana Soundz (Soundway Records). Takoradi by Wulomei.
International success
Formed in London in 1969, Osibisa became one of the leading lights for Ghana and its music. played an afro-beat pop that brought 'world music' to, well, the world produce ever more inventive music, but with an undeniably Ghanaian sound. Meanwhile in Germany, Burgher Highlife became popular, especially George Darko
On the playlist: Sunshine Day & Fire by Osibisa; Menewo Mienu Doyi by George Darko.
Disparate roots: 1980s
Political instability in the 1980s saw the rise of gospel, such as the Genesis Gospel Singers, as the church was often the safest place to listen to music, but outside Ghana bands like Hi-Life International continued to be popular. On home ground Daddy Lumba became Ghana's biggest Highlife star.
On the playlist: Momma Mo Akoma Ntutu by Genesis Gospel Singers; Awo De Me by Hi-Life International; Ye Nea Woho Beto Wo by Daddy Lumba; Iron Boy by Amakye Dede.
Tthe rise of hiplife: 1990s & 2000s
The biggest shift in Ghanaian music, however, came with the emergence of hiphop from the US. Hiplife
The country's very own version, known as hiplife, was pioneered in particular by the 'Godfather of Hiplife', Reggie Rockstone, who began to rap in Twi, a local language. Tic Tac, VIP Mensah and Batman, all of who mix hip hop with highlife and increasingly reggae, have brought Ghanaian music the full loop.
On the playlist: AGOO! & Glad by Reggie Rockstone; Linda by Batman Samini; Ahomka Wo Mu by VIP; Kangaroo by Tic Tac.
Highlife in the 21st century
While they may no longer be heard be under the shade of coconut palms, Ghana's hiplife and world music stars, like the griots of the past, are telling their story. Mr Max, Stonebwoy and Jahwi are the poets of the 21st century Accra. British-born artists of Ghanaian origin such as Sway, Dizzee Rascal and Lethal B are including Ghanaian touches in their music.
On the playlist: Level Up by Sway; Chillin' Wiv Da Man Dem by Dizzee Rascal; Police on my Back by Lethal B, Baafira by Stonebwoy; Adonai by Sarkodie; Ghana-Must-Go by m.anifest.
Modern highlife and roots
Roots artists such as King Ayisoba is a true heir to the area's historical roots. Falling through the genre gap is Wanlov The Kubolor and the Fokn Boys whose hearts are truly in Ghana, while vocalists such as Jojo Abot and Efya are again exporting the Ghanaian sound around the world.
On the playlist: No One Knows by M3nsa; Africa Gypsy by Wavlov The Kubolor; Modern Ghanaians by King Ayisoba; Best In Me by Efya.
Listen to the music of Ghana