I Love Oxford Street Because ...
Accra residents, of a variety of nationalities, share their reasons for loving Osu's Oxford Street.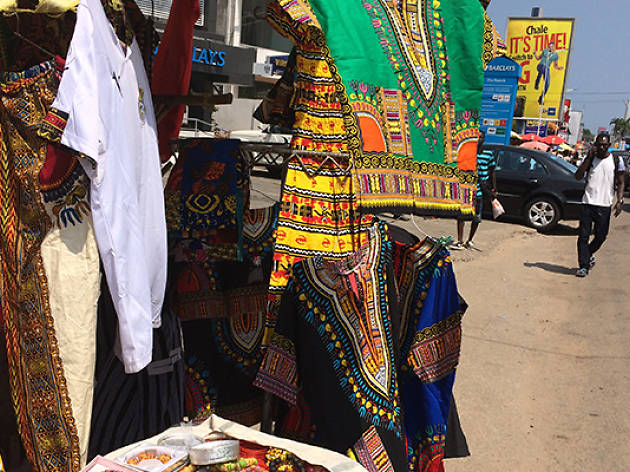 Osu's 'Oxford Street' continues to be a 24 hour hub of activity, and must-see destination for visitors to Accra. With its ever-changing restaurant and retail options there's something to suit every taste and budget, either somewhere on this bustling thoroughfare or in one of the smaller side streets. But, don't take our word for it; here's what some of Accra's international and local residents have to say about this happening hotspot...
I Love Oxford Street, because...
"...there is never a dull moment. In fact, Oxford Street never goes to sleep. It's possible to find places to eat and hangout there any time, day or night." - Noble Attasi, Ghana
"...when we first arrived we stayed in Osu. On my first day out I ventured along the road dodging cars and street vendors in the blistering heat, and I thought... it's crazy, chaotic and a bit smelly... but it kinda reminds me of the "downtown experience" back home in Trinidad." - Vanya Khell-Roth, Trinidad and Tobago
"...I like sushi from Monsoon." - Caroline van Hombeeck, Belgium
...its authentic and vibrant atmosphere remarkably captures the perfect blend of international standards and local flavors. The unmistakable mark of a truly cosmopolitan haven. - Geoffrey Diem, France
"...at night there are beautiful lights, entertaining night life!"- Jane Arthur, Ghana
"...of the sheer variety of businesses, shops and restaurants. You can find just about anything you might be looking for: health food, painting supplies, local clothing, groceries (both local and imported), street food and even American style burgers!" - Kendra Ross, USA
"...it's constantly vibrant and energetic and full of activity." - Dina Pealore, Russia
"...it's a one stop shop for most things if I am lazy to go to a mall." - Lorato Motsoeneng, South Africa
"...it's a buzzing beautiful heartbeat of Accra offering something for everyone in every direction you look. It is also home to two of my favourites in Accra - Monsoon and Hakim jewellry!" - Gemma Hooper-Smith, New Zealand
...you can buy everything from food, car interiors, clothes, to gym equipment. Why go to Makola when you can go to Oxford Street!? - Mia Kirkeby Nielsen, Denmark
"…. in one bustling and vibrant location one can witness the past, present and future of the wonder that is Ghana, where everyone has a smile upon their beautiful faces!" - Deborah McConway, Ireland
"…you can find everything you need if you know where to go. IT's full of hidden little gems!" – Elisabet Casas Achampong-Kyei, Spain
"...of all the colours brimming from the street stalls, the vibrancy of the vendors, and the fresh kebabs straight off the grill!" - Becci Tamaklo, England
"... of it's hustle and bustle, which draws together vibrant people from all corners of the world merging their cultures, the street where you see smiles and hear "chale, my friend" no translation needed - here everyone feels the pulse of street, making our hearts beat as one." - Leeni Ojaniemi, Finland
"...it is the most vibrant and diverse street of Accra". - Sanne Leeuwrik, Netherlands

...it's always buzzing and you can find anything from fresh fruit to shoes and
furniture to buy among the road side stalls and shops. - Giulia Tavolato Feghali, Italy
"...it represents the good, bad and ugly mix of development in Ghana." - Rex-Anthony Annan, Ghana
"...it's an emerging city, full of character and charisma. Every corner has something new to discover. Sometimes, it seems like one giant convenience store. When you look hard enough, you'll be surprised what you can find. A warm welcome always awaits you." - Chris Beaney, England